Abu Dhabi GP team radio: Lewis Hamilton, Nico Rosberg, and the tactics that worried Mercedes
Last Updated: 27/11/16 5:41pm
Lewis Hamilton's slow pace set up a nail-biting finish to the 2016 season and it's clear Nico Rosberg and Mercedes were nervous about the Brit's tactics.
Needing Rosberg to finish outside the podium places to seal an unlikely title, race leader Hamilton frequently took his foot off the gas to allow the chasing field to make ground on his team-mate. Speaking on team radio, the pressure was getting to Rosberg as he followed Hamilton in second place.
"This is really slow pace, so maybe at some point we reverse the cars and if Lewis is in second place I'll let him by again," a worried German said. "I know that's a stupid request but this is really slow at the moment."
As a charging Sebastian Vettel made ground on the supersofts, Mercedes then instructed Hamilton to pick up the pace, describing the Ferrari as an "imminent threat".
"I suggest you guys let us race," was the reply from Hamilton, ignoring the requests.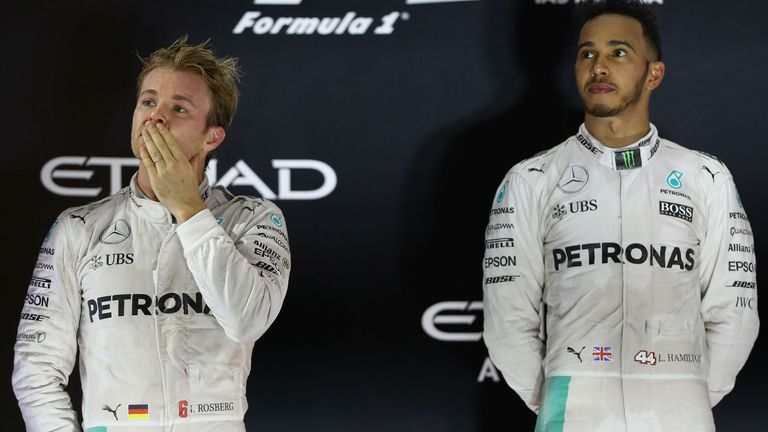 Such was Mercedes' angst, technical director Paddy Lowe even came on the radio, again ordering him to go faster if he wanted to win the season-ender.
"Paddy, I'm actually in the lead right now and I'm quite comfortable," said Lewis. "Right now I'm losing the world championship whether I win or lose this race."
And Hamilton was right with his prediction in the end as despite his best efforts, Rosberg finished right behind him to claim his maiden title. The top three were separated by just 0.8seconds at the chequered flag.
Click play on the video at the top of the article to listen to the team radio.