Mercedes threatened to sack Lewis Hamilton and Nico Rosberg after Spanish GP collision, says Niki Lauda
Lauda reveals ultimatum if repeat of 2016 Spanish GP collision; Pair took each other out on opening lap
By Jonathan Green
Last Updated: 30/10/17 12:45pm
Lewis Hamilton and Nico Rosberg were told Mercedes would consider ripping up their contracts if there was a repeat of their 2016 Spanish GP collision, Niki Lauda has revealed.
The pair took each other out on the opening lap at the Circuit de Catalunya, Hamilton losing control of his W07 and running into Rosberg after being squeezed onto the grass as he attempted to pass his team-mate on the run to Turn Four.
It was a major flashpoint in the fractious relationship between the pair and Lauda said the incident prompted Mercedes to install new rules of engagement - with the ultimate punishment of the sack should either Hamilton or Rosberg not act in the team's best interests.
"We put some regulations in, we told them - especially in Barcelona when they pushed each other off the track - we said this was unacceptable for Mercedes," Lauda said in an interview with Graham Bensinger on YouTube.
"We have to win, one of you guys has to win, you cannot push each other off.
"We had some rules put in, that you are not allowed to and you have to pay a penalty if you do it again or we will think of releasing you from your contract, because we are team players here and we cannot destroy each other.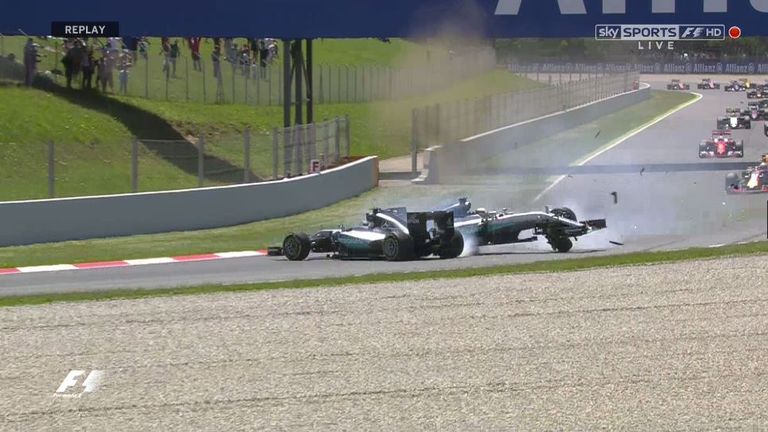 "Toto came up with some good rules and we had peace again. We fought hard and the accidents got reduced between them."
The incident sparked a frank debrief in the Mercedes motorhome and Lauda believed the blame laid with Hamilton.
"The big discussion was whose fault was it?" Lauda said. "For me it was clear Lewis was too aggressive going to the right, hit the grass, couldn't stop his car and then hit [Nico] off.
"I said right away if I have to choose between the two it's more Lewis' fault than Nico's fault.
"Lewis did not appreciate that, because he was of a different opinion. He said, 'Why do you criticise me?' I said, 'Excuse me. I cannot accept that you guys crash and then we have nothing and nobody's fault. For me it has to be somebody's fault.'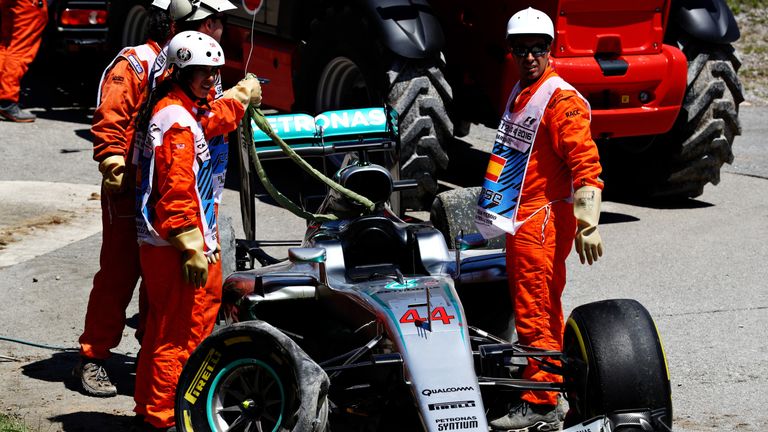 "And then Lewis really got upset. Nico said, 'Yes, it was your part too, you moved to the inside. Why did you not leave room?' He said, 'Why should I, I want to win the race'."
Sky Sports learned at the end of last season that Hamilton told Mercedes that he did not want to drive again in 2016 given his anger at the team's refusal to apportion blame to Rosberg.
Lauda added that he later had a one-to-one talk with Hamilton in Ibiza to talk through the incident in more detail. This may have persuaded the Briton to stay on.
'Hamilton and Rosberg had no relationship'
Hamilton and Rosberg had been childhood friends but their relationship deteriorated during their three seasons fighting for the world championship.
Rosberg retired at the end of the season after becoming champion for the first time and Lauda explained how great the feud had developed between the two drivers.
"In the beginning everything was fine but as it got more competitive, they both got against each other. The competition was only between Nico and Lewis who was going to be world champion," he said.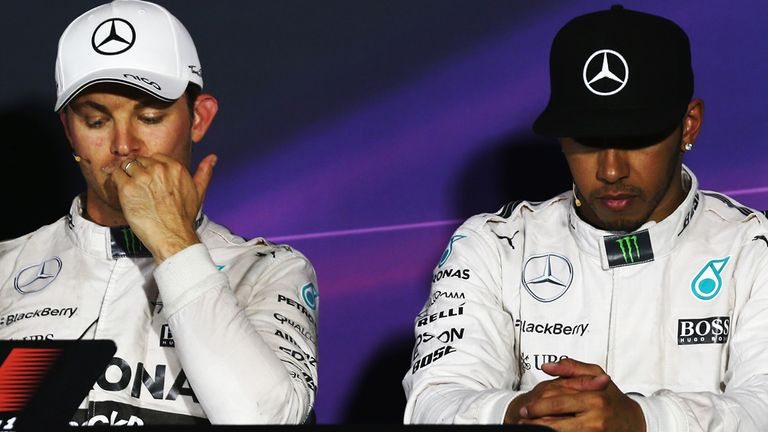 "They had no relation, which is always bad. They were so bad that they didn't even say hello in the morning to each other.
"I don't expect them to have breakfast together if they don't like each other, I don't expect them to sit down and have breakfast, but the relationship was really bad.
"It affected Lewis mainly and Nico, so it was fine but not easy.
'Lewis has no weakness in 2017'
"Lewis got so upset about it that sometimes on the performance they lost because they played tricks on each other. One didn't show the other what set-up they were using, which is bad for the team again because we both want to go forwards.
"They played all the tricks in the book. But for the team it was pretty tiring."
Will Lewis Hamilton clinch his fourth world championship in Austin? Watch the US GP weekend live on Sky Sports F1, the race begins at 8pm on Sunday, October 22. Want to watch but not got Sky F1? Buy a NOW TV pass from £6.99!