Mercedes reveal W14 upgrades ahead of Monaco Grand Prix with zero-sidepod philosophy officially abandoned
Mercedes have been unable to compete with Red Bull since new design regulations were introduced to F1 in 2022; the team hope these upgrades will set them on a path back towards title contention; watch the Monaco GP live on Sky Sports F1 this weekend
Last Updated: 25/05/23 7:16pm
Mercedes revealed a striking new look to their W14 car as long-awaited major upgrades were revealed on Thursday ahead of this weekend's Monaco Grand Prix.
The upgrades see Mercedes move away from the 'zero-sidepod' philosophy they debuted when new design regulations were introduced to the sport last season, and then controversially decided to stick with for the 2023 campaign.
While the upgrades also include a new floor and front suspension, it's the highly visible bodywork on the W14 that has often been associated with Mercedes' inability to challenge Red Bull in Formula 1's latest era.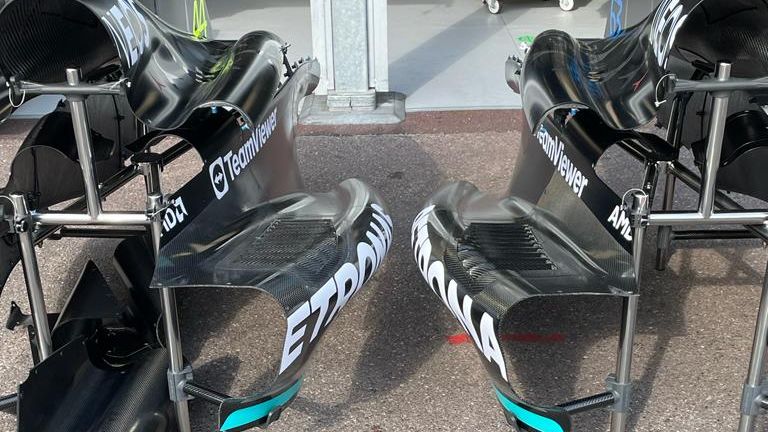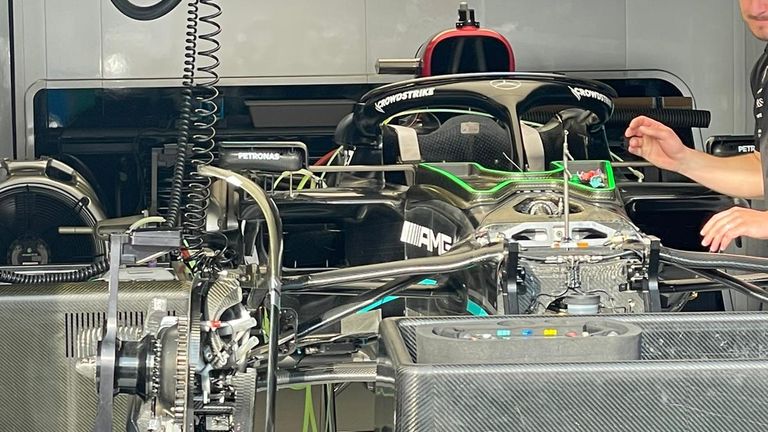 Red Bull emphatically ended Mercedes' eight-year streak of constructors' titles last season, and the RB19 has won all five races this year, with Lewis Hamilton admitting he has been "counting the days" until the upgrades arrive.
While there won't be a proper on-track look at the updated W14 until first practice gets under way at 12:30pm on Friday, live on Sky Sports, the new parts were spotted by Sky Sports F1 on Thursday morning as Mercedes began preparations for the weekend in their Monaco garage.
Mercedes had originally planned to bring the upgrades for last weekend's Emilia-Romagna Grand Prix, but the race in Imola was cancelled due to severe flooding in northern Italy.
While Monaco is usually not best suited for a team to bring significant upgrades due to the unique slow-speed nature of the track and the high risk of an accident, Mercedes opted against any further delay.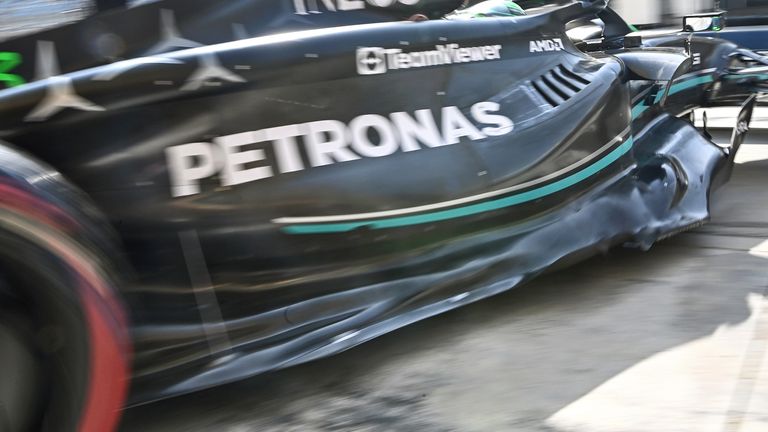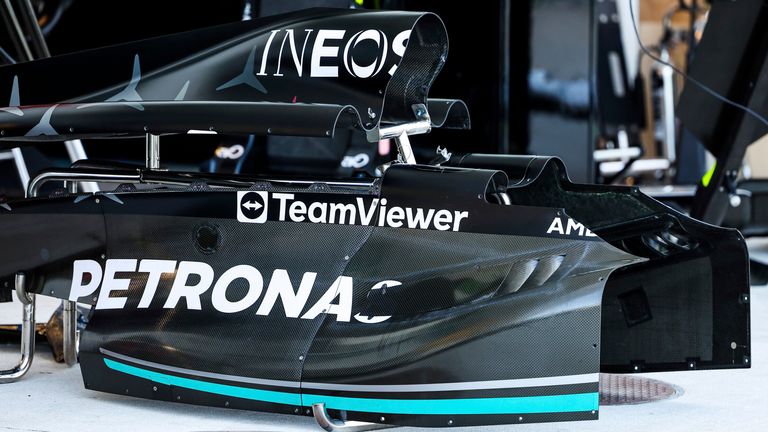 However, team principal Toto Wolff warned on Wednesday that the team should avoid drawing any concrete conclusions from how the car performs at the street circuit.
He said: "It is a unique event but will still provide an opportunity to learn about the upgrades to W14 - but we also need to be careful not to draw too many conclusions from this one event. We are introducing the first step in a new development direction.
"It won't be a silver bullet; from my experience, they do not exist in our sport. We hope that it gives the drivers a more stable and predictable platform. Then we can build on that in the weeks and months ahead.
"F1 is tough competition and a meritocracy. We are not where we want to be but there's no sense of entitlement. It's just about hard work to get us to the front."
'New Mercedes sidepods not as refined as Red Bull's'
Analysis from Sky Sports News Craig Slater...
"If you are a Lewis Hamilton fan and are interested in him staying at Mercedes, interested in his prospects of winning an eighth world championship, then this fundamental change is going to be pivotal in deciding whether that happens.
"The key aspect relates to the sidepods. This was the car that famously had no sidepods, now it has sidepods that look more or less like the rest of the field. They are not as finely refined as the Red Bull sidepods and look a bit to me like the Williams or the Alpine.
"It is also going to revise front suspension and the floor of the car has changed, too. I noticed the tunnel under the side floor which will aid the aerodynamic performance.
"Mercedes cannot simply copy the Red Bull mid-season because that would involve significant reengineering that would probably break the cost cap, it might not be feasible to do. Lewis, for example, wants his seating position changed but that won't happen this year, it will have to happen next year.
"These modifications are coming in at an odd track so Mercedes are saying not to expect too much but they now believe they are on the right track - maybe 18 months too late - that will convince Hamilton that this is the best team to stick with."
Mercedes' upgrades key to Hamilton's future?
Lewis Hamilton's future in F1 has become a major talking point this month with reports he has received an offer to join Ferrari.
Hamilton is currently on his longest run in the sport without a win, with his last victory coming at the 2021 Saudi Arabian Grand Prix.
Sky Sports F1's Naomi Schiff thinks Hamilton will stay at Mercedes but admits their upgrades at Monaco may be a factor.
"I don't think he's considering it (leaving Mercedes). But if these upgrades don't live up to what [Mercedes] are hoping that they will, and potentially let's talk about next season and they start poorly again, then he will be considering in what manner he wants to end his career in Formula 1," said Schiff.
"Does he want to be struggling for fourth or fifth place or does he want to be back at the front, and then I guess Red Bull."
Simon Lazenby added: "I think a lot of Lewis' decision about his future depends on this upgrade set.
"When you look back to what happened last year, the hopes for the W13 coming out of the simulator was that it was going to blow the rest of them away, it was going to blow Red Bull away and it was going to blow Ferrari away.
"The correlation between what happened there and reality, well we all know the story - Red Bull went with the undercut sidepod philosophy which everyone has moved towards whereas Mercedes had this exposed floor and then the porpoising happened, they had to stiffen the floor and couldn't raise the rear ride height enough and it turned into bouncing.
"All of this year's problems have come from the fact that I think they were just tantalised by those figures which said 'we are going to completely and utterly destroy the field, let's stick with it'. We get into this year and all of the limitations that were created by having to try to solve those problems, including keeping Lewis further up front in terms of his seating position so he doesn't feel the rear of his car, they just had to have a reset and a complete rethink of their philosophy.
"If they've got it wrong this time, what happens with the no-blame culture then?"
Sky Sports F1's live Monaco GP schedule
Friday May 26
10.05am: F3 Qualifying
12pm: Monaco GP Practice One (session starts 12.30pm)
2.05pm: F2 Qualifying
3.45pm: Monaco GP Practice Two (session starts 4pm)
5.30pm: The F1 Show: Monaco
Saturday May 27
9.55am: F3 Sprint
11.15am: Monaco GP Practice Three (session starts 11.30am)
1.30pm: F2 Sprint
2:30pm: Monaco GP Qualifying build-up
3pm: Monaco GP Qualifying
4.45pm: Ted's Qualifying Notebook
Sunday May 28
7.15am: F3 Feature Race
8.45am: F2 Feature Race
12.30pm: Grand Prix Sunday Monaco GP build-up
2pm: THE MONACO GRAND PRIX
4pm: Chequered Flag Monaco GP reaction
5pm: Ted's Notebook
5.30pm: The 107th Indy 500
Formula 1 now heads to the streets of Monaco for the sixth Grand Prix of the 2023 season - watch all the action on Sky Sports F1 from May 26-28. Get Sky Sports