Maurizio Arrivabene says was a Mexico a 'character building weekend'
Neither Ferrari classified as a finisher for the first time since 2006
By William Esler
Last Updated: 05/11/15 11:43am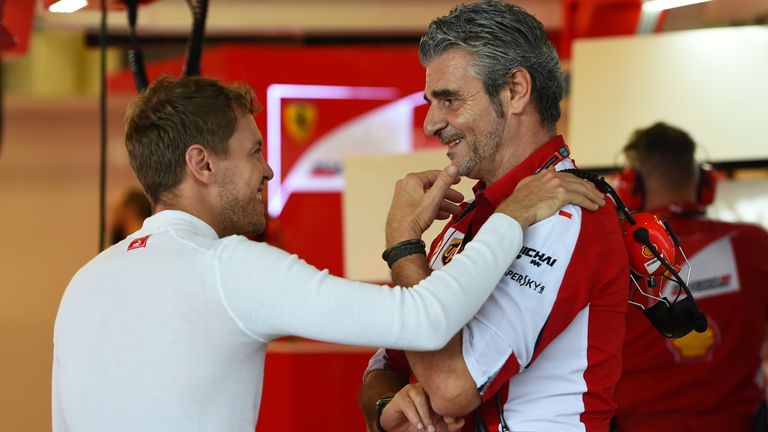 Ferrari team principal Maurizio Arrivabene feels a difficult weekend in Mexico will help the team in their push for the title in 2016.
Sunday's race at the Autodromo Hermanos Rodriguez was the first time since the 2006 Australian GP that both of the Scuderia's drivers were not classified.
Sebastian Vettel suffered a first lap puncture and then spun off twice after uncharacteristic mistakes, the second of which saw him hit the wall and retire.
In the sister car Kimi Raikkonen suffered unreliability in qualifying and was forced to retire from the race after a tangle with the Williams of Valtteri Bottas.
"During the course of this season we have touched the sky, today we touched the bottom," Arrivabene said.
"This is a good lesson for all of us to prepare ourselves and the character of the team for next year.
"I don't want to blame Kimi one way, I don't want to blame Seb in the other way. We don't have to accuse and they don't have to accuse, we are a team."
Presented with the opportunity to blame Bottas for the clash with Raikkonen, Arrivabene refused to question the stewards' decision not to apportion guilt.
"They are racing accidents, it happened in Russia, it happened here, it is Formula 1," he added.
"The most important thing is that no one gets injured and this is the most important thing for safety. It is part of the show, I don't want to blame anyone."
While the weekend looked on paper a calamity for Ferrari, Arrivabene insists he is still taking positives back to Italy with regard to how his team performed against Mercedes.
"The race pace was very, very good today, I was watching the timing and the pace was very, very good," he said.
"We were a bit concerned about the weather because it could have been a potential problem for us if it rained, but I was happy with the pace."