Italian GP: Gap between Mercedes and Ferrari was 'embarrassing', says Scuderia chief Sergio Marchionne
Strong words from Marchionne after disappointing homecoming
By Matt Morlidge
Last Updated: 30/09/17 8:50am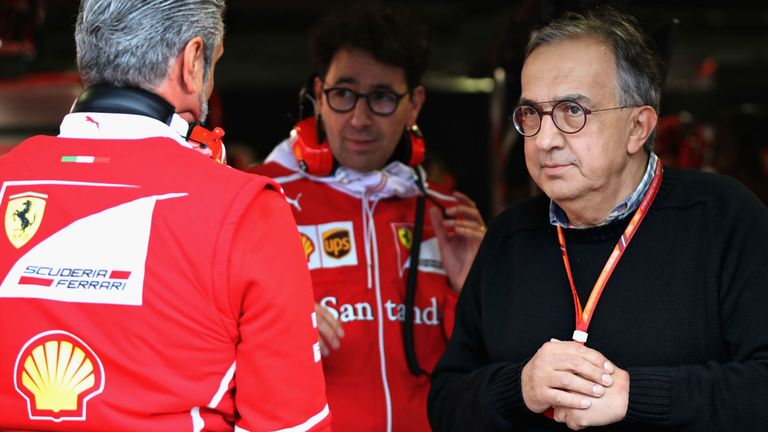 Sergio Marchionne says it was "embarrassing" to witness Mercedes' domination over Ferrari at the Italian GP and believes "something went wrong" prior to his team's home race.
The Ferrari president was talking up the Scuderia's title challenge all week before Lewis Hamilton led a comfortable Mercedes one-two at Monza, finishing almost 40 seconds ahead of Sebastian Vettel in third.
And after the race, which has seen Hamilton move ahead of Vettel in the drivers' standings for the first time this season, Marchionne told Sky Sports in Italy: "It was almost embarrassing to see the difference between Mercedes and Ferrari.
"Mercedes were superior to Ferrari, we could not do anything."
The advantage Mercedes enjoyed was of particular surprise to Marchionne after Ferrari pushed the world champions close at the Belgian GP, and he added: "We obviously did something wrong in the last seven days."
Ferrari were celebrating their 70th anniversary at Monza and while the low-downforce track was expected to suit Mercedes' package more than most, Vettel and Kimi Raikkonen had arrived in buoyant mood.
But their chances of securing a first Scuderia win in Italy since Fernando Alonso's in 2010 took a massive hit after a disappointing wet-weather qualifying, which saw them line up on the third row of the grid.
But Marchionne insisted Ferrari's starting position "did not matter" as Mercedes quickly extended their advantage by almost a second every lap, and says the next races will be crucial after losing ground in both championships.
"It was impossible," he said. "This is not Ferrari, we need to double our commitment.
"It's okay that the next circuits are more favorable, but it does not mean anything. We have to remove the smile from the face of these guys here, I'm flat out."
Despite Ferrari's vast 2017 improvement, Mercedes now look likely to seal a fourth consecutive constructors' title after moving 62 points clear with seven races remaining.
"You can't help but feel recently that Mercedes have just got the edge and have stolen a march," noted Sky F1's Martin Brundle.