Adrian Newey claims Ferrari and Mercedes scared to power Red Bull
Designer says team are being 'forced out of F1 out of fear'
By William Esler
Last Updated: 13/10/15 1:44pm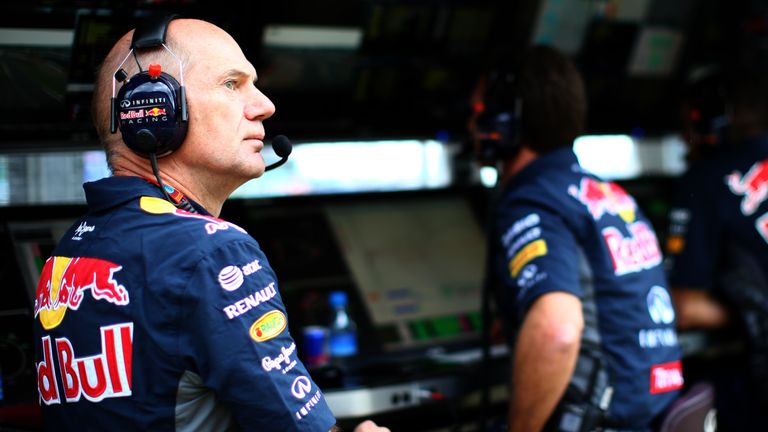 Red Bull designer Adrian Newey claims Ferrari and Mercedes are refusing to supply his team with engines next year "out of fear".
The four-time championship winning squad's future in F1 is in grave doubt as they struggle to find a power unit for 2016 after starting the process of terminating their contract with Renault a year early.
Approaches have been made to both Mercedes and Ferrari about a customer supply, but Newey says the two manufacturers are running scared.
"We're possibly going to be forced out of Formula 1 - Mercedes and Ferrari have refused to supply us out of fear," Newey said. "They became concerned we would beat them with their own engine".
Speculation grew in Russia that Red Bull may look to continue with Renault next year despite their public falling out. "Nothing is officially finished with Renault yet," team boss Christian Horner said as the team contemplated a desperate U-turn. However, Newey believes the relationship is beyond repair.
"Unfortunately, our relationship with Renault is pretty terminal - there's been too much of a marriage breakdown, so we have no engine," Newey added.
"Improvement is needed, but there has been no clear direction on how to achieve that. Red Bull should not be put in a position where they're only there to make up the numbers."
Newey has been outspoken in his criticism of the current regulations which place a great emphasis on engine performance rather than aerodynamics - an area he excels in.
The Briton claims the rules allow for the power unit performance to be evened out, but accused the sport's governing body of doing nothing.
"Within the regulations, the engines can be balanced somewhat so that there's less of a performance disparity then there is at the moment, but the FIA has been unwilling to do this," he said.
"We need to get back to the position where all teams have access to an engine which is there or thereabouts, if it's a couple of percent behind then okay, but when it's 10 percent behind it's too big a gap," added Newey.