Red Bull 'exposed' at British GP by Renault's lack of power
Austrian GP victors unable to compete with Ferrari and Mercedes due to engine deficiencies; Horner says Ferrari engien is now the 'benchmark'
By Pete Gill at Silverstone
Last Updated: 06/12/18 3:36pm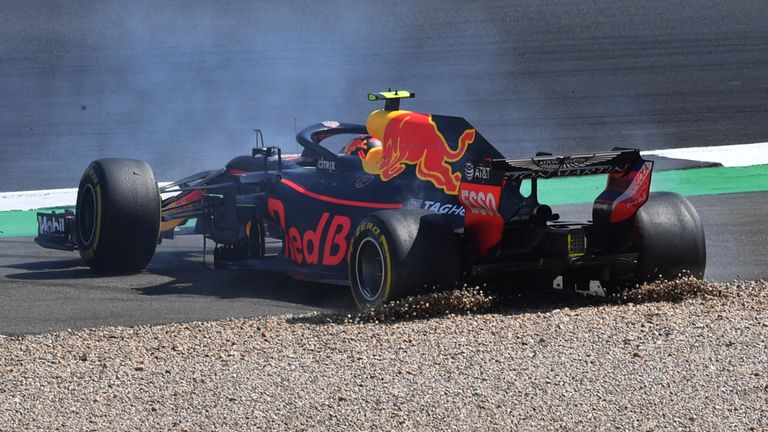 Red Bull boss Christian Horner believes the lack of power from his team's Renault engines at the British GP has vindicated their decision to switch to Honda.
The Red Bulls of Max Verstappen and Daniel Ricciardo were left lagging by the straightline speed of the Ferraris and Mercedes at Silverstone, culminating in Ricciardo being unable to pass the ailing Silver Arrows of Valtteri Bottas in the closing stages after Verstappen retired due to a brake-by-wire issue.
According to Horner, Ricciardo continued to lose straightline speed to the Mercedes even when benefiting from DRS.
"You could see how exposed we are in a straight line," said Horner. "We were hugely exposed both in attack and defence.
"In qualifying, we were quicker than Sebastian [Vettel] in every single corner but we just hosed time down the straights."
Vettel wins British GP after Hamilton spin
And Verstappen added: "When we had DRS open we were going the same speed as the Mercedes and Ferraris without DRS, so you can't do anything.
"You could see all the time behind the Safety Car when we were drag racing, we were so slow. It was a joke."
Red Bull have signed a two-year deal with Honda for 2019 and 2020 after wearying of Renault's struggles in F1's current era of hybrid power when pitched against Ferrari and Mercedes.
Although Toro Rosso, Red Bull's sister team who currently use Honda power, also believed they lost around a second per lap because of their relative power deficiency at Silverstone, Horner is adamant Red Bull are right to switch engine suppliers.
"Both engines are very similar at the moment but it is all about the potential development," he said. "This weekend has been very tough for Renault. You can't hide behind the statistics of what we have seen this weekend. There is a gap to fill and hopefully with Honda…we have a lot of belief in what they have in the pipeline.
"The reality is that it is the time to change. We have been doing the same thing for year after year. We are seeing real progress with Honda. It feels the right time in our evolution to go in a different route."
Horner also added he now suspects Ferrari boast the most powerful engine on the grid. "I think they are the benchmark now," he said.