McLaren reveal first look at 2021 Formula 1 car as Daniel Ricciardo makes official team debut
McLaren's new MCL35M - which features a Mercedes engine - revealed for the first time ahead of debut run at Silverstone on Tuesday; Daniel Ricciardo appears in McLaren colours for the first time next to Lando Norris
By James Galloway
Last Updated: 16/02/21 6:03am
McLaren have become the first Formula 1 team to launch their new car for the 2021 season as they bid to further close the gap to the front - now with Daniel Ricciardo and Mercedes engines.
Revitalised in recent seasons, 2020's third-place constructors' finishers revealed the first glimpse of their MCL35M car in an event at their Technology Centre which also saw new star signing Ricciardo formally presented in team colours for the first time.
Ricciardo, the seven-time grand prix winner, joins Britain's Lando Norris in a formidable-looking line-up for a 23-race season which begins on March 28.
"Our goal is to close the gap to the front," said team chief executive Zak Brown in a press conference.
"We are not focused on any one particular team or who has got what power unit. We've got one target in mind and that is closing the gap to the front of the field."
Team boss Andreas Seidl added: "We want to get closer again to Mercedes and Red Bull because these steps are key to get back to the front again at some point in the future."
Although large aspects of F1's car design rules have been frozen for 2021 due to the impact of the coronavirus pandemic, McLaren's engineers have faced the challenge of integrating a Mercedes engine into this year's car.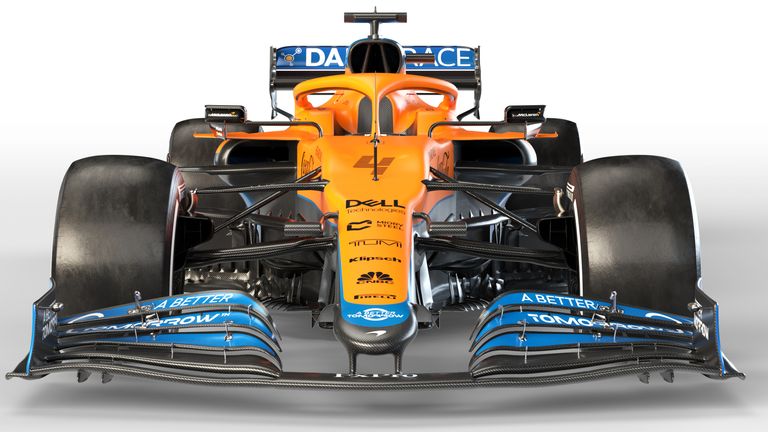 The McLaren-Mercedes partnership was one of F1's most iconic and successful, winning titles with Mika Hakkinen and Lewis Hamilton, but split at the end of 2014 with the Woking team subsequently being powered by Honda and Renault.
Technical director James Key said he was "pleased with what we've seen so far" from the 2021 Mercedes unit.
McLaren will debut the car - which again features the striking papaya and blue livery of recent seasons - in a filming day at Silverstone on Tuesday, when both drivers will get time on track.
"It's a beautiful car," said Norris. "Small improvements compared to last year in as many areas as we could. I'm excited, and the whole team are."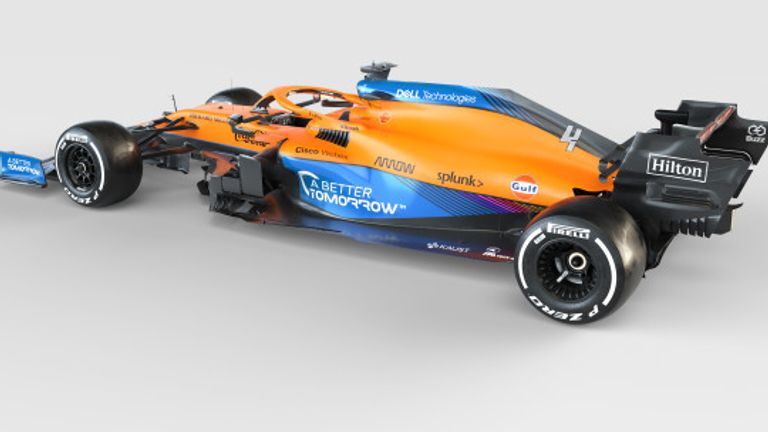 Ricciardo begins new era
In a move agreed last May before the delayed 2020 season had even begun, Ricciardo has replaced Carlos Sainz in the team's line-up after the Spaniard was signed by Ferrari.
Regarded as one of F1's fastest and most complete drivers, Ricciardo believes he has joined McLaren at the right time.
"To be here at the MTC wearing the colours it feels real," said the 31-year-old, who was surprised during the launch with some video messages from his parents and nephew in Australia.
"I was really impressed with what the team had done over the last couple of years and wanted to be a part of it."
Brown said: "Daniel has been at the factory and with the team, in the simulator and been doing commercial work, and everyone is excited to have him on the team.
"He has commented how welcomed he has felt and with the integration into the team, he has been quite impressed. We are very excited to have him."
Alongside Norris, who has impressed in his first two seasons of F1, Brown believes McLaren possess "the best line-up in Formula 1".
What can McLaren achieve in 2021?
Although McLaren have not won a race for over eight years, progress since splitting from Honda at the end of 2017 when languishing ninth in the standings has been tangible.
The team have finished sixth, fourth and third in the three seasons since but remain conscious about the large gap that remains to Mercedes and Red Bull ahead of them - and small margins separating the competitive midfield pack that surrounded them last season.
"The field is unbelievably close," said Brown of 2021 prospects. "Challenging for the championship would be unrealistic given the journey that we're on.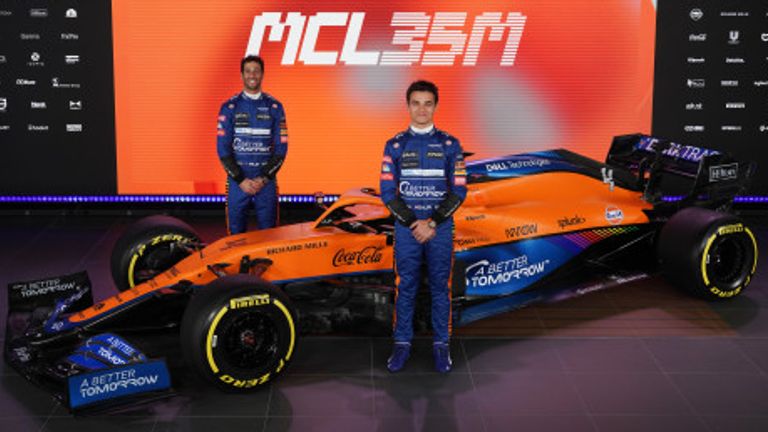 "All we can hope for and are striving for is closing the gap to Mercedes, who we anticipate to be the fastest team again in '21. The rules haven't changed significantly so I don't think 2021 will look much different from 2020 for the entire grid, other than expecting it to get even closer.
"We went into Abu Dhabi with the ability to finish third, fourth or fifth and I think it's that close. I anticipate it being even closer this year."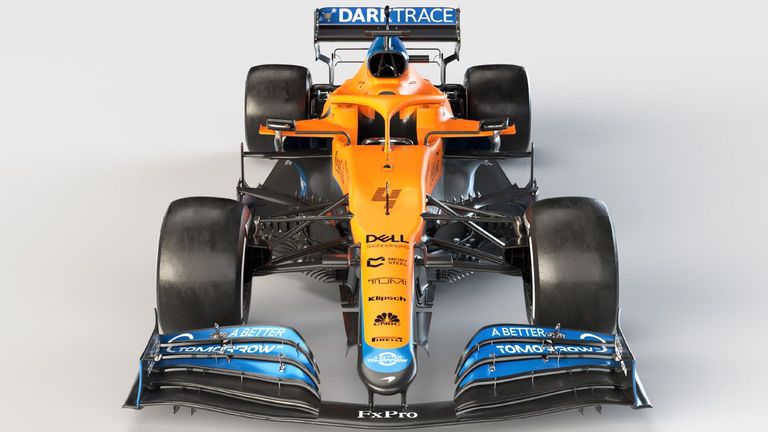 Seidl, beginning his second full year in charge of the race team, added: "We expect this year again a very tough battle with all the competitors we were fighting with last year.
"We have Lando now going into third year in Formula 1. We have Daniel on board with us who is a clear reference in this sport. We have the championship-winning power unit in the back of our car.
"We clearly want to get closer to the cars in front of us, the Mercedes' and the Red Bulls, which we managed also last year.
"There is a lot to be optimistic about but again we need to be realistic, and that's how we see it."