2016 Spanish GP driver ratings
Starring roles for a trio of Red Bull drivers, but it's the Barcelona blues for others elsewhere in an action-packed weekend
By William Esler and Matthew Morlidge
Last Updated: 19/05/16 11:27am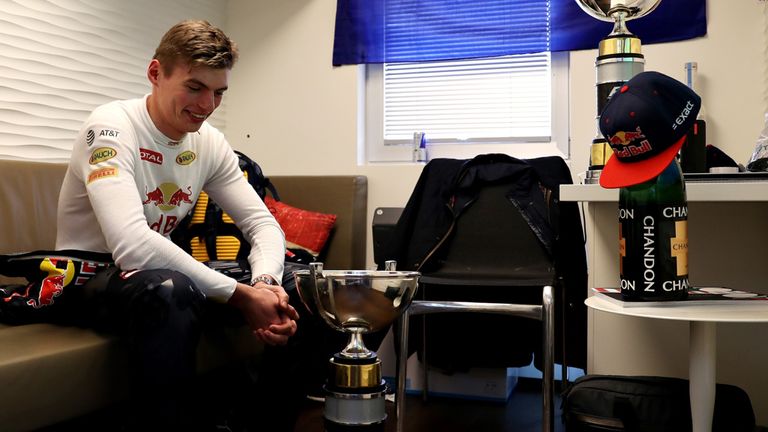 If Max Verstappen hadn't already convinced he was a future world champion, his performance in Spain put any doubts to bed.
In a car he was unfamiliar with, the Dutchman was immediately on the pace in practice, impressing both the team and trackside observers. "For a teenager, his confidence is extraordinary. His first flying lap was immediately on the pace and he was right in there at the end of the session with Daniel Ricciardo," said Martin Brundle watching trackside.
In qualifying, Verstappen threatened to steal the headlines after initially splitting the Mercedes cars in Q3 following the opening runs, leading to Christian Horner hailing the teenager as the "the real deal".
And during the race Verstappen didn't put a foot wrong, showing incredible maturity as he withstood heavy pressure from Kimi Raikkonen while leading a Grand Prix for the first time. "On Sunday he was our new beginning," concluded Martin Brundle.
However, given he was out-qualified by Daniel Ricciardo by over four tenths of a second, Verstappen's rating does come down a little.
Rating out of ten: 9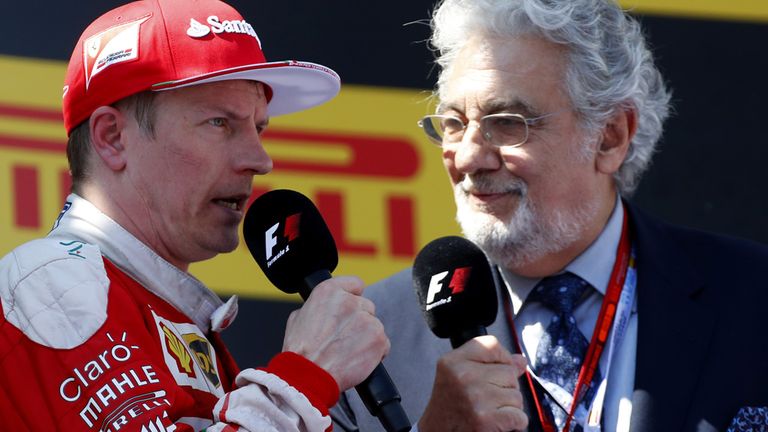 Kimi Raikkonen looks like a new driver since Ferrari's switch to push-rod suspension for 2016. After being annihilated in qualifying by Sebastian Vettel last year, the Finn is making a better fight of it this year and was an impressive two tenths ahead in qualifying.
The good work was undone at the start, when a poor getaway allowed Vettel, Valtteri Bottas and Carlos Sainz past.
He recovered to second due to Ferrari moving the Finn onto a two-stopper to cover Verstappen, a strategy which turned out to be faster. But despite all his experience, DRS and a quicker car, Raikkonen was unable to find a way to pass Verstappen and win his first race since Australia 2013.
Perhaps he needed to be bolder, or rethink his passing strategy, but another podium finish has moved Raikkonen above Lewis Hamilton in the championship standings.
Rating out of ten: 8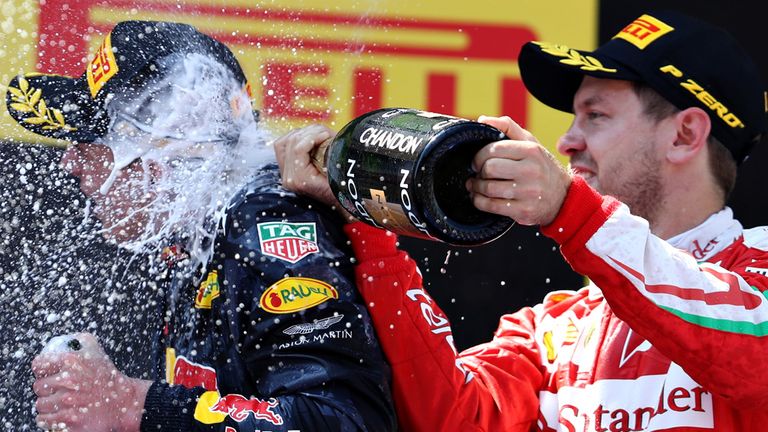 One that got away for Sebastian Vettel? The German looked favourite for victory in Spain following the double Mercedes exit, but in the end barely held onto third.
Had Ferrari been aggressive, they could have used the undercut to leap ahead of Daniel Ricciardo at the first round of stops and the outcome could have been very different.
The Scuderia's strategy team did make a wise call in making Vettel's final stop early when it became apparent the three-stopper wasn't optimal -  and salvaged a podium finish for Vettel.
Being out-qualified by Raikkonen will be a concern for Vettel, an area he has traditionally thrived in. Overall then, a good result on a disappointing weekend for the German.
Rating out of ten: 7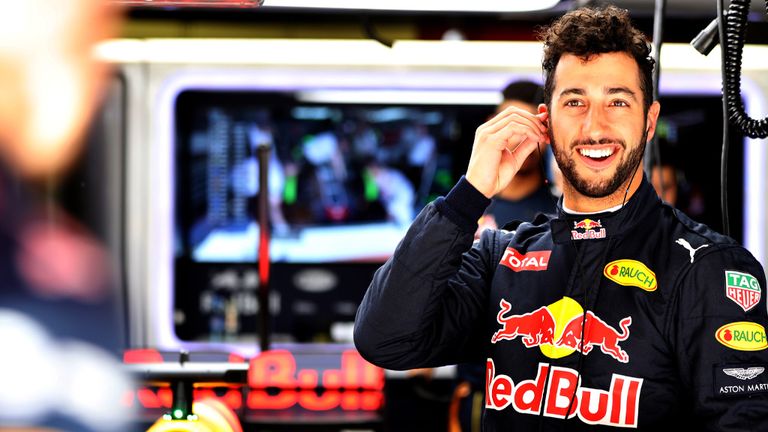 Up against a new team-mate, the pressure was on Daniel Ricciardo to lay down a marker against Verstappen and he did just that throughout practice and qualifying. His final lap in Q3 was described as "perfect" by Martin Brundle in commentary as he eclipsed his team-mate by four tenths of a second. "His last lap was mighty," added team boss Christian Horner.
The Australian was on course for the fourth victory of his F1 career until strategy let him down. As discussed above, three-stopping was an error but ended up not only costing Ricciardo the win but relegated him off the podium.
Third perhaps could have been salvageable as he duelled with Vettel in the closing laps, before a late puncture destroyed any chance Ricciardo had.
Rating out of ten: 9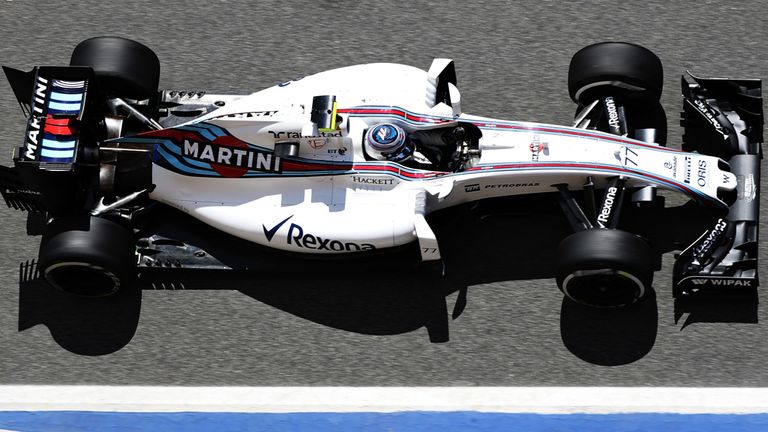 A quiet race for Valtteri Bottas as he improved two positions on his starting position thanks to the Mercedes crash, but made no other impression on the cars ahead.
Until Ricciardo's late stop the Williams driver was in a race of his own, a long way behind the top four, but comfortably clear of those chasing behind.
Rating out of ten: 7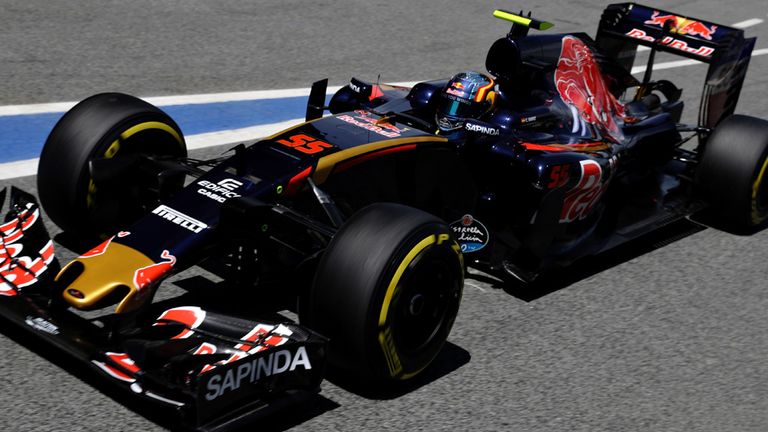 Arguably the forgotten man in the Red Bull stable after the driver-switch saga, but Carlos Sainz produced another stellar weekend for Toro Rosso.
The Spaniard ran ahead of both Ferraris in the opening exchanges, despite having the Scuderia's 2015 power unit in the rear of his car, but in the end had to settle for sixth.
In qualifying Sainz was also impressive, making it into Q3 after finishing Q2 nearly four tenths ahead of new team-mate Daniil Kvyat.
Rating out of ten: 9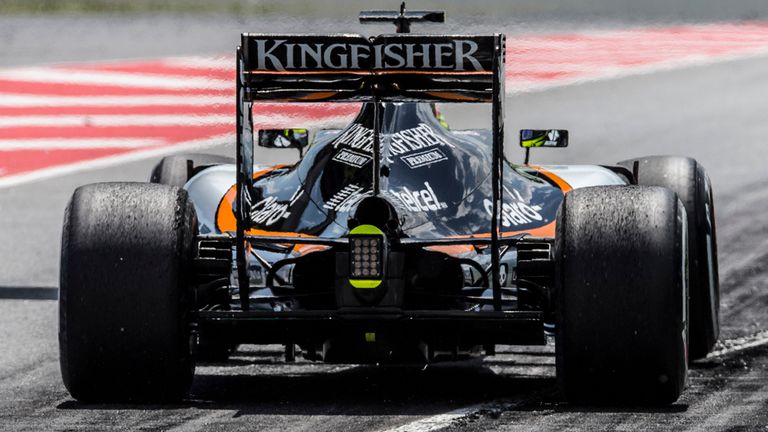 "I think we managed to get the maximum result we could hope to achieve today. We were able to keep some very fast cars behind us," said Sergio Perez after the race.
The Mexican admitted his race was rather "lonely" as he ran around the Circuit de Catalunya unable to keep up with those ahead and unchallenged from behind until Felipe Massa closed in during the final laps.
Perez also stretched his qualifying head-to-head advantage over Nico Hulkenberg to 4-1 after beating his team-mate by two tenths of a second in Q2.
Rating out of ten: 8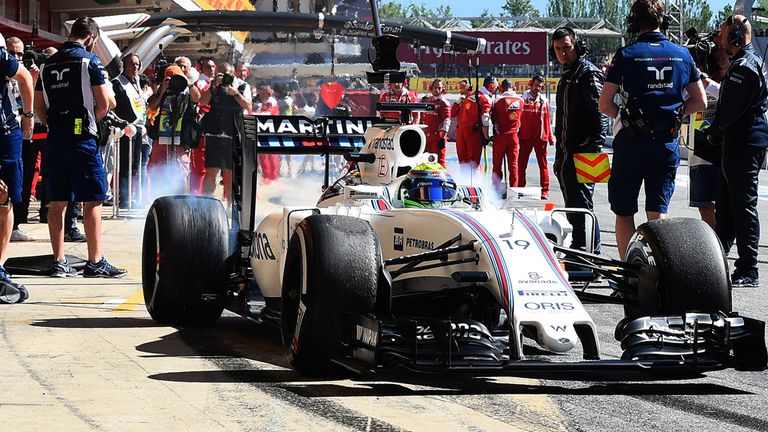 Qualifying was a disaster for Felipe Massa, who failed to muster a clean lap in Q1 and blamed the team for not leaving him enough time for a second run.
However, a fine recovery drive saw him charge through the field from 18th to eighth at the flag and pick up four valuable points for Williams - who lost significant ground to Red Bull in the Constructors' Championship.
Rating out of ten: 6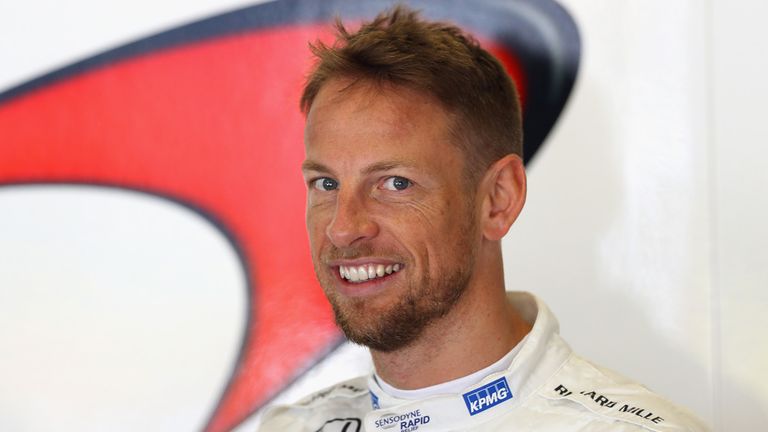 While a new front wing for McLaren brought more grip to the front of the car, it also left Jenson Button unable to find a rear end he was happy with.
Struggling for a balance, the 2009 world champion went out in Q2 while team-mate Fernando Alonso, running the old wing, gave the reunified McLaren-Honda partnership their first Q3 appearance.
He recovered to ninth at the flag to bring more points home for McLaren, but benefited from the retirement of both Mercedes cars.
Rating out of ten: 7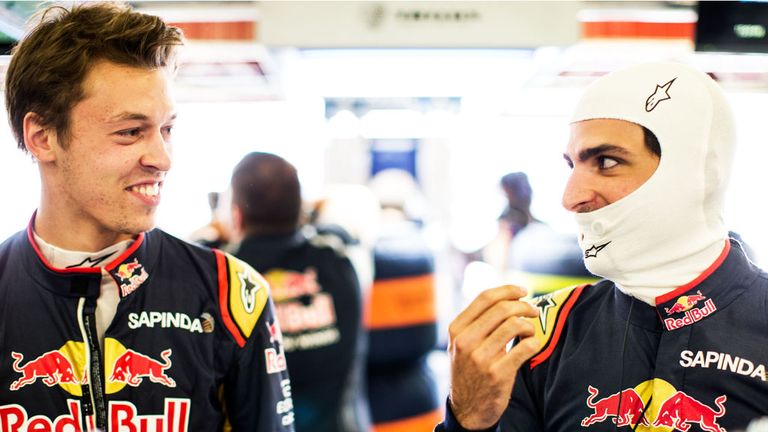 A man with a point to prove, but it was also important that Daniil Kvyat kept his copy book unblemished in Spain.
Qualifying was a disappointment for the Russian, over three tenths off the pace of Sainz as he missed out on Q3.
A late charge from Kvyat saw him reach 10th on race day, posting the fastest lap of the race along the way and showing the pace to unlap himself against Ricciardo and Vettel. After a tough couple of weeks for Kvyat, it wasn't a spectacular weekend, but at least gives him something to build on.
Rating out of ten: 6
And the rest...
Esteban Gutierrez has been the forgotten man at Haas this season but Sunday's race represented the Mexican's best day of the year so far.
He was out-qualified by Romain Grosjean but found himself comfortably in the points before his tyres fell away in the closing stages - and was a sitting duck for the flying Daniil Kvyat as he slowed down for blue flags. Gutierrez was keen to point out over the weekend that his work this season has been undermined by Haas' reliability problems, and this kind of performance won't do him any harm.
Rating out of ten: 6.5
Talking of impressive weekends, step forward Marcus Ericsson. Hampered by a cash-strapped team and a below-par package, the Swede maximised his potential - even sticking to his task while criticising his Sauber colleague's "dangerous driving" over team radio.
"I did not make mistakes and had a good pace at the same time," he said. "I would say it was one of my best races in Formula 1 so far."
Rating out of ten: 7.5
Considering Jolyon Palmer's practice for the Spanish GP was heavily compromised by both Esteban Ocon's inclusion and a tyre blow-out, the British rookie can be happy with his efforts.
With Renault lacking performance until their heavily-anticipated upgrades come to the fore Palmer can only really judge himself by beating this team-mate, and while he again failed to get out of Q1, he managed to rebuff Magnussen on the last lap of the race for a much-needed morale boost.
Rating out of ten: 7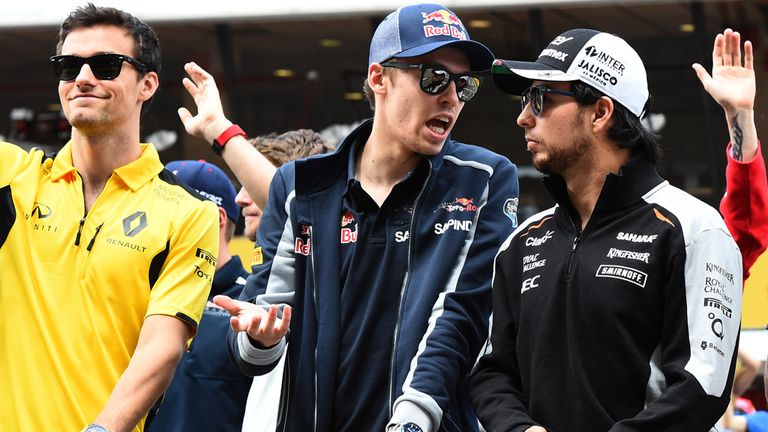 Felipe Nasr's struggles continue. Qualifying almost four tenths down on Ericsson, the Brazilian was able to make some ground on the first lap before falling back down the field. He battled his team-mate all afternoon, sometimes recklessly, but felt he wasn't helped by Sauber.
"I do not think the two-stop strategy was the right choice, as I could not keep up the pace," he complained.
Rating out of ten: 5
Kevin Magnussen dragged Renault out of Q1 for the first time since Australia with a lap nearly three tenths clear of Palmer.
However, in the race he slipped behind his team-mate and was handed a timed penalty for contact with the Briton at Turn 13. The stewards decided that while Magnussen could be expected to be quicker due to fresher tyres, Palmer had not been left enough room to take the corner.
A 10-second penalty relegated the Dane behind Nasr in the official classification and added two points on his licence.
Rating out of ten: 6
In the slowest car on the grid, all Pascal Wehrlein can do is beat his team-mate and he duly out-qualified and out-raced Rio Haryanto. "We got both cars to the finish, which was good, but otherwise there isn't much more to say today," said the German after the race, highlighting just how anonymous Manor's weekend was.
Rating out of ten: 7
To his credit, Rio Haryanto certainly hasn't been blown out of the water by Wehrlein in 2016 - and is even leading him three to two in qualifying head-to-heads. While the race didn't go the Manor driver's way, Haryanto felt this was down to misfortune more than anything, saying:
"We decided to go long on the medium for the first stint but there was too much traffic at that stage of the race so our strategy didn't work out so well for us," he said.
Rating out of ten: 6
Did not finish: Romain Grosjean, Fernando Alonso, Nico Hulkenberg, Lewis Hamilton and Nico Rosberg