Belgian GP P2: Nico Rosberg sets pace before dramatic tyre blowout
Rosberg's right-rear tyre suffers dramatic deflation at one of fastest points of Spa track; German set pace by three-tenths from Hamilton
By James Galloway
Last Updated: 25/08/15 2:16pm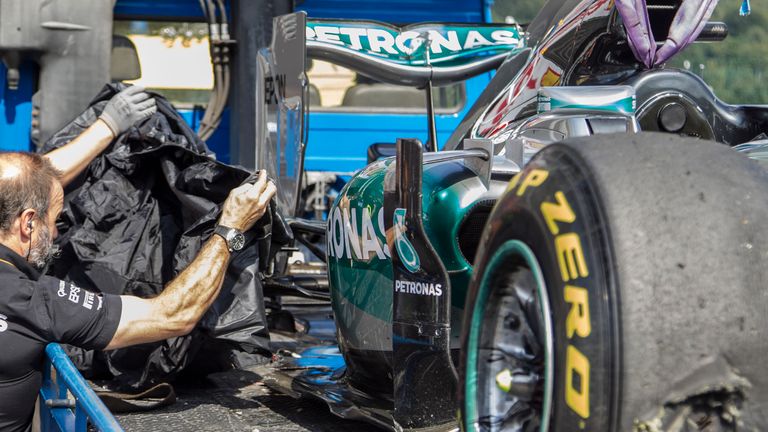 Nico Rosberg remained on top of the timesheet in Practice Two for the Belgian GP – but his Friday came to a dramatic end when his Mercedes suffered a high-speed tyre blowout.
In an incident which is likely to be a cause for concern for F1's tyre supplier Pirelli, Rosberg's car was pitched off the circuit when his right-rear tyre spectacularly deflated late in the session on the 185mph run to Blanchimont corner.
Pirelli are currently investigating the cause of the accident but replays appeared to show the tyre was already beginning to lose thread earlier in the lap before developing a blister and then letting go at one of the fastest points on the 7km track.
Rosberg's medium tyres were 11 laps old at the time as the German carried out his race simulations on high fuel. Fortunately, the 30-year-old didn't make contact with the barriers as the W06 spun across the track and was able to walk away from the incident.
"He's really lucky to not hit anything there - and other cars not to hit him," observed Sky Sports F1's Anthony Davidson.
Speaking to Sky Sports News HQ after returning to the paddock, Rosberg admitted: "It was quite a shock as I just didn't expect it then, suddenly, at 306 kph or 190 mph. I just lost control. Not good.
"It is a bit of a dent in the confidence."
The accident, which ruled Rosberg out of the rest of the session, soured what had otherwise been an impressive return to action for the title contender after the summer break as he set the pace in both Friday sessions.
On the earlier run with the quicker soft tyre, Rosberg's best effort of 1:49.385 proved three tenths of a second quicker than team-mate and title leader Lewis Hamilton, who admitted on Thursday that legendary Spa is not one of his favourite tracks.
"Nico is very quick so I have to do some work tonight and see if I can find some time. But I am not particularly worried," Hamilton insisted.
Surprisingly, given the circuit places a great premium on engine power, it was Renault-engined Red Bull who ended day one as Mercedes' closest challenger with third-placed Daniel Ricciardo the only driver to finish within a second of the W06 around the undulating lap.
Kimi Raikkonen, fresh from his Ferrari contract renewal, was fifth but it was Ferrari-engined Sauber who caught the eye as their drivers Marcus Ericsson and Felipe Nasr finished in eighth and ninth positions respectively.
Sauber are running an updated version of the Italian marque's engine this weekend – although it is still thought to be a step or two adrift of the works team's version – and have targeted a return to consistent point-scoring over the second half of the season.
Ericsson, however, ended his promising session in the barriers when he lost his car at Pouhon following the red-flag period for Rosberg's accident.
With Force India's Nico Hulkenberg and Lotus's Romain Grosjean sixth and seventh respectively, the other Ferrari of Sebastian Vettel was only 10th, 1.7 seconds off Rosberg's pace.
McLaren-Honda, meanwhile, lapped only quicker than backmarkers Manor, despite the Japanese engine maker introducing an upgrade this weekend. With changes aplenty to the power units in their MP4-30s, Jenson Button and Fernando Alonso have picked up 25 and 30-place grid penalties respectively - condemning the ex-world champion pair to the back of Sunday's grid.
Practice Two timesheet:
1. Nico Rosberg, Mercedes, 1:49.385
2. Lewis Hamilton, Mercedes, 1:49.687
3. Daniel Ricciardo, Red Bull, 1:50.136
4. Daniil Kvyat, Red Bull, 1:50.399
5. Kimi Raikkonen, Ferrari, 1:50.461
6. Nico Hulkenberg, Force India, 1:50.461
7. Romain Grosjean, Lotus, 1:50.489
8. Marcus Ericsson, Sauber, 1:50.709
9. Felipe Nasr, Sauber, 1:50.928
10. Sebastian Vettel, Ferrari, 1:50.940
11. Sergio Perez, Force India, 1:50.971
12. Carlos Sainz, Toro Rosso, 1:51.037
13. Max Verstappen, Toro Rosso, 1:51.117
14. Valtteri Bottas, Williams, 1:51.250
15. Pastor Maldonado, Lotus, 1:51.317
16. Felipe Massa, Williams, 1:51.588
17. Jenson Button, McLaren, 1:51.854
18. Fernando Alonso, McLaren, 1:52.570
19. Will Stevens, Manor, 1:54.065
20. Roberto Merhi, Manor, 1:54.253