Formula 1 Reporter & Columnist
Rachel's Diary: Bedlam in Baku
Sky Sports F1's Rachel Brookes gives her behind-the-scenes take from an action-packed Azerbaijan GP as tensions mount in Baku...
Last Updated: 11/12/18 2:22pm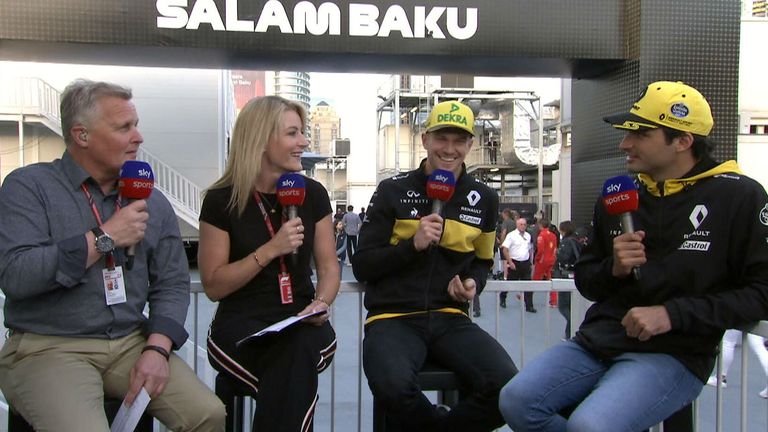 Despite it being two months earlier than last year, I was still hopeful we would have nice weather in Baku. I had even seen a forecast suggesting 26 degrees!
The first day of work was Thursday and after a brief visit to the track in the morning Johnny and I headed out into the city so we could film a piece showing a bit more of Baku than you normally get to see. It included some of the more traditional tourist spots as well as a visit to Nur Art house where not only were there rugs on display from the 17th century but also there was a studio downstairs where you could watch one being weaved.
The people of Baku are lovely, very welcoming and happy to show off their city. While a lot move out for race weekend, just as in most street race venues, those that remain seem happy to educate their visitors in their way of life and traditions. One thing we didn't capture on film is the number of cats just roaming the streets. I have never got to the bottom of why there are so many, but they are everywhere you look.
These features are designed for a bit of a fun but also with the intention of showing you a bit more about the venue we have arrived at. Most paddocks look pretty similar, especially in Europe where the motorhomes provide an identical backdrop in the paddock whether in Spain, Austria or Monza, so we are trying to add a bit of colour to your race watching weekend.
On Thursday evening there was the now-traditional media drinks in the revolving bar in the Hilton hotel you can see at one end of the paddock. It is put on by the race organisers and always provides a good chance to catch up with some faces you will see but probably not have a chance to talk to again that weekend.
It's also interesting watching when some people work out that part of the room is revolving. Imagine a dartboard, and if I said everything from inside the triple points scoring ring all the way to the Bullseye is revolving, hopefully you get the idea! The inner core and outer walls stay still, which is particularly amusing when people sit on the window sill to chat and can't understand when five minutes later there is a completely different person in front of them.
On Friday I spent the two practice sessions in the paddock, ready to go and speak to anyone relevant once issues developed for teams. After Max crashed in P1 I spent the rest of that session trying to work out where he was and where he would come back into the paddock. I wasn't alone, his team press officer and trainer were looking for him too.
Unfortunately if you crash in Baku, due to the nature of the circuit, you can end up on the outside of the track and unable to get back to the paddock until the session has finished. Still, I am told he found a nice tree to sit under.
Between the sessions, I recorded my bits for the Baku 2017 piece that ran in Sunday's race show. We recreated where we were and what we were doing when all the chaos unfolded. Rather than a serious monologue we added a bit of humour to it and hopefully you enjoyed it. It certainly brought back memories of having to run after Seb so that we could hear from him on his contact with Lewis.
On Saturday morning I was in the paddock again for P3 but watched qualifying while preparing for the F1 show. We have never had such an opportunity to have both drivers from the same team with us live on a show before and once we explain the concept of the show they all relax.
It's hard to explain just how many interviews they do over a weekend talking about the car, the team, the strategy, their hopes... the list goes on. When we tell them what the new show is about they all relax, they all without exception, smile and all say "good!". So far at least. We could do another analysis show, but by this point you've had many hours of that, you've heard from the drivers after qualifying and the teams have all put out their drivers' comments on their own social media.
After a chat we headed down to set the boys a time trial with the remote control car around some tyres. We are open to all ideas for the new show so if you think of a challenge - let us know! We have the obvious restrictions of the paddock, but for example in Canada we have the water, so if you can think of something we can do there all within the five minutes allocated time then get in touch.
Saturday night was pretty sleepless due to the ferocious wind rattling around outside the hotel. Ant and I went to the end of the pit straight during the F2 to record a piece about the conditions and then it was back into the paddock to see what I could find out ahead of the race.
I try and talk to a few different people to ascertain what different teams are thinking. On this occasion, I spoke to a strategist for one of the teams who mentioned the situation their own team was in as well as the possibilities for other teams. We always hear about the undercut, but on this occasion, this strategist mentioned the overcut to me too. I made notes on all the conversations I had and they formed the basis for the link I did in the pit lane just after the green light.
Once the race was underway, due to the early incidents I spent the whole race at the drivers pen waiting for those involved to arrive. It was a crazy race and my notebook is a mess! It was also freezing cold and I actually had blue lips by the time the top 3 came in! I had to prioritise who to speak to as most of those involved in talking points arrived together.
I was absolutely gutted for Valtteri. He is now in his second year at Mercedes and with that comes a better familiarity with the team, a better understanding of the car and a greater ability to express what you want and need from it. I think that's showing in his performances and I hope he puts Sunday behind him very quickly. When I asked him how he picks himself up after this he said 10 pints of beer, but I believe there may have been some vodka involved too!
Max and Daniel were both contrite and calm in the pen after the race. By this time they had spoken with their bosses and they arrived in the pen not looking to apportion any blame but to apologise to all those in the team whose weekend they had ruined. I have seen lots of comments about who was to blame and you will have your opinion. At the end of the day neither came away with any points, they have both lost out in the championship and they both could have prevented it. They have a good car this year and race wins are there to be taken when the time is right, but if you are not in the race anymore...
I liked Seb's answer to me after the race. I asked him about his move on Valtteri and if he had any regrets. He said no but he mentioned that he didn't know where he was in the corner when he made his move. I was fascinated by that. He would have done well over 100 laps by that point and I found that staggering. He explained that all his reference points for his braking were on the right-hand side, the outside, and he went down the inside of Valtteri so he was of course on the left and didn't have any reference points to use.
Sergio Perez was understandably ecstatic at his podium. In doing so he became the first driver to have multiple podiums at the Baku circuit in F1. It just shows you how unpredictable that race can be... see you next year Baku!
RB