Lewis Hamilton and Mercedes on a roll but scrambled grid confuses F1
Sky F1's Martin Brundle on a Mercedes Monza masterclass which leaves Ferrari needing to find answers fast, sharply contrasting race days for the Red Bulls, and why F1's penalty rules are all wrong
Last Updated: 02/10/17 2:41pm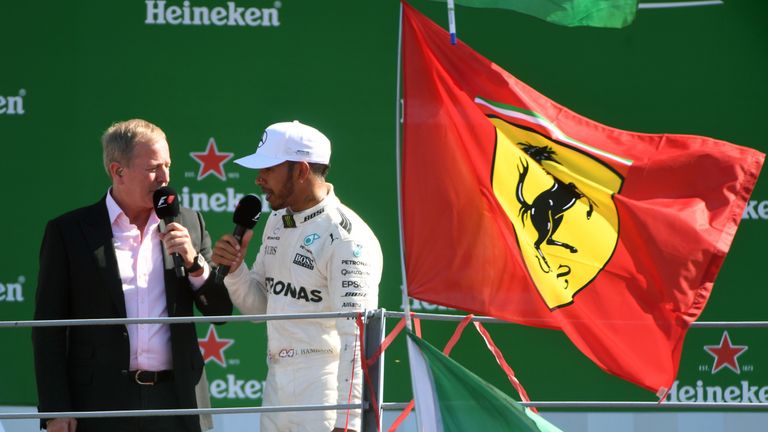 That was the fifth fastest Grand Prix of all time averaging 151.4mph (243kph), and although not the fifth most exciting, the weekend as a whole had some great moments.
Our Sky F1 qualifying show lasted over five hours and much patience was needed by everyone, not least the hardy and much-appreciated fans getting soaked in the aging and largely uncovered grandstands.
Our muddy TV compound is outside of the paddock (it usually is a sizable walk, why would you want to make it easy for several hundred TV crew along with their equipment to get the F1 story around the world…?). I also walk part of the track to commentate in Practice Two and I must say Monza needs some serious investment for the fans.
Once Romain Grosjean in the Haas had floated off into the barriers at high speed, and with the weather front apparently tethered to Monza, we were consigned to wait a good while for the qualifying magic. Eventually, it was delivered with several outstanding laps, not least from Lewis Hamilton who set a new record of 69 pole positions. At one point he was virtually on the steering-rack stops in fifth gear in the Parabolica corner to record the fastest lap in the closing moments.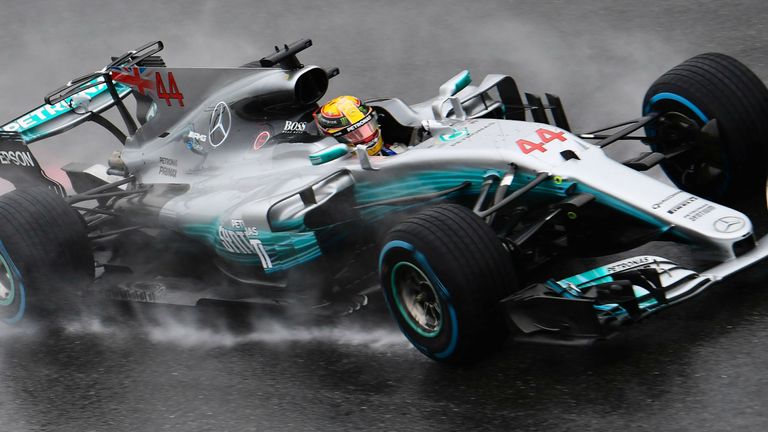 The Red Bull boys were outstanding too, their commitment in challenging conditions was ever more impressive given that they knew before they left home that they would take heavy engine penalties and be starting near the back.
This elevated Williams' 18-year-old Lance Stroll onto the front row and Esteban Ocon a similarly impressive third in his Force India.
Eventually, nine of the 20 drivers would have an asterisk alongside their name on the official grid sheet denoting some kind of penalty. When you read 'provisional starting grid' these days it really means 'watch this space' and keep your TV graphics guys on permanent notice. It's a 'probably/maybe/sort of/oh hold on a minute' kind of document.
I love F1 as much as anyone but I can't find the motivation to understand the fiendishly complex process of calculating penalties and grid positions. If Kevin Magnussen can be knocked out in Q1 qualifying and end up starting ninth through no fault or skill of any driver then something is patently wrong.
And so we had a double-scrambled grid initially determined on a treacherous track but racing under blue skies. And the drivers were well behaved through the first chicane in the race with only sundry carbon parts flying off here and there.
It very quickly became clear that Mercedes had an advantage reminiscent of the past couple of seasons of the hybrid motors, and like nothing we've seen this year so far. Hamilton coasted to an easy victory while saving his motor for inevitably harder races to come.
Valtteri Bottas made some nice passes on Kimi Raikkonen, Ocon and Stroll to take up the Silver Arrows rear gunner slot, and domination was complete.
A half a minute behind the relaxed Mercs was former championship leader Sebastian Vettel, and Kimi was a full minute behind in the sister car in fifth. Vettel had an unremarkable run up the escape road into Turn One of lap 40 which he claimed left his car steering in a strange way. But Ferrari had no answer to Mercedes on this day in history, and there's a very good chance both Red Bulls would have beaten him too had they started in their correct positions without penalties.
You may have seen a feature I did in the Sky F1 race show about F1 podiums through history, but I had no idea I was doing the Monza podium interviews until just before the race.
I shared the work with former Ferrari hero Jean Alesi as they wanted some Italian words with Seb and also a mention of the imminent Ferrari 70th anniversary celebration event.
Jean threatened to kill me once when we were arch rivals in 1992 but I love him to bits, he's such a charming and stylish guy. The view and atmosphere from that iconic podium was spellbinding, you literally couldn't see the end of the crowd when looking down the long pit straight.
Hamilton credits heart and mind
The negativity, shall we call it, from the Ferrari fans towards Lewis was so loud I thought we wouldn't be able to hear each other. I also thought he handled the situation with good grace and I desperately wanted to ask him if he expected he would ever be up there dressed in red and facing a different reaction.
But that would have been incorrect as it's not an interview, it's a celebration of the race which he has just finished and won in a Mercedes.
It was good to see Williams back in the top 10 along with Force India, and all four drivers were impressive and aggressive in equal measures.
Daniel Ricciardo's Turn One pass on Raikkonen from so far back was legendary. It's the sort of dazzling late-braking attack which makes you realise you've been braking too early all race. He then set about catching Vettel but there weren't enough laps to steal the last podium slot. The Aussie is in very fine form, especially on race day.
Unsurprisingly, Max Verstappen is showing some frustration behind the wheel and despite his blistering speed he must take more care in wheel-to-wheel action, it doesn't matter who's fault it is if your race is compromised. Avoiding rivals running into you where possible is just as important as not running into others.
Some elements of Race Control felt strongly that Verstappen should be penalised for the second contact with Kevin Magnussen but I couldn't see why. To balance this up, the stewards came very close to penalising Felipe Massa in the first contact with Verstappen which gave him the puncture and put him well out of sequence.
Probably aware that he couldn't really have another go at Honda this weekend, especially given he had a race gearbox issue and not engine, Fernando Alonso directed his anger at Jolyon Palmer instead. Fernando is like a caged animal at the moment, I so hope he's on the grid in a competitive car next year, we all need that to happen.
Ferrari have to hit back hard immediately with power and aero updates, somehow without affecting the 2018 car development.
Mercedes' pace and Red Bull's challenge to Ferrari in Monza mean that Hamilton is starting to reach out for the championship trophy and he'll take some stopping now over the final seven races.
MB