Martin Brundle: France serves up unexpected drama with its first turn back
Sky F1's Martin Brundle reflects on France's return to the F1 calendar and the unexpected drama at its very first turn...
Last Updated: 11/12/18 11:20am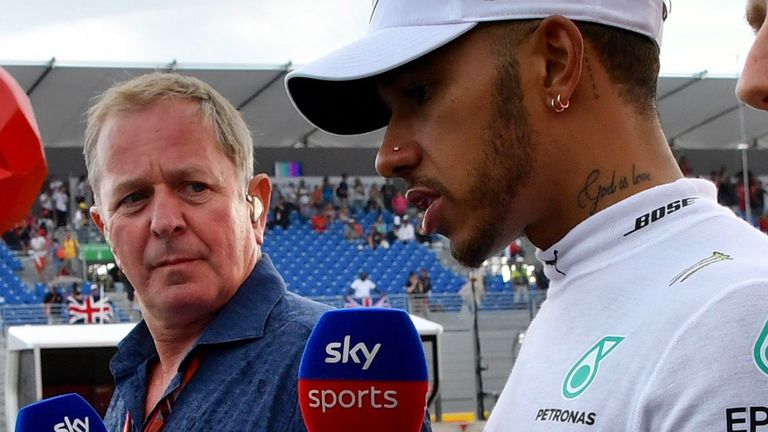 I often remark in commentary these days about how skilful and well behaved the F1 pack are on the first lap of a Grand Prix. Sunday's French GP was certainly not one of those occasions as at least half the grid had some kind of skirmish.
It was chaos and many of those who didn't actually have contact celebrated by accelerating hard across the ample run-off zones which are painted like a kaleidoscope. In fact, more like camouflage it seems.
The stewards were challenged by so many incidents that an investigation into Romain Grosjean's barging match even before turn one was announced a full 55 minutes after the start.
It was even more surprising given that the high grip surface was totally dry, pretty clean, and the cars laden with downforce. Mind you, the first five corners include two chicanes and a hairpin.
It's not an especially long run down to the first apex at 590 metres but that first chicane, which looks very tight on the TV and when I was driving the passenger hot laps, was taken in qualifying at warp speed in a scarcely believable fifth gear.
The cars are two metres wide, the same as any full-size SUV, and on each corner is a very sticky rotating tyre. Furthermore, hanging way out front, totally out of the view of the driver, is all the real estate of the nose and front wing. The lowest point the driver can see is the top few centimetres of their front tyres which is why I'm usually so impressed by their precision.
Of course Sebastian Vettel was the naughty boy who started the fight. On the ultrasoft tyres against the front row Mercedes' less sticky supersofts, Vettel was always going to have a small advantage off the line. Add in a great start and a perfect slipstream behind Lewis Hamilton and he was up the inside and to an extent past Valtteri Bottas.
Bottas then braked later and entered the first chicane wide leaving Vettel enough room. The Ferrari driver would have been unsighted and a little light on front downforce, neither of which is unusual or a surprise for a driver of Seb's experience. As soon as he applied some steering angle his front tyres locked and he slid into the unfortunate Bottas turning him around.
It was 100 per cent Vettel's fault but if you're attacking and trying to split the two Mercedes it's always going to be a racing risk, and it wasn't reckless, particularly dangerous, or malicious.
The stewards have nine penalty options available within the sporting regs. A five or 10-second penalty to be added to the next pitstop or at the end of the race if no further pitstops takes place. A 'drive through' which would cost around 22 seconds, or a 10-second 'stop and go' which would cost around 34 seconds at Paul Ricard. Next up is a time penalty, a reprimand, a grid drop at the next race, disqualification (black flag) or, finally, suspension from the next race.
The stewards chose the first and lightest option and many said that this wasn't severe enough especially as Vettel finished ahead of Bottas who had a car damaged by Vettel. So should it be an eye for an eye, thereby if Bottas had been eliminated then Vettel should have been black flagged? That can't work in trying to rebalance a theoretically damaged opportunity or pace of the injured party during a race.
Hamilton wins after Vettel crashes
Vettel accepts blame for collision
I must say that I would have been minded to apply at least a 10-second penalty or a drive-through (where you can't work on the car), but the stewards, who can vary each race, have systems and communication to endeavour to be as consistent as practical given the circumstances. And let's not forget those times when many cried 'let the drivers race hard, they are too scared of penalties'.
That first corner contact up front scattered the pack like skittles and when they reformed from all angles many managed to run into each other, not least Pierre Gasly and Esteban Ocon, two heartbroken Frenchmen eliminated on the spot and subsequently reprimanded.
Vettel said he thought he had the pace to win which I'm not at all sure about. Kimi Raikkonen had a solid race despite a first lap scuffle and he finished 25 seconds behind a cruising Hamilton, who admitted to us on SkyF1 post-race that he had his new engine wound back to save the power modes for another day later in the season.
It was a happy Lewis who had bought his 'A game' and wasn't going to be beaten, using all of his nous and hard-won experience. I was intrigued to observe him photographing his car pre-race like he'd rarely seen it before. He explained that having walked the pit lane from the driver parade he'd been reminded how beautiful his car was and how lucky he was to drive it. That's refreshing after all these years.
Max Verstappen drove another fine and well-measured race and understandably didn't waste the opportunity to return some of the stick Seb sent his way when Max was running into things most weekends for a while. I was in that press conference and his message was more serious and mildly angry than humorous. What goes around comes around and that continues to be the case of course. Max says he's changed nothing, he's the same person, so mysteriously then it's all working a whole lot better.
There was much speculation before the race, including by me, that the mid-Mistral back straight chicane was surplus to requirements and spoiling the track. We saw a lot a good action there in the support races, and again in the GP itself. Much of this was generated by a powerful DRS rear wing low drag system into a headwind for the hapless victim, but there were still some bold moves too.
Having said that I would love to see the F1 cars carrying less downforce for higher top speeds on the full 1.1-mile straight and taking Signes corner at high speed with the DRS open at top speed. Le Beausset would then become quite something on turn in too. Overall we are probably best to stick with the crazy maze of a chicane.
It was great to be back in France and at Paul Ricard for a race. I was on my motorbike so the road traffic wasn't an issue, but I saw on Twitter that a lot of fans had a miserable time. I saw all the pinch points on the bike and they need to figure out, as we did at Silverstone years ago before the dual carriageways, about two-lane one-way systems and park and ride. There appeared to be no thought put into the traffic flows to and around the circuit.
There's such a strong history in France for GPs, tracks and drivers, and I was intrigued while making the Didier Pironi feature if you get chance to see it.
Three GPS in three weekends, so that's one down and let's see what Austria can offer us in a few days time.