Martin Brundle: Silverstone delivers gloriously with unforgettable British GP
Sky F1's Martin Brundle reflects on a glorious weekend at Silverstone and a British GP which delivered drama and controversy
Last Updated: 06/12/18 3:30pm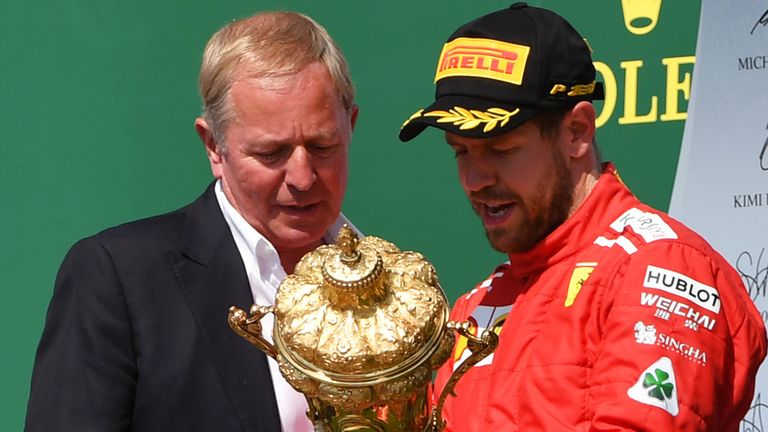 Silverstone was hot in every respect and what a great race and spectacle we witnessed.
I was so proud of Silverstone, it has weathered plenty of storms of all kinds over the decades, and as the enormous crowd applauded the Red Arrows as they recovered back to Brize Norton, and the Band of the Household Cavalry played at the front of the grid attention turned to the glorious race.
Only 17 of the 20 runners were actually on the grid as the two Williams had changed their troublesome rear wings for a different specification in parc fermé, and Brendan Hartley's practice crash due to a spectacularly failed front suspension meant a chassis change ensuring a pit lane start under the rules.
Even so, half the remaining grid seemed to run into each other in the first few corners, and bizarrely even the two Williams leaving the pitlane were faced with avoiding a spinning Force India of Sergio Perez. The two very fast Haas cars of Romain Grosjean and Kevin Magnussen managed to connect which was just crazy when such a good result beckoned.
This run of first lap crashes is, in my view, because the competition in classes A and B (point-scoring best of the rest after Mercedes, Red Bull and Ferrari) is so intensely competitive at the moment.
Then, of course, we had the BIG moment when Kimi Raikkonen connected with Lewis Hamilton in turn three. "My bad" is how Raikkonen explained it whilst admitting he deserved the penalty.
It was clear immediately post-race that Lewis in particular and Mercedes in general felt that the contact from Seb Vettel in France and Raikkonen in Silverstone was intentional. I think they've been watching too much World Cup and rolling around trying to influence the referee. Possibly a smart move psychologically for the inevitable battles coming up, but Mercedes' main challenge is to finesse more front-row lockouts with a better race start protocol, and sharper Safety Car tactics.
Vettel risking all to intentionally wipe out Valtteri Bottas at Paul Ricard and leaving Hamilton free out front hardly looks like a championship-winning strategy, and does anyone really believe Kimi would do such a thing? Certainly a while later Lewis didn't as he took to antisocial media.
Both 'Ferrari meets Mercedes' incidents were at the first braking zone after the start, with a Ferrari pinned tight to the apex and with cool front tyres and full fuel load, and then with the onset of steering angle the front tyres locked. They need to sort that out.
Raikkonen's 10-second penalty was just about strong enough and he finished behind a basically seemingly undamaged Mercedes of Hamilton judging by its pace. And that highlights that Vettel's five-second penalty for taking a big bite out of Bottas' car and scattering the pack in France was too lenient - which many of us thought at the time.
The Formula 1 Gossip Column
Vettel 'fought like a lion'
It was a hell of a comeback drive from Lewis, helped to an extent by the Safety Cars but largely crafted by great overtakes and fast lap times. Would he have won without the contact, or if the team had pitted him for fresh tyres under the safety car? We'll never know but either might well have given him a better chance.
Wasn't it great to see two mighty teams slug it out for the final eleven laps, with Red Bull, on a circuit which didn't play to their strengths, gamely hanging on? And with the brutality of the rest of the pack either in the Copse barriers or making last lap moves. Bloody brilliant action.
The nature of the track and design of the cars and tyres mean that the circuit is now 80% flat out, and sections previously known as iconic corners have become effectively straights, rather like Eau Rouge at Spa. I'm generally disappointed by this, and it does also mean that when it all goes wrong such as at turn one it tends to be a sizeable shunt as Grosjean and Marcus Ericsson found out.
In the end, it was a race decided on extreme pace and aggression and not just Safety Cars, unreliability or blistered tyres which is why so many were enthralled.
I've seen a lot of comments that Hamilton disrespected the crowd and even me by not speaking in the Parc Fermé area. That's just absolute nonsense. We demand and largely receive virtually total access to the 20 drivers, in a way that no other sportsperson has to tolerate.
A camera looking from every angle, thousands of channels of data collected and then often transmitted to the world. Every flex of their muscles, every action and reaction from their nervous system recorded and analysed in multiple locations. Every word, action, and facial expression recorded and interpreted.
I had the privilege to interview Lewis post qualy and, eventually, the race. After his pole position lap he leapt out of the car, acknowledged the crowd, and actually before he had fully taken off his helmet and balaclava I was there with a mic and camera. The guy's whole body was trembling with emotion, elation, and adrenaline. He dutifully shared his powerful experience with us and I will never forget it.
Given his incredible success I was impressed by just how much one more pole lap meant to him. He had given everything to beat the might of Ferrari and their two world champions by less than a tenth of a second.
After the race I was in a different zone waiting for them. Kimi came steaming around the corner and nearly ran me over, collecting a post-race pitlane speeding fine along the way. Some time later Seb and Lewis arrived. I must say that as the interviewer you feel like you are intruding in a personal moment between the driver and his team, family and friends.
But that emotional and adrenaline-fuelled moment is sporting gold while grandstands and TV viewers are all still fully engaged. The drivers are most courteous and generous in this respect, we should consider it a bonus and an honour to share this personal moment with them.
So Lewis is clearly disappointed that he did not win the British GP, is further behind in the championship, got biffed by a Ferrari, and his team did not pit him behind the Safety Car. At that moment he decided to leave the zone, hang in the shade a moment with his helmet on, and then head early to the cool-down room, an appropriate name at that time.
He wasn't happy and he needed some thinking time. We already knew how much this meant to him from numerous previous experiences, and he was calm and polite enough when I doorstepped him on the podium.
Another little podium aside, Seb Vettel really loves that first place trophy which he won back in 2009, and he showed me that the engraving plaques had run out of space back in 2006, and I sensed he was sad that his name hasn't joined the other greats he also was pointing out. Just like when we went hovercraft racing with Kimi on Thursday, you are quickly reminded that the attention to detail and recall of these great drivers is immense on many levels.