Martin Brundle: Lewis Hamilton in overdrive as body blows hurt Sebastian Vettel
Sky Sports F1's Martin Brundle on Singapore, how Lewis Hamilton is making the difference in the title race and the blows hitting Ferrari
Last Updated: 04/12/18 5:52pm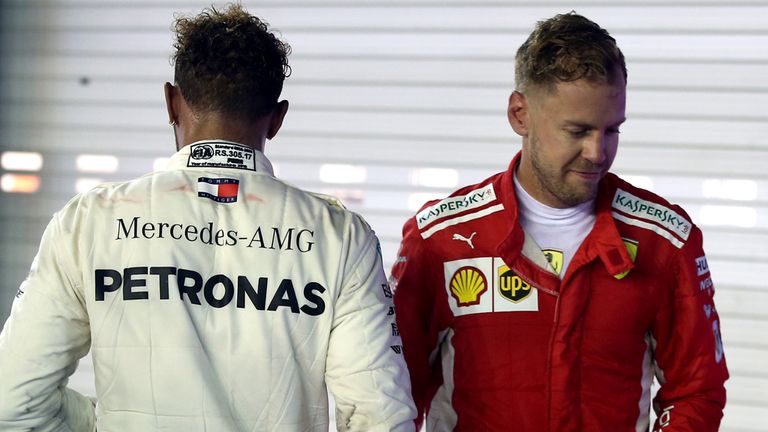 Lewis Hamilton has shifted into overdrive again and he's in invincible form.
After winning four of the last five races, finishing second to Vettel in the other, he has a 40-point lead. Just as he's raised his game so has the Mercedes team, they've outscored Ferrari in the Constructors' title fight for the last five races too.
Mercedes, then, are once again the dominant force, but it's Hamilton making the difference.
Hamilton turns on the style for Singapore win
Vettel: We beat ourselves
I'm writing this on the plane home a couple of hours after the race, sitting near Adrian (Newey) Christian (Horner) and Toto (yes, that one). I smiled when I heard Adrian congratulate Toto for his victory through such gritted teeth I'm surprised the words could escape. These guys are so hard-wired to win, and take so much pain when they lose even with a great second place of their own. All just as you'd hope and expect.
Mind you, Merc got lucky in the first part of qualifying while trying to equal out their tyre allocation when endeavouring to clear the top 15 into Q2 using much slower ultrasoft tyres. Hamilton sneaked through in 14th. What a different complexion that could have put on the weekend and the championship.
But then we would have been denied his impressive pole position effort, a three-mile lap of 23 corners which will be talked about for a good while. Mind you, given engine issues and less power, Max Verstappen's second place was possibly even more impressive. I really want to see those two wheel to wheel much more often in the future.
Unfortunately we were once again reminded that a very long pit-stop time of 27 seconds, due to a long pitlane and just 60kph (40mph) limit, combined with tyre compounds that really couldn't stretch to a one-stop strategy competitively but had to anyway, doesn't make for a punchy race. The pace in the early laps was especially steady to say the least. Pedestrian, in fact, as they tried to parsimoniously eke out their tread depth and temperatures.
Basically we paid the price of witnessing such impressively reduced lap times and new records in qualifying with a strategy-driven slow race. Closer compounds for the three event choices and/or a mandatory minimum two stops are the only fixes I can think of. Otherwise it's down to fate with an untimely Safety Car (a touchy subject in these parts) or rain.
The seemingly mandatory Safety Car was out before turn eight on lap one and so too early to help strategies, and by which time Vettel had powered past Verstappen. Just.
The two Force Indias have magnets which mainly attract other pink cars it seems. Sergio Perez and Esteban Ocon squabbling over the same piece of tarmac has cost the team so much money in carbon fibre and world championship points that it's getting plain silly.
I stand by my instant response in commentary, Perez should have left Ocon more racing room. I'm struggling to believe he didn't know someone was there but he did have a Haas inside too and was looking naturally left for the corner, and Ocon was driving into a wedge where the turn three wall tightens on the exit and his 100 per cent risk car position relied fully on his team-mate being willing and able to cut him some slack.
Perez would go on to have a crazy race, particularly when he was holed up behind the stubborn Sergey Sirotkin in his Williams, which ironically had pitted early due to scooping up debris from the Perez/Ocon contact. That's karma for you.
Sirotkin was slow but on the racing line. Eventually it looked as if Perez had passed him, but Sirotkin came back alongside, so the Mexican decided to skittle him too. He was lucky to get away with a drive-through for that and not more serious ramifications for such an apparently deliberate move.
It was a moment of frustrated madness by Perez which at best was going to earn him a penalty, and at worst was going to end his race or even see a car flying into the debris fencing. In other eras I've witnessed drivers suspended from races for not much worse.
Sirotkin would go on to elevate his defensive driving in a very slow car and tyre combo to penalty-attracting limits. You'll not sneak past him in a passport queue.
Just to check we were all paying attention, the lead group turned back into racing drivers and got on with the show for a few laps while they attempted to cut free and create a gap in the traffic to drop back into post pitstop.
Vettel and Ferrari blinked first and pitted early for the undercut onto ultrasofts. It all made sense, just as Hamilton pitting next lap did too, except Hamilton emerged comfortably in front on softs, as Vettel had the sole remaining Force India on his nose, and Perez was not in the mood or obliged to make life easy as it was for race position.
That's pretty consistent with how the panettone has been crumbling for Ferrari lately, and that traffic would allow Verstappen to pit next and, despite engine driveability issues, after a mighty fast stop emerge alongside Vettel at the end of the pit lane, a fight he would win by being on the inside as Vettel had to think about the championship, and chose not to head for the space which claimed Ocon on lap one.
For the second consecutive race, Ferrari had only brought one set of the more durable tyres from the allocation, meaning in the race it would need to be tried for the first time. Vettel didn't even use them, he stuck with that hypersoft, ultrasoft exotic combo which were going to need to be treated like the ultimate diva. They made it to the end of the show in third but nobody was asking for an encore when he forlornly finished 39 seconds behind Hamilton.
Somehow Valtteri Bottas, Kimi Raikkonen and Daniel Ricciardo never looked like they were going to give us some fun while fighting for fourth, fifth and sixth. They were managing temperatures, turbulent air and chewing gum tyres. I could put a veneer and coat of honey on it all, but you know me better than that.
Fernando Alonso put in a very solid if lonely drive to seventh, welcome points for McLaren while the Force India guys were self-destructing.
After a few scruffy sessions recently, Charles Leclerc turned in a very solid run for ninth overall with Sauber. He needed that in building his confidence for 2019 in the works Ferrari.
Both Renaults in the points was good but they've still got to cross a chasm to join the big three next year, both being lapped.
You'll often hear me use the expression 'you're either giving pressure or taking it in F1, there's nothing in between'. Well Lewis is ladling it out, and Sebastian is taking body blows. Six races to go, 150 points available, anything can happen, but Hamilton has one hand stretched out towards that trophy now.
MB
Sky Sports F1 is the only place to watch every Formula 1 Grand Prix, qualifying and practice session live in 2018. Get Sky Sports F1.