Lewis Hamilton fears Mercedes engine fault may not be fixed yet
Hamilton's car broke down in China and Russia; Hamilton "excited" to climb title "mountain", as leader Rosberg says team-mate "still just as quick and just as difficult to beat" as in 2014 and 2015
By Pete Gill and James Galloway in Barcelona
Last Updated: 13/05/16 8:55am
Lewis Hamilton has admitted Mercedes may not have fixed the fault that has caused his engine to break down twice in the opening four rounds of the season.
Ahead of this weekend's Spanish GP, Mercedes have described finding a solution to the MGU-H failures which affected Hamilton's car in qualifying in both China and Russia as their "highest priority".
However, the world champions have been unable to offer Hamilton any guarantees that the problem - described by team boss Toto Wolff as a "freak occurrence" - will not occur again.
"The team have explained the issues we have had and the efforts they have made to rectify them," Hamilton told Sky Sports F1. "They aren't rectified but they are in the process of being rectified. 
"Hopefully this weekend they will be rectified but that might not be the case."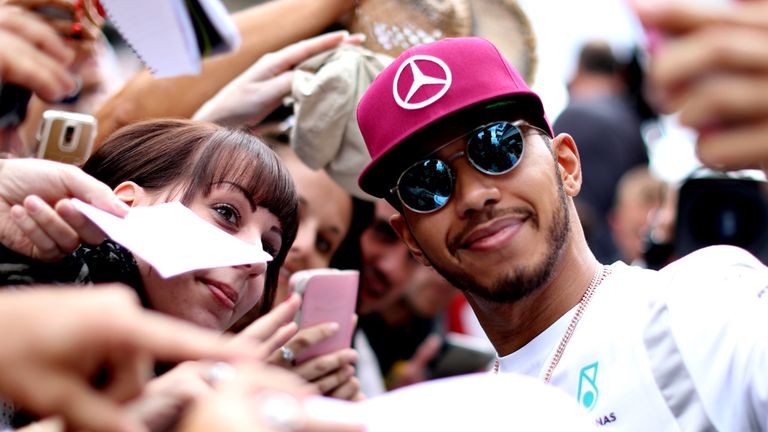 Trailing Nico Rosberg by 43 points in the standings, Hamilton has described the deficit as a "mountain" but insisted he is relishing challenge of trying to catch his team-mate. 
"It is what it is, there's no point being concerned," he said. "I have less engines than Nico, so I've just got to do what l can with what l have. For sure, I have a mountain to climb, but l love a challenge and I am excited about it."
Who is under the most pressure this weekend in Spain?
The world champion has also vowed he has no concerns about his Mercedes garage crew after the team's decision to swap personnel over the winter coincided with a series of mechanical malfunctions on his car. 
"The issues we have had are nothing to do with the mechanics," said Hamilton. "That is not a concern. I have 100 per cent belief in the guys and the team. I am just hoping l have had my share of bad luck."
While Hamilton has bore the brunt of Mercedes' reliability glitches so far in 2016, Rosberg has reeled off four successive victories to establish a commanding early lead in the Drivers' Championship.
But, despite his run of wins from the final races of last season now stretching to seven, the German remains unmoved in his belief that nothing is won yet. 
"It's not difficult to keep the feet on the ground, you just need to look at reality," he said. "Lewis is still the same Lewis as the last two years. He's still just as quick and just as difficult to beat. That's it.
"It's a long, long way to go.
"It wouldn't be good for me to think seven months down the road. The best way for me to try and win Barcelona is to think about Barcelona. And that's my aim, to win Barcelona. That's the way I like to approach it and it's the best approach for me."
Rosberg led large parts of the 2014 season before Hamilton eventually overhauled him, but his championship advantage never exceeded 29 points. This time his lead is nearly the equivalent of two race victories but Rosberg, runner-up to Hamilton in each of the last two years, denied suggestions 2016 now presented him with an 'opportunity of a lifetime' to become world champion.
"I'm 30 now and still a young F1 age I'd like think," he said. "So I don't think that way and have such thoughts.
"I'm just in a great situation which I'm enjoying. I have the opportunity to win races - winning is a massive thrill and that's what I race for. [I am] up against some awesome drivers. Up against Lewis and the red guys, Kimi [Raikkonen] and Vettel. Some great battles and it makes it all the more fun when I win races, especially in a straight battle."
Watch the Spanish GP live on Sky Sports F1. The race starts at 1pm on Sunday, with build-up underway at 11.30am. Or watch the race without a contract for £6.99 on NOW TV.