Lewis Hamilton asks Mercedes not to impose team orders
"We are driving at 200mph. You expect us to drive around and never, ever have a problem?" says Hamilton as he argues against Mercedes team orders in the wake of Nico Rosberg crashes
By James Galloway
Last Updated: 05/07/16 6:02pm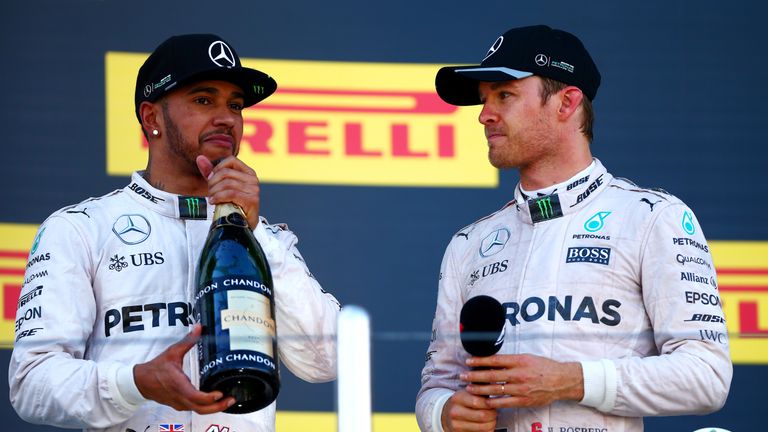 Lewis Hamilton has urged Mercedes' management not to impose team orders in his title fight with Nico Rosberg - expressing hope their recent collisions are a "blip".
Mercedes will this week decide whether or not they need to impose stricter controls on Hamilton and Rosberg's in-house rivalry after Sunday's Austrian GP saw the pair collide for the second time in five races when running first and second.
Team boss Toto Wolff said he was "fed up" with analysing the rights and wrongs of such incidents, and Mercedes would now use the days ahead of this weekend's British GP at Silverstone to determine whether team orders needed to be employed at certain stages of races.
But Hamilton, who won on Sunday after Rosberg sustained front-wing damage in the clash for which the German was later adjudged to be at fault, is hopeful they will not resort to such drastic measures.
The world champion believes Mercedes' existing policy is the correct one and cited the infamous 2002 Austrian GP, when Ferrari instructed race-long leader Rubens Barrichello to let team-mate Michael Schumacher through on the last lap, as showing how team orders at the most extreme level can be damaging.
Martin Brundle column: No sense for team orders
"I want to race," said Hamilton. "I grew up wanting to race. I wanted to get to Formula 1 and race the best and be the best by outdriving another individual.
"I think they showed a replay of Michael and Barrichello many years ago - and I was disappointed as a fan back then. We never want to see team orders like that ever happen.
"The great thing is that Toto and Niki [Lauda] have been great these last three years and allowed us to race and that's what racing is about.
"It's not always going to be blue skies and perfect - but that's motor racing. Every engineer and mechanic has been through Formula Ford, Formula Renault, all the different categories and seen the good and the bad and know these things can happen.
"We are driving at 200-plus miles an hour. You expect us to drive around and never, ever have a problem? I doubt it. So I hope that it doesn't change and we can continue to race. That's just my honest opinion from a love of this sport."
How did Lewis and Nico fare in driver ratings?
The Mercedes team-mates' Austrian collision came less than two months after they took each other out on the opening lap of the Spanish GP when fighting for the lead. They have also banged wheels at the start in Australia and Canada this season.
The incidents in Spain and Austria have cost Mercedes in the region of 50 constructors' points.
Hamilton insists he would rather not be getting involved in scrapes with Rosberg and believes they can return to racing cleanly over the remainder of the season.
"It's not something I go out to get involved in - I don't go out to get caught in a collision," he said. "If you could see I drove as wide as possible within the white lines, so I left a lot of space. Three cars could have come on the inside of me there!
Get Sky Sports F1: Every race live
"For sure, as a team boss and a team, the team want to finish first and second. That's our goal, that's my goal, and obviously I want to be at the front of that one-two but certain circumstances have led to where we are today and we have a lot more races ahead and we're going to continue to race.
"I'm fighting for the world championship so we're going to keep fighting. Hopefully through these experiences there'll hopefully be no more of what we've had so far this year. Hopefully they are just a blip in the mist and we'll continue racing going forwards."
Don't miss the F1 Report: Austrian GP review on Sky Sports F1 at 8.30pm on Wednesday as Stoffel Vandoorne and Jaime Alguersuari join Marc Priestley in the studio.