Lewis Hamilton Q&A: On trusting Mercedes & battling on in title race
"It feels right now that the man above or any higher power is intervening a little bit," says luckless Hamilton, but world champion vows to fight on after Malaysia GP blow-up
Last Updated: 03/10/16 10:01am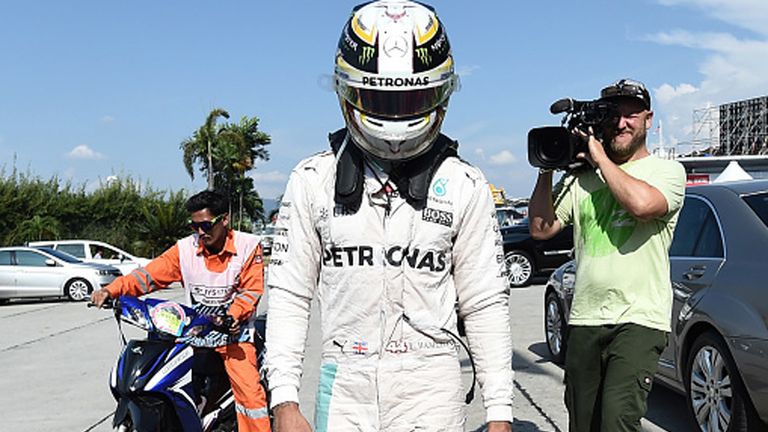 Lewis Hamilton made his frustration with his race-losing engine failure in the Malaysia GP plain to see in his immediate round of TV interviews after his costly retirement at Sepang.
But the world champion was in a calmer mood when he spoke in his usual post-race briefing with the written media more than an hour later. Having had time to collect his thoughts and speak to the team, Hamilton clarified his earlier remarks and insisted he would battle on in his title duel with Nico Rosberg...
His comments in TV interviews...
Lewis Hamilton: "Honestly, you've got to understand from my point [of view]. On one side we've had the most incredible success for these two years of which I am so grateful. These guys work so hard and we are all feeling the pain right now.
"When you get out of the car after the feeling that you have after leading the race and the car fails, it's pretty hard to say positive things all the time. 
"But, honestly, I feel, as I said in the interviews, Mercedes have built 43 engines or whatever it is, and the extra three that I've had, and I've happened to have most, if not all, the failures.
"So that is definitely a tough thing, but I have 100 per cent confidence in these guys. It's my fourth year with these guys, the guys in the garage and the guys back at the factory, and I have 100 per cent faith in them.
Mercedes reassure 'pained' Lewis
"I love it here and without them I would not have won these extra two championships. Whilst the struggle is real right now, it has been this year, I honestly feel it's constantly a test of will, a test of my spirit and who I am as a person to keep fighting it head on.
"It's not how you fall it's how you get back up - and that doesn't just apply to me, but to my guys as well. I saw tears in the eyes of my mechanics and so I know that we all bear the pain, but it's how we regroup. We've got to bear in mind what we have already built and whilst in the short term this does not look good, there are still lots of positives to go and there are still five races.
"I don't know if my two engines are going to make it, but I can only hope and if I perform the way I've performed this weekend everything is still to play for."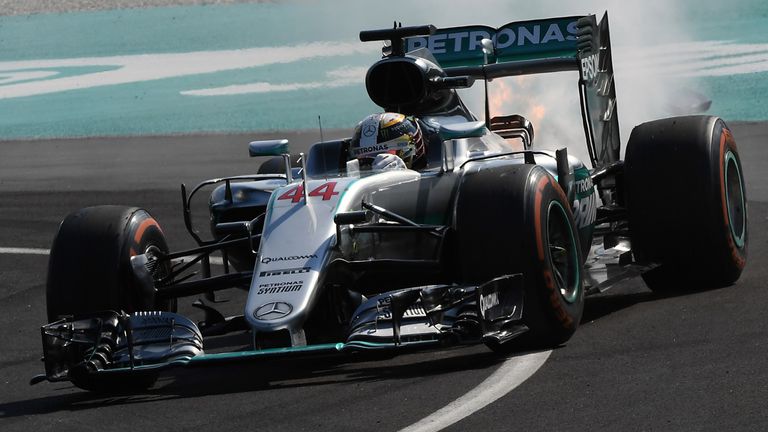 What he meant by "something or someone" doesn't want him to win this year...
LH: "A higher power. It feels right now that the man above or any higher power is intervening a little bit.
"But I feel like I've been blessed with so many opportunities, the people around me, the opportunity to be in this great team, these two last championships and lots and lots of victories and records I'm breaking time and time again. So I have to be grateful for those.
"I'll continue to fight more for sure, but at the end of the year if the higher power doesn't want me to be champion with everything that I've given towards it then I'll have to accept that.
"But as long as I end my year knowing I've given it everything and done everything I possibly could do, and we have done everything we possibly could do, that's all you can ask for."
If the championship is slipping away…
LH: "We had the problems in the first part of the season and you always had the feeling that it's slipping through your fingers and there's nothing you can do about it.
"Then we had the spurt of good results and then another bunch of difficult results and this similar kind of feeling that I probably had back in Barcelona [when he crashed with Rosberg].
"I have no idea what's going to happen in these next five races, all I can do is do what I've done this weekend. Be as focused as I can possibly be, put in performances like I have done this weekend, and pray that the car holds together.
"I still have faith and hope and that's a powerful thing."
Whether such experiences will make him stronger...
LH: "There are times when you are growing through experiences, but sometimes there is a point of diminishing returns in terms of growth. I've been through a lot of these experiences and I'm pretty strong already.
"But we will learn. The guys will take the engine back and learn from it and understand why we've had [the problems]. Every time we have had engine issues they've gone away and found out why and put us in essentially a better position to understand and make sure it doesn't happen next year."
Understanding the reason for the failures…
LH: "When these things happen I want to understand what that is and how they're going to go about making sure that it doesn't happen again.
"Right now my concern is I've got these two engines and I want them to make sure to treat them with whatever they can to make sure they both last.
"If that means not doing a session I will not do the session, just let me know what I've got to do because I'll do whatever it takes to be able to see through the races."
Whether it will be difficult to pick himself up for Japan…
LH: "You forget I'm world champion. It should be alright…"
Don't miss the F1 Report for all the reaction and analysis from the Malaysia GP. Former F1 world champion Damon Hill and The Sun's Ben Hunt join Natalie Pinkham in the studio at 8:30pm on Wednesday on Sky Sports F1.
You can watch the final day of the Ryder Cup, plus Premier League football and the Japan Grand Prix on Sky Sports. Upgrade now and enjoy three months at half price!