Lewis Hamilton to escape Mercedes punishment for Abu Dhabi tactics
"We have drawn a line under it," says Lauda; Rosberg retirement is said to have 'dramatically changed' dynamic at Mercedes
By Matt Morlidge
Last Updated: 05/12/16 12:38pm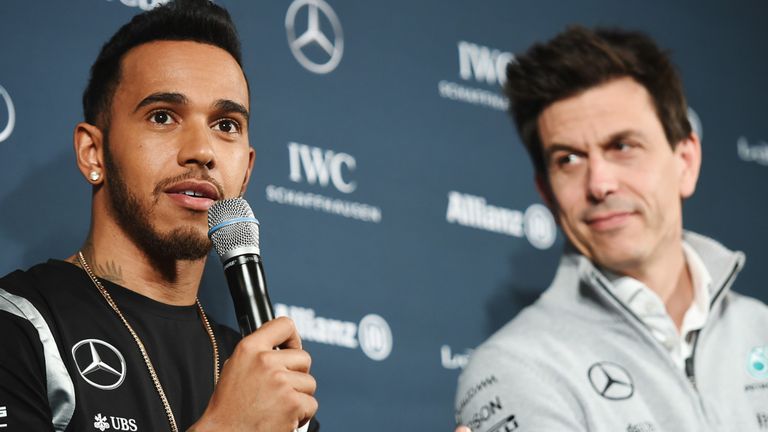 Lewis Hamilton will not be punished for his controversial tactics at the Abu Dhabi GP as Mercedes divert their attention to replacing Nico Rosberg, according to Niki Lauda.
Hamilton, needing to win the race and Rosberg to finish fourth, attempted to back up his team-mate by slowing the pace from the front. While he was unsuccessful as Rosberg claimed the 2016 title, team boss Toto Wolff insisted he would not tolerate the 'anarchy' of drivers disobeying instructions from the pit wall.
Lewis 'not surprised' by Rosberg
The British press claimed Hamilton was facing a fine, suspension, or even the sack for his actions, but The Mail on Sunday now reports that the 'dynamic of the team has dramatically changed' following Rosberg's unexpected retirement.
"There is no need to say anything to Lewis," confirmed Mercedes executive chairman Niki Lauda to the newspaper. "We have no problem about how he raced in Abu Dhabi. We have drawn a line under it."
It is claimed that the team do not want to upset and face losing Hamilton, who ignored a firm instruction from technical director Paddy Lowe during the Duel in the Desert.
"I actually thought it was a great race result, a great ending, great for not only the team but the sport as a whole," Lowe said at the Autosport Awards. "That will really have brought new fans to the sports, so a fantastic result.
"Although I told Lewis to speed up, I think it was fine what happened."
The Silver Arrows are now looking to recruit a driver to partner three-time world champion Hamilton before the end of the year.
Ferrari's Sebastian Vettel has distanced himself from a move, though McLaren's Fernando Alonso, Red Bull's Max Verstappen and Williams' Valtteri Bottas could be sought out. Mercedes junior Pascal Wehrlein, meanwhile, has insisted he is ready for the step up.

"I have no idea what we will do because we were certainly surprised by Nico's decision," added Lauda. "We were not prepared for this at all."