Lewis Hamilton on overcoming his 'horrible' Brazilian GP error
Hamilton exceeds own expectations with fourth place at Interlagos after pitlane start
By James Galloway at Interlagos
Last Updated: 14/11/17 6:14am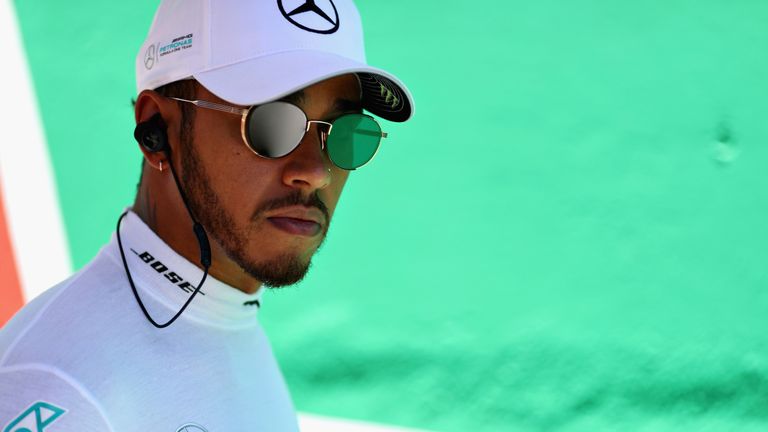 Lewis Hamilton says he exceeded his own expectations by just missing out on a podium finish in the Brazilian GP after the "horrible" experience of crashing out in qualifying.
Hamilton believes he lost a likely victory at Interlagos when a rare mistake at the start of qualifying resulted in him spinning into the barriers and consigning himself to a back-of-the-field start.
But armed with a suite of new engine parts and gearbox, Hamilton sliced through the field, briefly led the race, and finished within one second of third place - a podium near-miss he had not envisaged when he lined up at the end of the pitlane to take the start.
"I was thinking sixth, fifth," he said after the race.
"Many years ago [2009] I came from the back and came up and I was thinking that might be a chance of that. But then it's a one stop, very, very difficult to make the tyres last that length. They were staying plus seven, my stop was lap 37, so when I was at lap 30 I was like there is no way I'm going to make it. But I was there or thereabouts.
"Vettel was only three seconds behind me [before Hamilton pitted] so he had a whole pit stop window pretty much. It was a steep hill and whilst it was nice to be in the lead for a second…
Vettel wins despite Hamilton charge
Hamilton savours comeback drive
Vettel not concerned by Hamilton
"But I think I managed the tyres really well. To extend them out the way I did with the pace that I had, because I wasn't really looking after them in the way the other guys were, I was leaning on them a lot more, it got a little bit tough towards the end and I lost a bit of the advantage that I had.
"It was the best we could have done and actually more than I hoped for."
Despite arriving in Brazil as 2017's world champion, Hamilton said dropping the ball in qualifying felt just as bad as it did when he made mistakes at the start of his karting career over 20 years ago.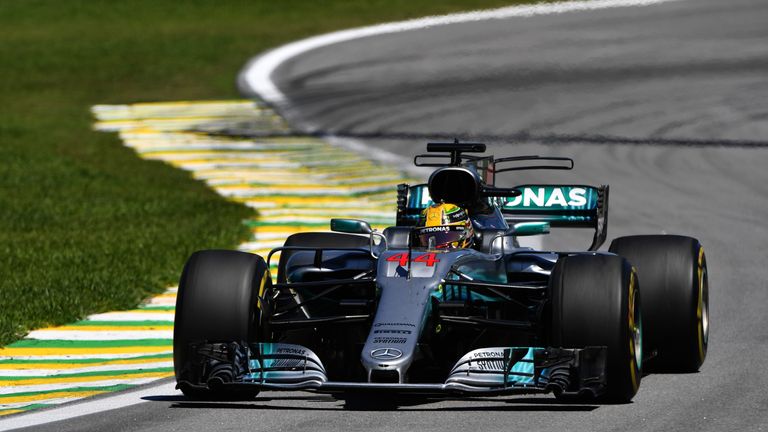 "[Qualifying] was horrible," he admitted.
"It felt just as c*** as it felt when I was eight years old and did the same thing. It doesn't get any easier to handle those experiences. But it created an opportunity to shine and hopefully that's what I did and continue to show I've got that fight in me and that drive and the skill to manoeuvre my car.
"It was cool to be able to brush up on some of my tools. That's actually my biggest strength anyway, the race. To be good at the other ones is a bonus but the race is how I won championships when I was younger."
The world champion also relished the rare opportunity to maximise the power of his Mercedes engine without fear of it coming back to hurt him later in the season.
"This is the first time I've pushed an engine like that - it was nice!" he added.
"Normally you're managing it. Ultimately they test these engines to a certain limit and then they set a limit below it as the limit. They tell you this is how much mileage you have in the race and I always come in way, way under. I always look after it more than I need to.
"I often turn the engine down and they keep telling me to turn it up and I'm like 'no, no I'll figure up a way to catch up in another way'. I guess that's just the fear of pushing it a little bit too much, like the engine blowing up in Malaysia last year."
Don't miss the F1 Report on Wednesday at 8.30pm on Sky F1 as Williams co-founder Sir Patrick Head joins Marc Priestley and Natalie Pinkham to review the Brazilian GP.
Comment below to get involved in the debate, but please adhere to our House Rules. If you wish to report any comment, simply click on the down arrow next to the offending comment and click 'Report'.