Lewis Hamilton vs Valtteri Bottas: Will it become F1 2019's big battle?
Sky F1 pundit on Valtteri Bottas' start to the season and Mercedes' continued strength; Watch the Spanish GP live this weekend
Last Updated: 31/05/19 10:51am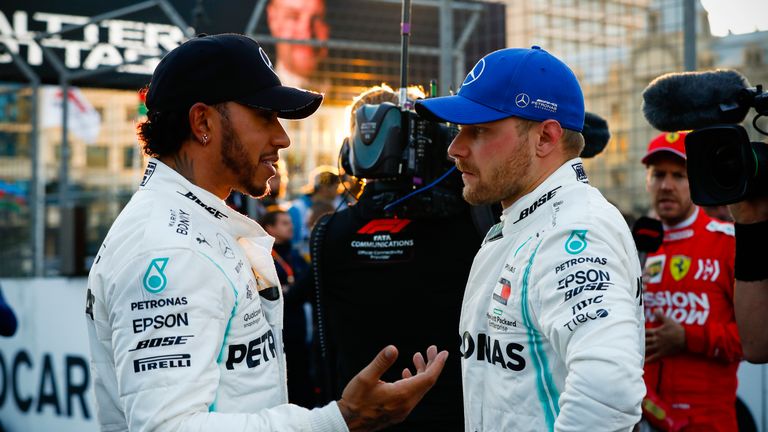 Damon Hill believes Valtteri Bottas has successfully raised his game against Lewis Hamilton and some level of tension will be inevitable if they end up in an exclusive battle for F1's world title.
Mercedes' record-breaking start to the season has ensured their two drivers are already each more than 30 points clear of third-placed Sebastian Vettel in the standings, with Bottas leading Hamilton by a single point heading into this weekend's Spanish GP live on Sky Sports F1.
After a 2018 season he described as the toughest of his career, a rejuvinated Bottas has claimed two impressive wins so far with Mercedes boss Toto Wolff likening the current on-track competitiveness between the Finn and Hamilton to the latter's battles against Nico Rosberg - although the world champions do not expect this rivlary to flare up in a similarly hostile way.
Hill, the 1996 world champion and Sky Sports pundit, has been impressed by Bottas' start to the year.
"I wouldn't say they are completely dominating - Ferrari can still pull some victories off and so maybe can Red Bull - but Bottas has raised his game and that means the title could be between two Mercedes drivers," Hill told Sky Sports News.
"That creates tension, it has to. There's no way you can be in the same team and want the other guy to win.
"Valtteri went away and reflected on the previous season and realised he has to raise his game and he's done that."
A run of four one-twos at the start of the season has laid an unexpectedly strong foundation for Mercedes' attempt at a record sixth-successive F1 championship double.
Ferrari, meanwhile, have flattered to deceive so far with what appeared strong opportunities to beat Mercedes in Bahrain and Baku going begging.
"You could say perhaps Ferrari have tripped themselves up occasionally and lost opportunities that they might have capitalised on, but Mercedes are an incredible origination now," Hill added.
"They've proven their reliability and they seem to know where they are going and stick to what they believe in.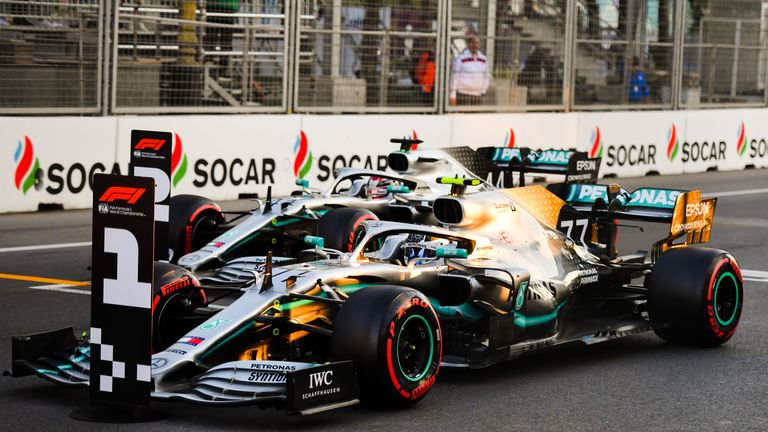 "They don't follow trends and they have proven to be the class of the field for many years now."
Hill was speaking at the Halow250 charity bike ride run by the halow project, which supports young adults with a learning disability.
Over the Bank Holiday weekend, the former world champion was among those who cycled the 250-mile route from London to Guildford via France to raise funds.
Sky Sports F1 is the home of live and exclusive F1. Find out more here to watch the 2019 season live