Austrian Grand Prix: Conclusions from qualifying in Spielberg
Hamilton a class above, Button proves he's the king of the conditions, and the Spielberg kerb debate rages on...
By Matt Morlidge
Last Updated: 04/07/16 1:02pm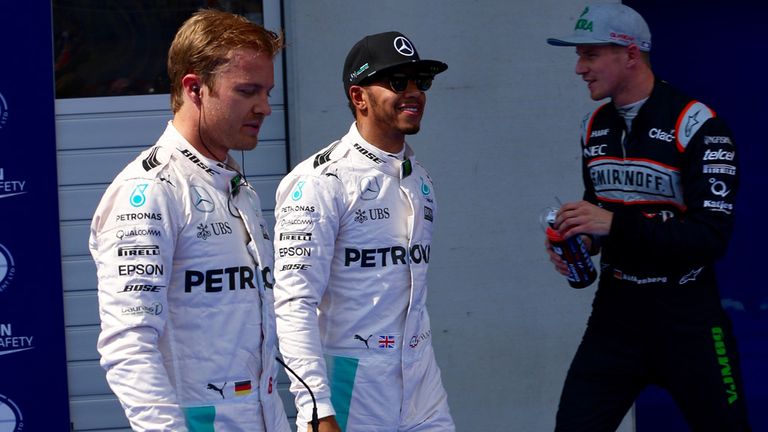 Hamilton a class above
It was chaotic, it was close, it was a classic example of just what makes this qualifying format great. But in the end, it was Lewis Hamilton's class that set him apart.
With the conditions and track changing by the second, the three-time world champion didn't just need raw pace and skill to seal another pole position - it was as much about timing. Noticing he was too close to Daniel Ricciardo ahead of a crucial final flying lap in Q3, the Brit risked backing off to to attack the Red Bull Ring in space. A mistake, suspension failure or yellow flags would have ruined his chances, but the gamble paid off handsomely -  his pole-winning advantage to Nico Rosberg was half a second, and 1.3s-plus over everyone else.
Austrian GP: When's the race on Sky?
An up-and-down season it may have been for Hamilton and room for mechanical failures he may not have, but the general consensus remains that he will always be a quicker one-lap driver than his Mercedes team-mate. His 2016 record stands at five out of five when both have finished the final shoot-out unscathed.
Rosberg, the only current F1 driver to have won in Spielberg, duly dominated Friday's practice sessions, and though the heavy Practice 3 crash won't have done him any favours, it's Hamilton who walks away with consecutive Austrian GP poles.
With his quickest rivals at least three places back, Hamilton has a golden opportunity to disappear down the 2.6-mile track, seal a first Austrian GP victory, and make up ground in this enthralling title race. Given how this campaign has gone, he needs to take it.
Keep off the kerbs, lads
When Max Verstappen was the only driver to fall victim to the new yellow kerbs on Friday, there didn't seem to be too much concern around the paddock. This was a young driver who likes to push track boundaries to the limits, as we've seen in Monaco, and others wouldn't be expected to encounter similar problems.
But fast forward to the end of Saturday's track action and Sergio Perez, Daniil Kvyat and Rosberg will all be echoing Verstappen's discontent after all three suffered suspension failures.
These 'baguette' kerbs were introduced to end the corner-cutting we so often see in Spielberg and to punish mistakes, and the view from many will be that these drivers know where the bumps are, and should avoid them. You would be punished much more for straying off line in Monte Carlo, some may add.
But it's clear that the drivers aren't happy and it seems these kerbs are just too harsh for the modern Formula 1 car. They should not be race-enders. Rosberg and, in particular, Kvyat's accidents were frightening with the driver nothing more than a passenger and the punishment for making a slight mistake, perhaps without even noticing it, appears to be spinning into a wall. At a high-speed track like this, that's surely not right.
"The suspension that was on the kerb didn't break, the one that was off the kerb did," a puzzled Kvyat told Sky F1. "If the suspension breaks, you're not in control any more and that's not very cool."
"They wanted to make the track better but they actually made it worse. The kerbs are very dangerous."
Rosberg added: "It's a very unusual, never-seen-before vibration."
Hamilton, without even encountering the problem first hand, was similarly cautious and urged the FIA to make a change.
"I can't speak for the other drivers but from me looking at it, those yellow kerbs are quite dangerous," he added. "We've seen a couple of incidents already. I don't know how many more it's going to take before a car ends up in the wall and perhaps someone gets hurt."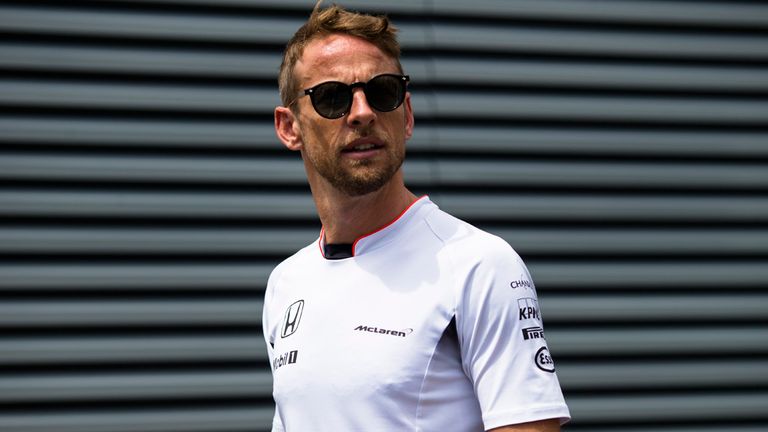 The king of changing conditions
Hamilton may have pole, but the master of the wet-dry session? It must be Jenson Button.
His 2011 Canadian Grand Prix win remains one of the finest drives in the modern era and the Brit rolled back the years to secure fifth in qualifying, and third on the grid thanks to Rosberg and Sebastian Vettel's penalties. Not content with making it into his first Q3 since McLaren renewed their partnership, Button secured his highest grid position since the 2014 British GP, almost two years to the day.
His experience may have helped as drivers desperately tried to find grip, but Button puts the performance down to his driving style.
"I love those conditions... can we have that every race? It's mega," he told Sky F1. "I think some of it is just the way that I drive, it's just different. 
"There are conditions when I can't get the best out of the car and there are conditions when I can. I feel it corner by corner I feel the grip I have when I enter the corner instead of memory from the last lap."
Gaining on or even consolidating third position is another question entirely, but it was great to see a smile back on the former world champion's face after a disappointing start to the season.
"It's easy from here, I've seen it on TV," he joked. "When they're at the front they just disappear so that's what's going to happen!"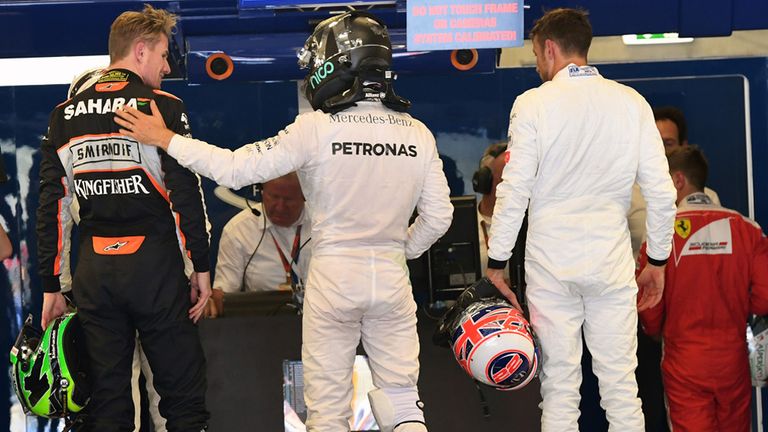 The return of the underdog
While we're talking about flashbacks, Nico Hulkenberg's pole-getting performance back in Brazil in 2010 certainly comes to mind. Like Button, the changing conditions seem to complement his racing approach.
The German may not be sitting top on this occasion but having seen Force India team-mate Perez steal the headlines this season, second place on the grid will feel like a victory in itself. Such was his pace on the slicks, he even admitted to being disappointed when he was informed that he had only finished the session in third.
The 2016 return to form of Red Bull and Ferrari has been refreshing but it's always a pleasure to see a mixed grid and another team on the front row, especially in Force India's case when they are dwarfed financially. Their drivers embrace that challenge.
Hamilton on pole position in Austria
Hulkenberg and Button, fine drivers they might be, are underdogs when it comes to the machines they are operating, but even their efforts were somewhat overshadowed by an F1 rookie.
Pascal Wehrlein, thought to be the next big thing by Mercedes, hasn't exactly set the world alight during his sure-to-be loan with Manor, but the 21-year-old came of age on Saturday. A veteran of the track thanks to his DTM experience, Wehrlein made that count on the ultrasofts in Q1 - securing a sensational 10th - before qualifying on the supersofts in 12th.
"I felt comfortable in the car and I think it's the first weekend we are not struggling with tyre temperature in qualifying," he said. "You can see how much time you can make up because of that."
Ferrari & Red Bull hope strategy pays off
Despite showing their pace in practice and the early stages of qualifying, Ferrari were again reflecting on another disappointing qualifying result. With Rosberg and Vettel dropping down the grid, the Scuderia will have at least hoped to have had Kimi Raikkonen on the front row. Fourth and ninth are their end results.
Red Bull came into their home Grand Prix without holding quite the same race-winning ambitions, but they too will have been similarly encouraged at one stage. On the intermediate tyre in Q3, Ricciardo, who kept his 100 per cent record of out-qualifying Verstappen at Red Bull, was lapping faster than anyone else. Fifth and eighth won't feel great for Christian Horner and the team.
But though frustration may be the overriding emotion right now, there is genuine reason for optimism come race day. Both teams set their fastest Q2 laps on the supersoft tyre as opposed to Mercedes' ultrasoft efforts and will start on the longer-lasting compound. We've already seen this weekend that graining really could be a factor.
It's not over.