Austrian GP 2016 grid: Penalised Nico Rosberg to start sixth
F1 penalty application rules mean Rosberg only serves four of five-place gearbox change penalty; But Vettel takes full drop to ninth; Wet start to race day at Red Bull Ring
By James Galloway in Austria
Last Updated: 04/07/16 1:01pm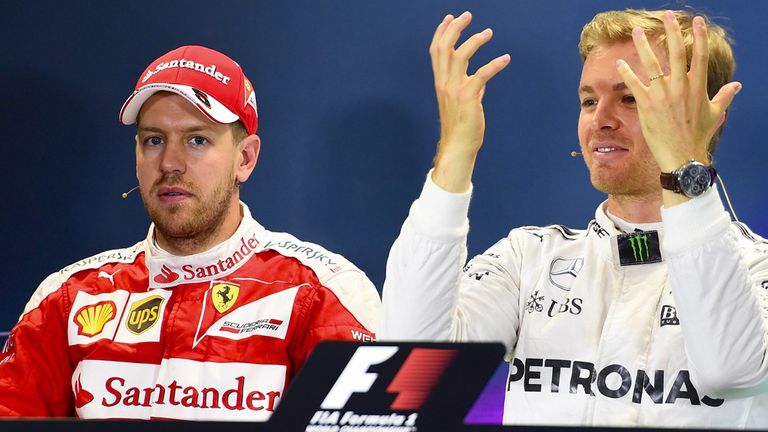 The FIA has confirmed the provisional grid for Sunday's Austrian GP, with championship leader Nico Rosberg to start sixth.
Although Rosberg picked up a five-place grid penalty for a gearbox change after a crash in final practice, the Mercedes driver only drops four places on the grid, from second to sixth.
The idiosyncrasies of F1's penalty application rules worked in Rosberg's favour as Sebastian Vettel's own five-place drop for a gearbox change was applied first. The Ferrari driver takes a full five-place drop and will start ninth.
Ferrari notified the FIA of the need to change Vettel's gearbox before the race weekend began, so the German was the first to be demoted on the grid. The positions are only closed back up once all penalties are applied.
Four cars therefore start between the two title-chasing Mercedes drivers, with polesitter Lewis Hamilton joined on the front row by Force India's Nico Hulkenberg. The German was cleared of an alleged yellow flag infringement in Q1 late on Saturday night.
The penalties for Rosberg and Vettel also promote Jenson Button to third, the McLaren driver's highest grid slot since the 2014 British GP.
At the back, Marcus Ericsson gains three positions after Jolyon Palmer (19th) and Rio Haryanto (20th) were handed three-place penalties for not slowing for the Q1 yellow flags, and Daniil Kvyat was demoted to the pit lane after Toro Rosso had to change the chassis and gearbox which were damaged in the Russian's accident.
Sunday's race is threatened by wet weather, with rain failing on Sunday morning at the Red Bull Ring. Further showers are forecast into the afternoon, with the race starting at 1pm BST live only on Sky Sports F1.
Austrian GP starting grid (starting tyres for top 10 if dry)
1. Lewis Hamilton, Mercedes (ultrasoft)
2. Nico Hulkenberg, Force India (ultrasoft)
3. Jenson Button, McLaren (ultrasoft)
4. Kimi Raikkonen, Ferrari (supersoft)
5. Daniel Ricciardo, Red Bull (supersoft)
6. Nico Rosberg, Mercedes (ultrasoft)
7. Valtteri Bottas, Williams (ultrasoft)
8. Max Verstappen, Red Bull (supersoft)
9. Sebastian Vettel, Ferrari (supersoft)
10. Felipe Massa, Williams (ultrasoft)
11. Esteban Gutierrez, Haas
12. Pascal Wehrlein, Manor
13. Romain Grosjean, Haas
14. Fernando Alonso, McLaren
15. Carlos Sainz, Toro Rosso
16. Sergio Perez, Force India
17. Kevin Magnussen, Renault
18. Marcus Ericsson, Sauber
19. Jolyon Palmer, Renault
20. Rio Haryanto, Manor
21. Felipe Nasr, Sauber 
Pit lane Daniil Kvyat, Toro Rosso