Max Verstappen stole the show in Brazil GP, says Mercedes' Toto Wolff
Toto Wolff says Verstappen "redefining physics"; Max's father Jos wowed by his son's overtaking after staging late-race fightback
By James Galloway in Brazil
Last Updated: 14/11/16 2:50pm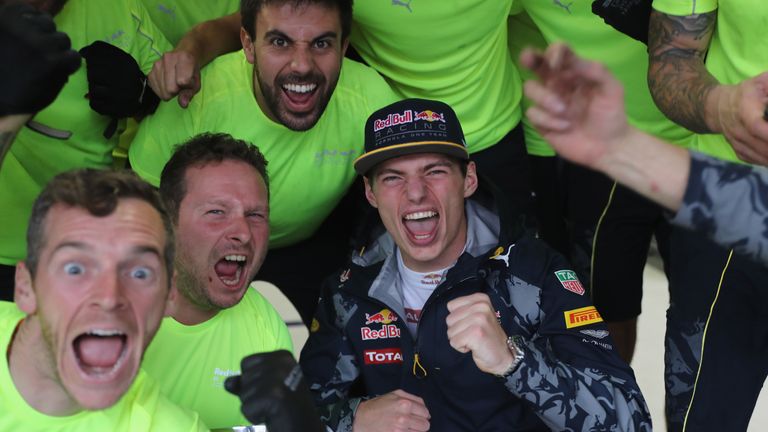 Mercedes boss Toto Wolff has described the epic Brazilian GP as the "Verstappen show" after the Dutchman's scintillating driving in the rain-hit race.
Verstappen, already renowned for his overtaking prowess, pulled off several moves early in the stop-start race to run as high as second behind Lewis Hamilton. He then staged an incredible recovery in the closing laps on fresh tyres after losing ground when Red Bull mistakenly switched to intermediates.
After dropping towards the back, Verstappen passed 11 drivers in the final 16 laps to make it back to the podium to cap a drive hailed as one of F1's best-ever performances by his team boss Christian Horner.
Max drive 'one of the best ever in F1'
And Wolff, who caused controversy with Red Bull after the Mexican GP by ringing Verstappen's father Jos to talk about the teenager's driving, joined the widespread acclaim.
"It was the Verstappen show!" said Wolff, whose drivers Hamilton and Nico Rosberg finished one-two. "Really unbelievable driving, great entertainment. Physics are being redefined."
Jos Verstappen revealed Wolff had told him the same thing in the paddock after the race.
"I didn't call him - but I met him!" Verstappen Snr told reporters. "He said 'we are racing for the championship, but today it was the Verstappen show'. I think he was right, it was really good."
Verstappen described his son's performance as "incredible" and says the way the 19-year-old was weaving behind cars, especially Rosberg, during Safety Car phases was all part of his preparation for his overtakes.
"What Max has shown here today was very special," said Verstappen.
"When you analyse this and you look at the Safety Cars, Max was always left, right, you were thinking 'ah, he's pushing the guy in front of him'. No, he was feeling the situation and feeling the circuit where you need to race.
"And the last 16 laps I think he showed why he was doing that."
Asked if there was a particular overtake that impressed him, the former F1 driver said: "Of course, the outside of Rosberg for the second time this year, or maybe how he overtook (Sergio) Perez on the outside, or the way he prepared himself with (Sebastian) Vettel.
"So it's not one particular move that stands out, every move was special in its way."
Don't miss the F1 Report's Brazilian GP review on Sky Sports F1 on Wednesday at 8.30pm