Where next for the ever-improving but under-rated Carlos Sainz?
Sky F1's Mark Hughes on why Carlos Sainz deserves greater acclaim for his performances against Max Verstappen - and why the young Spaniard could be a contender to replace Kimi Raikkonen at Ferrari...
Last Updated: 19/05/16 9:03pm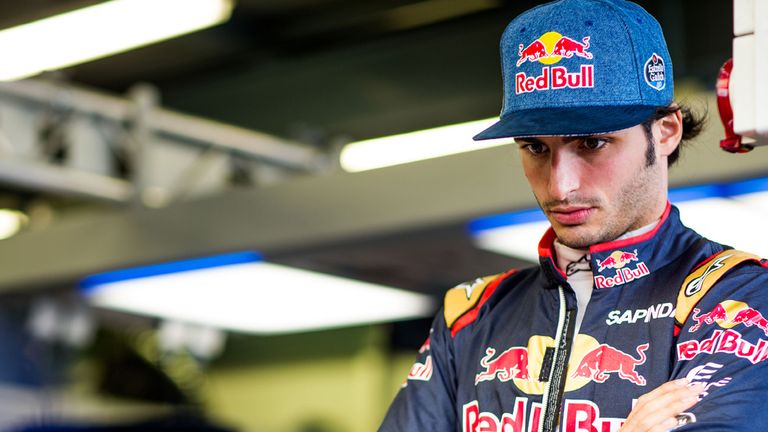 A sensational grand prix victory for Max Verstappen in his very first race for Red Bull puts a very interesting light upon the comparative performance of Carlos Sainz alongside Max in their 23 races together at Toro Rosso.
Sainz - who also starred at Barcelona with a strong sixth-place finish, having passed Sebastian Vettel's Ferrari to run third in the early laps - has performed at a level directly comparable to that of Verstappen, who we now know is a grand prix winner. Assuming that Red Bull will now stick with its Daniel Ricciardo/Verstappen line-up for a long time, it begs the question of where Sainz can go to progress his F1 career. Staying with Toro Rosso beyond this year risks losing him the career momentum so vital to a young driver in making that professional jump from promising to top gun.
Verstappen is a huge talent, something that has never been in question. Sainz's progress through the junior ranks was not as stellar, but his career has been marked by how much progress he has made year-on-year. He is one of those drivers who just keeps getting better. Everyone is wired up differently and in the sport's history we see many examples of the phenomenal driver who looked merely okay in his early career, just as we see examples of the phenomenon who was so from day one. Think of Nigel Mansell on the one hand, Ayrton Senna on the other.
Taking only those races where a straight comparison was possible, Sainz last year qualified an average of 0.025s (two-and-a-half hundredths) slower than Verstappen. Of the 12 races where that comparison was possible, the score was Sainz 7, Verstappen 5 (see table below), but the average lap time of each swung - by hundredths of a second - in Verstappen's favour. Using the same method to compare Ricciardo and Kvyat at Red Bull last year, the gap was 10 times that - at 0.261s over the 10 events in which a comparison could be made. In raw underlying pace, Sainz was vastly closer to his team mate than Daniil Kvyat was to his.
Verstappen/Sainz Qualifying comparison in 2015
| | | |
| --- | --- | --- |
| Race | Who was quicker? | Time advantage |
| Australia | Sainz | 0.267s |
| China | Verstappen | 0.145s |
| Bahrain | Sainz | 0.462s |
| Spain | Sainz | 0.113s |
| Monaco | Sainz | 0.026s |
| Canada | Sainz | 0.203s |
| Britain | Sainz | 0.431s |
| Hungary | Verstappen | 0.088s |
| Singapore | Verstappen | 1.259s (Sainz crashed) |
| Mexico | Verstappen | 0.048s |
| Brazil | Verstappen | 0.033s |
| Abu Dhabi | Sainz | 0.039s |
And where a comparison wasn't possible...
| | |
| --- | --- |
| Race | What happened? |
| Malaysia | Verstappen got a mainly dry Q2 lap. Sainz further back in pitlane queue found the rain. |
| Austria | Sainz stuck in traffic queue during Q2 |
| Belgium | Verstappen, with engine penalties, sat out Q2. |
| Italy | Verstappen no time recorded. |
| Japan | Verstappen no time recorded |
| Russia | Sainz did not take part in qualifying |
| USA | Sainz did not record a time after crashing out |
The score where a comparison was possible: Sainz 7, Verstappen 5
Average lap difference: 0.025s in Verstappen's favour
That only tells part of the story, of course. The 2015 points table said Verstappen 49, Sainz 18. And on balance, Verstappen was more often the stronger racer - but not by anything like that margin (see below). In the 10 races where comparison was possible, Verstappen edged it six to four. The points are skewed through unreliability.
Verstappen/Sainz Race comparison in 2015
| | | |
| --- | --- | --- |
| Race | In favour of | What happened |
| Australia | Verstappen | Although Max retired, he was on a transposed tyre strategy to Sainz and had kept close enough to him on the hard tyres in the first stint that he was set to finish well ahead. |
| Malaysia | Verstappen | A three-stop strategy - for Verstappen - proved better than two-stopping (Sainz), with latter moving aside under team instructions to allow Verstappen by |
| Spain | Sainz | Sainz extended middle stint long enough to get onto option tyre for last stint and used this to overtake Verstappen (and Kvyat's Red Bull). |
| Monaco | Sainz | Verstappen crashed out with Grosjean. Sainz came from pitlane start to finish 10th. |
| Britain | Sainz | Verstappen spun out |
| Hungary | Verstappen | Max finished 4th. Although Sainz was running one place behind MV when his engine failed, he was not on-course to beat him. |
| Singapore | Verstappen | Verstappen ignored team instructions to allow Sainz by. |
| Japan | Verstappen | Sainz damaged car on pit lane bollard, making a late call in response to Maldonado changing strategy. Compromised performance – and he waved Verstappen past. |
| Mexico | Verstappen | Finished 12th to Sainz's 16th |
| Abu Dhabi | Sainz | Verstappen locked brakes after being given passage past Sainz, requiring an early stop. Sainz 11th after superb opening lap. |
And where a comparison wasn't possible...
| | |
| --- | --- |
| Race | What happened? |
| China | Verstappen starred, with stunning overtakes, running 8th near the end when engine failed. Sainz lost almost a minute with momentary losses of power, requiring power unit to be re-booted on two occasions. |
| Bahrain | Both retired - Sainz running one place of Verstappen ahead before retiring |
| Canada | Verstappen's weekend ruined by a mass of engine penalties. |
| Canada | Sainz's engine lost power, then stopped. |
| Belgium | Sainz suffered an engine failure after being forced to start delayed from pitlane. |
| Italy | Sainz 11th, Verstappen 12th – but separated by seven grid places due to latter not being able to record a lap. |
| Russia | Verstappen caught up in Hulkenberg-initiated first corner accident, damaged car. Sainz rose from back of grid to 7th before brake duct blocked. |
| USA | Verstappen an excellent 4th. Sainz 7th but from the back of grid. |
| Brazil | Sainz retired on warm up lap with dead electrics. |
The score in 10 races where a comparison was possible: Verstappen 6, Sainz 4. 
What we have when we take away the random factors is a driver who narrowly out-qualified Max Verstappen but was narrowly out-raced by him. But the margins are super-small. We now know for certain how good Verstappen is - and so by implication Sainz is a superb prospect.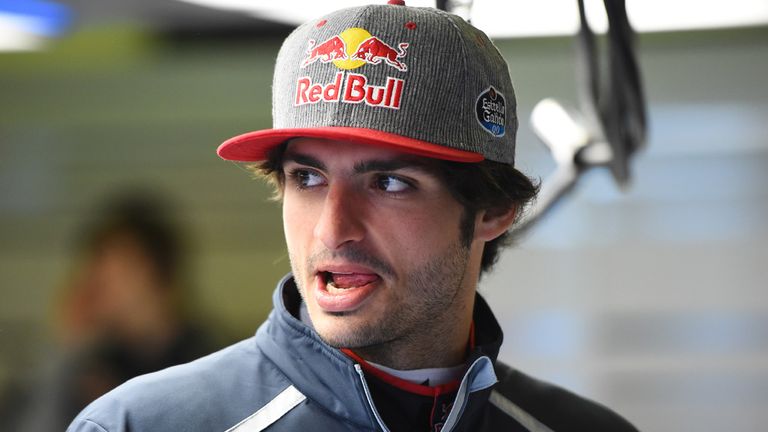 They have differing strengths and weaknesses. Verstappen has on occasion been able to make his tyres last longer. He also pulled off some stunning passes - most notably those in China and the one on Felipe Nasr at Blanchimont.
But Sainz is hardly lacking in this latter regard.
In Malaysia, he made up nine places on the opening lap, at Monza he made up six. At Sochi, after crashing out in practice and hospitalising himself, he was amazing on race day, rising up to seventh from the back of the grid and only retiring when a debris-blocked brake duct caused his disc to overheat and disintegrate. His late race wheel-banging pas on Kvyat's Red Bull at Barcelona showed more of that fighting spirit - and in that same race, he actually bettered Verstappen in nursing the tyres, being able to stretch out the middle stint long enough to be able to get on a soft compound at the end, using these to overtake the harder-tyred Verstappen. His moves on the opening lap in Abu Dhabi were breathtaking and gained him four places in two corners.
Sainz's wet weather prowess was also occasionally startling. On his very first visit to Suzuka - where rookies invariably struggle to get up to speed without having incidents - he went P1 in the wet of first practice! He was a full 1.5s faster than Verstappen. In the deluge of Austin, when it looked as if Friday's second session was going to form the grid, and approached by everyone as if it were qualifying, he was fourth, 0.8s ahead of his team-mate.
Yes, Verstappen's amazing teenage rookie year rightly earned him plaudits and attention. But it made it too easy not to be watching and monitoring the often superb performances of Sainz. If Ferrari is looking for a Kimi Raikkonen replacement now that Verstappen is off the market, this would be a logical place to start. 
MH