Formula 1 Reporter & Columnist
Rachel's diary: F1 remembers Jules
Sky Sports News HQ's Rachel Brookes on how F1 came together in Budapest to say farewell to Jules Bianchi and delivered a race to do his memory proud…
Last Updated: 29/07/15 7:57am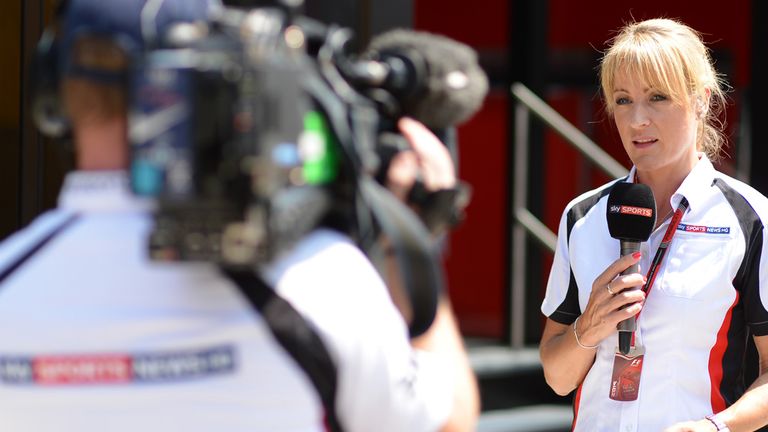 I have not been looking forward to writing this diary this week. Ever since we discovered the severity of Jules' injuries we knew the odds were stacked against him but you never stop hoping for a miracle or believing that he might be the one who defies all the odds. 
Very sadly, the news we all feared came through in the early hours of Saturday morning. I was working away on another event for Sky Sports but I woke up to a screen full of missed calls, text messages and voicemails. Within less than an hour I was on the phone on Sky Sports News HQ talking about Jules and the person I had encountered over my time working in Formula 1. 
One of my recollections I told on air still makes me smile now. After the Singapore GP last year Jules asked me why, whenever he walked into the interview pen, I would look down at my notes and not interview him. The drivers' interview pen is a fine balancing act.
Drivers walk in to be interviewed and walk around the TV crews answering questions until there is no one left to talk to. Sometimes it is because they have been interviewed by everyone but sometimes it is because crews are waiting for another driver who they cannot afford to miss. If a driver walks in and all the TV crews are busy, they just walk out again and we have missed our interview.
As a result you have to prioritise and at times that means that when a driver walks in you have to look down at your notes to save you having to actually tell the driver and press officer you can't speak to them. It's not that you don't want to interview them, but you can't run the risk of losing an interview with Jenson, Lewis or Nico for an interview with someone much further back on the grid. It's not something any of us enjoy doing but on the whole the drivers understand why. At least I hope they do!
On this occasion I explained the reasons I sometimes don't get to interview him and I ended the chat with "you'll just have to drive for Ferrari then!" He laughed and replied, "I will". I believed him. Even though he was driving at the back of the field, everyone was aware he had a great talent. Add to that his warm, friendly, approachable character and you could see why Ferrari signed him up early to their graduate scheme.
At the next race in Japan Jules was in the Thursday drivers' press conference. Afterwards there is an interview pen but as it's only for the six who have been in the press conference it means we can usually speak to them all. There had been lots of rumours about drivers changing teams in the days and weeks leading up to the race and I had questions to put to Jules about his future.
He walked into the pen in the pouring rain and came straight over to me with a grin on his face. I remember asking him about Ferrari and he smiled again and told me if they wanted him he was ready. Now we know that they did want him, to replace Kimi Raikkonen one day. A photo was taken during that interview and I posted it on my Twitter page. It captured that smile that everyone talks about and is how I will always remember him.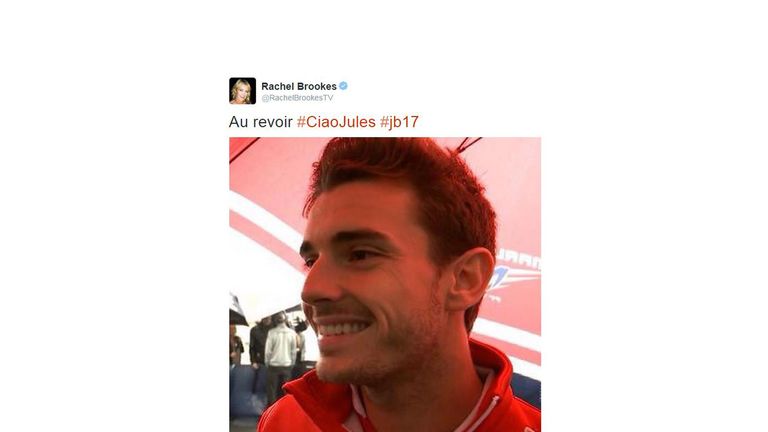 For those outside the sport I imagine it's hard to understand the outpouring of emotion for Jules. Quite simply, he was popular. In a world where many Formula 1 drivers go through the motions of everything they have to do outside of driving a car, Jules embraced all of it.
Where some drivers will only smile or say hello when there are cameras around, he would say hello to anyone at any time. He even spent time helping the team if they were up against it. One person who worked with him, who has over 10 years' experience working in Formula 1, told me he was by far the nicest driver they had ever worked with. 
I remember him joining Marussia in 2013. We were at testing in Barcelona and if you read my diary from the start of the year you will know they are the longest days we do all year. I got a call from Marussia to say they had an announcement that night but couldn't say what until much later. Did we want to stay and cover it? It was so late that the Marussia team even offered to feed us dinner while we waited.
Then we discovered that Luis Razia's deal had fallen through and that they now had Jules Bianchi as their driver and I went to interview him outside the back of their garage. He was already in his Marussia race suit and while softly spoken, was clearly very happy and excited to be there. We were then allowed into the garage to film some of his seat fit. As we have heard over the last few days, Jules' path to Formula 1 was not easy.
He didn't have the financial backing and massive sponsorship deals some bring to the sport so his achievement of making it to the grid was down to talent alone. 
I was covering the Hungarian GP for Sky Sports News HQ this week and arrived at the track on Thursday for the usual media day. The interviews, however, were anything but usual. It was a time to hear tributes from other drivers to the Jules they knew, raced against and shared down time with.
Marcus Ericsson told me Jules was his reference point and the racer he looked up to, while Felipe Massa described him as the greatest karter he had ever seen. Fernando Alonso told us about a Ferrari training camp in Lanzarote where they spent great times together. It was clear his death had affected them all deeply. They are a generation who haven't experienced the death of a driver as a result of a Grand Prix.
They had all had accidents before, some more serious than others, but they were still here to talk about it. After a day of live reports and interviews I wrote a script for a piece based around those tributes and recorded the voice track for it in a quiet corner of the paddock before sending everything back to the office over the satellite link.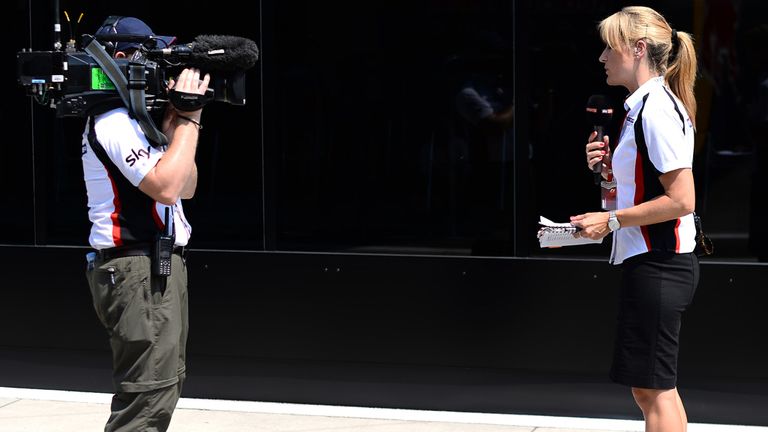 Once the media day on Thursday had passed and the cars had been back on track on Friday it almost felt like a normal Grand Prix weekend. The two Mercedes locking out the front row on Saturday made it feel even more so but when Sunday arrived the mood in the paddock changed once more.
We knew there was going to be a minute's silence just before the race, but then word filtered through that Bernie Ecclestone had sent a plane to collect Jules' family from France and bring them to the race. I cannot imagine how torturous the last nine months have been and how hard the road ahead is without a son and brother but their composure and dignity was a lesson to us all. 
I went into the pitlane to do a live report into Sky Sports News HQ and while I was waiting the Manor-Marussia team gathered in their garage for a team photo. No one filmed it, it was their private moment and we kept away but it was the first of several very emotional scenes that would happen.
Much has been made of Jules' personality and aside from his family and close friends, those men and women in that garage were his world. He infected the team with his enthusiasm and charm and they must have called on all their inner strength to prepare those cars and race in Hungary. 
Once I did my report I went back to the paddock and stood at the back of one of the motorhomes to watch the screens. I don't know how it came across to you but that minute's silence was one of the most moving things I have ever seen. The drivers in a circle with his family and the race helmets on the floor with Jules' in the centre was heartbreaking. I have no idea how those drivers then got into their cars to race.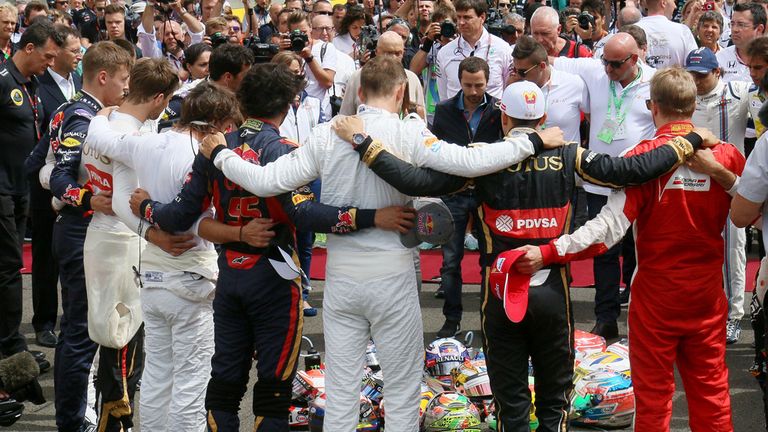 But race they did and what a race! Every one of the drivers had said they would race hard, just as Jules did, and would want them to now. They didn't let him down. There may not have been a battle for the lead but every position on that track was fought for with every sinew.
You couldn't help feeling that had Jules been here he would have scored points on Sunday. Post-race, his close friend Fernando Alonso agreed. That was just the sort of race he would have loved and been right up there in amongst it, despite his car.
Daniel Ricciardo told me a lovely story about how when he was younger he and Jules were racing and Jules would lunge into turn one to make a pass and that he learned from that and that as he made his moves in last weekend's race he was thinking of Jules and how he would have done it, and that the lunges were for the "lunge master"! 
All three drivers on the podium dedicated their races to JB17 - the Ferrari driver who would quite probably have been his team-mate, the young racer who looked up to him and the close friend who learned some tactics from him. Sounds perfect to me. 
Ciao Jules.
RB
Don't miss the F1 Midweek Report for all the analysis of the Hungarian GP. Reuters F1 correspondent Alan Baldwin and The Daily Telegraph's Daniel Johnson join Natalie Pinkham in the studio. Catch it at 8:30pm on Wednesday July 29 on Sky Sports F1.