Tiger Woods revels in emotional Tour Championship victory
Woods holds back tears as 80th PGA Tour title sees him move up to world No 13
Last Updated: 24/09/18 8:53am
Tiger Woods admitted to being overcome with emotion as he walked up the final fairway on his way to winning a first title in five years at the Tour Championship on Sunday.
The 14-time major champion hit a final round one-over-par 71 at Atlanta's East Lake to secure his 80th PGA Tour title and mark a remarkable return to the golfing elite.
Woods, who underwent spinal fusion surgery last April, admitted at the start of the year he wasn't sure of how his body would cope with the rigours of regular tournament golf but despite a late stumble was in never in danger of letting slip his three-shot overnight lead.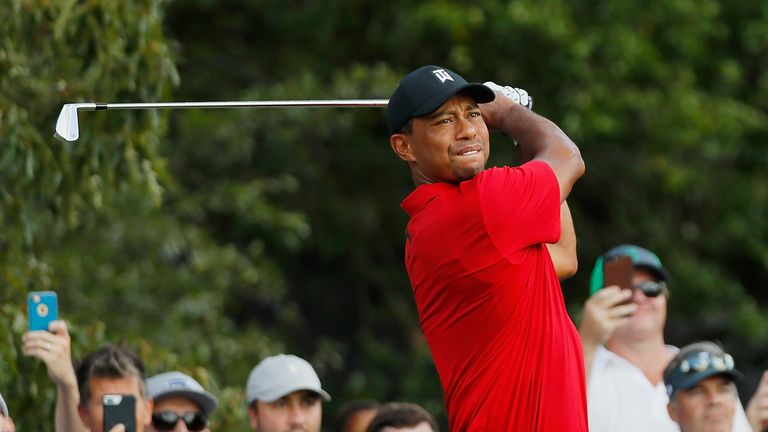 "At the beginning of the year, [winning] was a tall order, but as the year progressed and I proved that I could play and I found a swing and put pieces together I knew I could do it again," Woods told Golf Channel.
"I was having a hard time not crying coming up the last hole. I kept saying 'hey, I could still play this out of bounds.' But once I got the ball on the green, I gave (caddie) Joey (LaCava) a high five because I knew it was done.
"After Rory tapped in, I started tearing up a little bit. I just can't believe I've pulled this off."
Woods had missed almost the entirety of the past two years through a debilitating back injury but has since signalled his return to form with a series of consistent performances on the PGA Tour and two top-10 finishes at The Open and PGA Championship.
"It's been tough. I've had it not so easy the last couple of years and worked my way back and couldn't have done it without the help of everyone around me," he said.
Did you know...
Woods' most recent win before Sunday had come 1,876 days ago at the 2013 WGC-Bridgestone Invitational.
"Some of the players I saw after on the 18th green knew what I was struggling with and it was really special to see them there.
"It's just hard to believe I've won the Tour Championship."
The American was put under some pressure by countryman Billy Horschel on the back nine as his fellow former FedExCup champion posted the clubhouse target at nine-under, but Woods recovered from back-to-back bogeys at the 15th and 16th to finish with a pair of pars.
"Billy put a bit of pressure on me at the end. The up and down at 17 was huge," said Woods, who was flying to Paris later on Sunday with the US team for this week's Ryder Cup, live on Sky Sports.
"We're flying tonight with the guys, it's going to be fun. I think we're all going to sleep well."
Get the dedicated Sky Sports Golf channel to watch every minute of the Ryder Cup. Find out more.