Deutsche Bank Championship: Fitness fears for Tiger Woods ahead of Boston
Tiger Woods is not sure he will be fit enough for the Deutsche Bank Championship due to a back problem.
Last Updated: 26/08/13 11:39am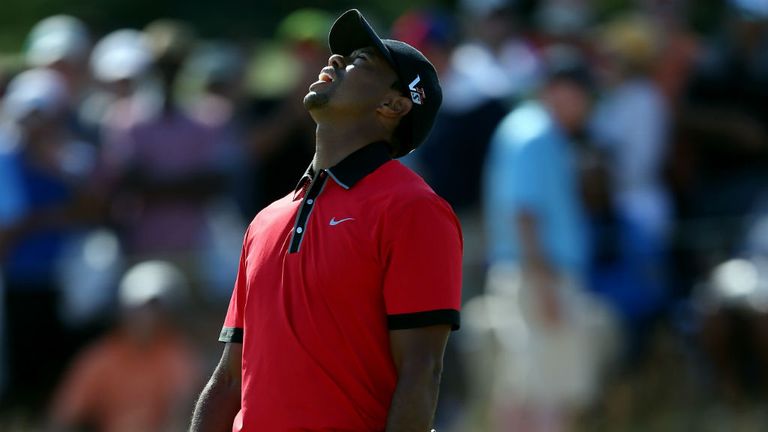 The 37-year-old collapsed in pain after playing a shot from the fairway at the 13th hole in New Jersey after suffering from a back spasm.
The world No 1 regathered his composure to almost force a play-off with eventual winner Adam Scott - with Woods finishing one shot behind in a four-way tie for second.
However he admits he is now uncertain if he will be okay to play at the Deutsche Bank Championship in Boston due to the problem.
"That's all hypothetical," said Woods. "I just got off [the course] and I'm not feeling my best right now."
Spasm
Woods, who attributed the issue to a soft hotel bed, had been struggling all week - with the pain flaring up on the final day at the 12th.
"It actually started the hole before, my little tee shot there started it and 13 just kind of accentuated it," he said.
"Oh yeah, big time. It's definitely spasming."
Woods finished the 13th with a bogey - and although he picked up shots at the 16th and 17th holes, he just missed out on a play-off when his 26-foot putt from off the green failed to go in.
"I had a chance," said Woods. "I hit a good putt. Thought I made it. It was a little double-breaker and I thought I poured it in.
"I was playing pretty good, and I was hanging right there and I was only one back. I figured I was in the perfect spot and unfortunately just couldn't finish off the rest of the day."