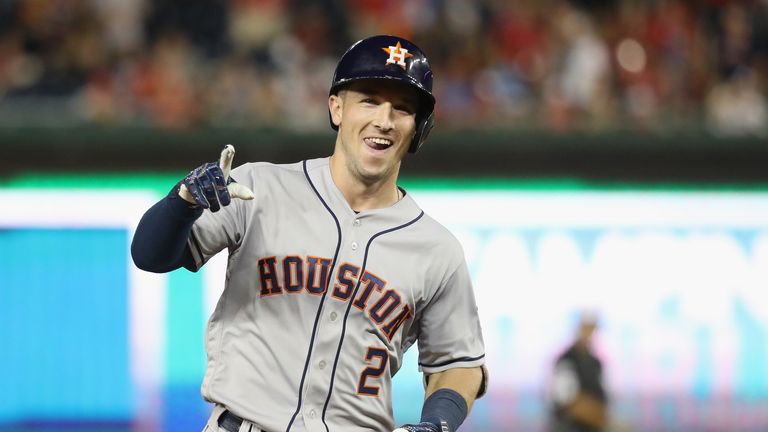 Houston Astros stars Alex Bregman and George Springer hit back-to-back home runs as the American League beat the National League 8-6 in Tuesday's MLB All-Star Game.
Both sides hit five home runs each on an entertaining night at Nationals Park in Washington DC and the overall total of 10 shattered the All-Star Game record of six, last managed in 1971.
And the contest went to extra innings before two members of the World Series-winning Astros squad stepped up.
Two outs from defeat in the ninth inning, the National League had equalised at 5-5 on pinch-hitter Scooter Gennett's two-run homer off American League relief pitcher Edwin Diaz.
But AL third baseman Bregman, later named the game's Most Valuable Player, homered to open the 10th, and outfielder Springer followed up with another blast off Los Angeles Dodgers right-hander Ross Stripling, for a 7-5 American League lead.
They were only the sixth back-to-back homers in All-Star Game history, and the first to occur in extra innings.
Jean Segura, who had earlier belted a three-run homer in the eighth to give the AL a 5-2 edge, singled after Springer's at-bat and then scored to make it 8-5 on a Michael Brantley sacrifice fly.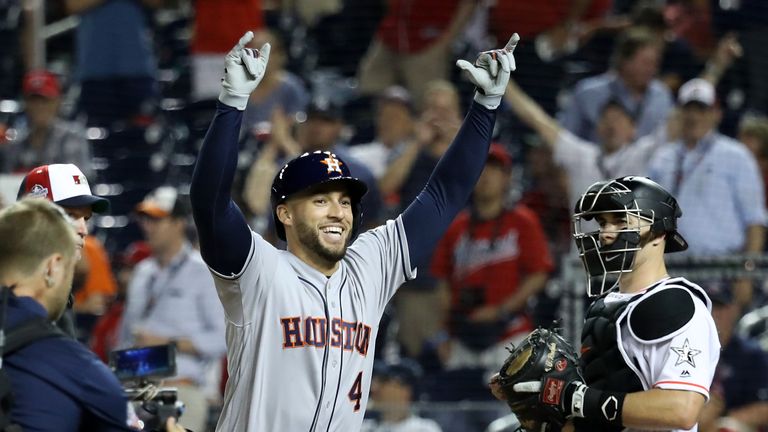 Joey Votto led off the National League 10th with a homer to create the final margin, but Toronto Blue Jays pitcher J.A. Happ, who was not expected to take the mound, retired the next three batters to end the three-hour, 34-minute spectacle.
It was the American League's sixth consecutive victory and 18th in the past 21 contests.
Diaz was the winning pitcher, with Stripling the loser and Happ getting the save, in the highest-scoring All-Star Game since 2002.
Chicago Cubs catcher Wilson Contreras, Colorado shortstop Trevor Story and Milwaukee outfielder Christian Yelich hit solo homers for the National League.
And New York Yankees slugger Aaron Judge and Los Angeles Angels star Mike Trout smashed solo shots for the American League.