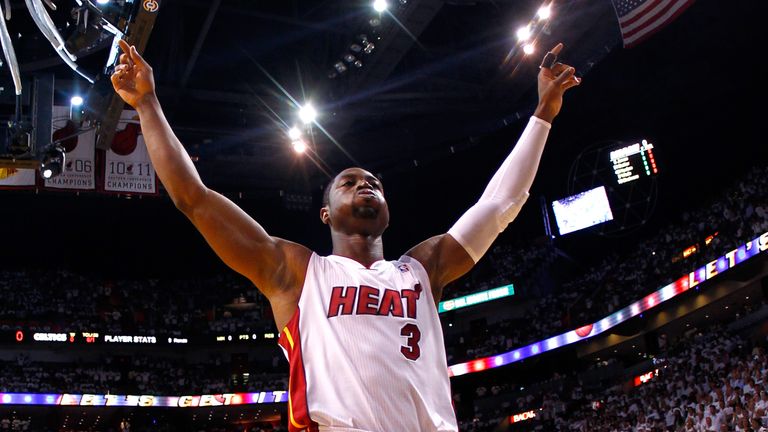 Dwyane Wade has called an end to his 13 seasons with the Miami Heat after confirming he is to join the Chicago Bulls.
The 34-year-old shooting guard will sign a two-year deal with the Bulls, one that will pay him about $47m.
Miami offered $40m over two years for Wade to stay with the team where he has spent his entire career, as a 12-time All-star, a three-time NBA champion and the NBA Finals MVP in 2006.
"This was not an easy decision, but I feel I have made the right choice for myself and my family," Wade wrote in a letter to Miami, released to The Associated Press.
It ends a second consecutive summer of 'will-he-or-won't-he' worry in Miami, who were able to keep Wade last summer following negotiations that led to a $20m, one-year deal.
The Heat spoke with him on Wednesday in New York in an effort to keep him, the same day that Wade also took meetings with the Milwaukee Bucks and the Denver Nuggets.
Whether Chicago ever got into the same room on Wednesday night was unclear. But what was clear was that whatever the Bulls said, and whenever and however they said it, it was enough to get him out of Miami, having previously missed out twice.
Even more clear was that the lure of home was too strong this time to ignore, just as it was for Wade's close friend LeBron James when he left Miami to rejoin the Cleveland Cavaliers two years ago.
"Watching the Bulls growing up inspired me at an early age to pursue my dream of becoming a basketball player," Wade wrote in the letter.
"I have never forgotten where I came from and I am thankful to have an opportunity to play for the team that first fueled my love of the game."
The Bulls sent guard Jose Calderon and two future second-round picks to the Los Angeles Lakers in exchange for the rights to an undetermined player who is not currently in the NBA, and also traded Mike Dunleavy to the Cleveland Cavaliers.
Both trades were confirmed to the AP on condition of anonymity because they were not immediately finalised.