GB swimmer Max Litchfield watches England in Cricket World Cup
By Mark Ashenden
Last Updated: 13/07/19 9:49am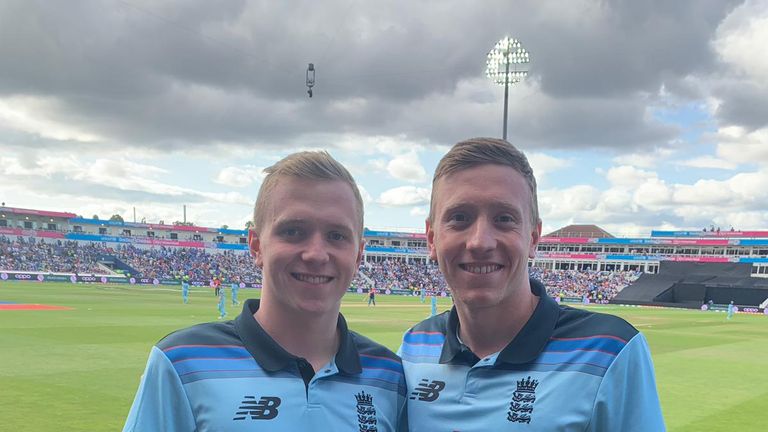 The build-up to a World Championships can be stressful so why not head to Edgbaston to soak up a completely different sport and watch some England fireworks in the World Cup.
And that's exactly what GB swimmer Max Litchfield did. He adores his cricket but because of his commitments in the pool has never had the chance to get involved.
With England's World Cup hopes hanging by a thread, the 24-year-old Sky Sports Scholar from Sheffield was in Birmingham for a thriller against India.
Max discusses his day out with brother Joe (also a GB swimmer) and how his water sport compares with cricket....
---
The World Championships in South Korea is almost upon us and I've had a lively few weeks preparing.
I was in Barcelona and Canet for the Mare Nostrum series which are perfect events to get me race-ready against some of the fastest swimmers in the world.
My swims weren't blisteringly quick but they have provided me with a great springboard for the lead in to the Worlds.
Out of the pool, my brother Joe and I had the honour and pleasure to go to Edgbaston and see England beat India.
With the World Cup on the line the boys stepped up, mainly down to Johnny Bairstow's fabulous 100 and brilliant opening partnership with Jason Roy and not forgetting some brilliant work in the field from the whole squad.
I have loved cricket almost my whole life but never really had the opportunity to play.
When I sit down and watch a smashing game like this one it's hard not to draw comparisons between the sport and swimming.
Both are team sports but something that will never be the same in swimming is the fact that you are always on your own, always on your own journey and only YOU can make the difference.
With cricket on the other hand (fielding at least), you've got 10 other guys out there who've got your back.
I love seeing that teamwork in action though, some of the hand-off catches when players are teetering over the boundary rope are sensational and really do bring another dimension to the game.
One similarity to swimming is when you're batting. Yes you've got your partner down the other end but at the end of the day it's only YOU who can do anything, only YOU who can dispatch that delivery barrelling your way at 90mph!
I've never really thought about the skill set required for cricket but all the traits they show are almost identical to swimmers!
They graft, they put their bodies on the line and push through everything thrown their way (literally in some cases) to reach their goal, exactly the same as in swimming!
It would be awesome to try my talents out in the middle one day.
I see myself being a batsman more than a bowler however as I'm not sure my shoulder could withstand the force of a maximum delivery - maybe I'd take up spin!
Let's hope England can go all the way!
Watch the World Cup final between New Zealand and England live on Sky Sports Cricket World Cup and Main Event from 9am on Sunday.