The Houston Rockets' Carmelo Anthony claims LA Lakers' Rajon Rondo sparked the brawl which marred LeBron James' home debut by spitting in Chris Paul's face.
Rondo and Paul exchanged punches and Lakers forward Brandon Ingram also threw a punch as he joined the fray. All three players were ejected in the final quarter of the Rockets' 124-115 victory.
While none of the video of the incident clearly shows the Lakers point guard spitting, Anthony claims to have witnessed it.
"I was right there," Anthony said. "I was standing right next to Chris.
"That's unacceptable. You don't do that. You don't do that, to nobody. In sports, on the streets, that's blatant disrespectful right there.
"The NBA, they got to do what they got to do. They got to do what's right. I hope they do what's right."
Live NBA: Atlanta @ Cleveland
Paul declined to comment on the incident but Rockets head coach Mike D'Antoni did react to the altercation after the game.
"I saw it from a distance. I wasn't getting in there," D'Antoni said. "I had glasses on, I couldn't go in there.
"Yeah, stuff like that, the NBA will sort it out. It was some heated stuff and I'm sure some ... spit was thrown. When you call someone out, it happens."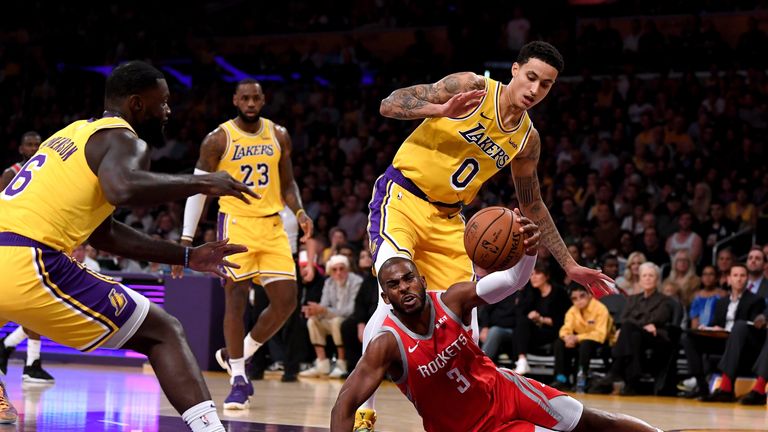 James, who stepped in to help break up the melee, said he did not see what caused the brawl when questioned in his post-match interview.
"I didn't see anything and I didn't say anything to my team after the game," James said. "I just tried to calm things down, that's all. Play basketball."
The NBA will investigate the brawl and are expected to announce sanctions within 24 hours.
NBA Saturday Results
Nets 112-132 Pacers
Raptors 117-113 Wizards
Celtics 103-101 Knicks
Magic 115-116 76ers
Hornets 113-112 Heat
Pistons 118-116 Bulls
Timberwolves 136-140 Mavericks
Suns 91-119 Nuggets
Spurs 108-121 Trail Blazers
Rockets 124-115 Lakers
Sky Sports is the new home of the NBA in the UK with live coverage throughout the week, including selected live games free to all Sky subscribers via Sky Sports Mix.
And www.skysports.com/nba will be your home for news, reports, video and features throughout the season while you can follow us @SkySportsNBA