Giannis Antetokounmpo threw a wayward pass that struck James Harden on the head and floored the Houston Rockets star.
The unfortunate incident occurred with 9:03 left in the fourth quarter as Antetokounmpo backed down Rockets defender PJ Tucker in the low post.
Rather than muscle his way through, Giannis whipped a right-handed pass across the lane intended for team-mate Malcolm Brogdon who was waiting for a corner three opportunity.
Antetokounmpo did not spot Harden standing between himself and Brogdon and his bullet pass cannoned off the side of the Rockets' guard's head, knocking him to the floor.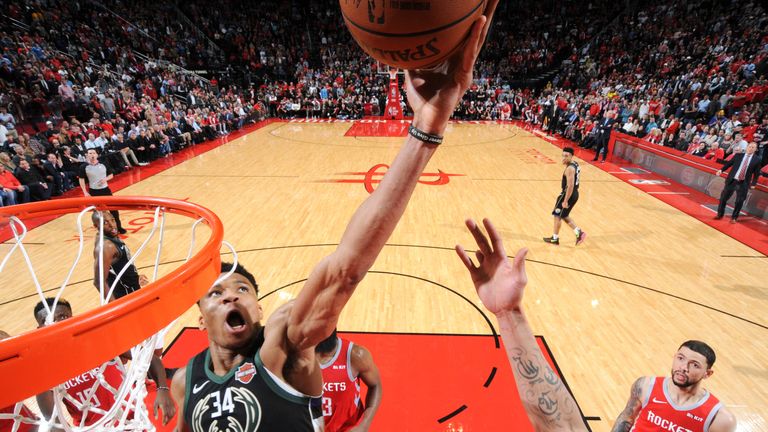 Luckily for the Bucks, the ball bounced back to Giannis who then found team-mate Ersan Ilyasova for a three-pointer from the top of the key that extended Milwaukee's lead to 15 points.
Wednesday night's scores
Indiana Pacers 108-135 Boston Celtics
Phoenix Suns 94-104 Dallas Mavericks
Detroit Pistons 100-113 Los Angeles Lakers
Philadelphia 76ers 106-123 Washington Wizards
Atlanta Hawks 100-116 Brooklyn Nets
Milwaukee Bucks 116-109 Houston Rockets
San Antonio Spurs 86-96 Memphis Grizzlies
Cleveland Cavaliers 124-140 New Orleans Pelicans
Orlando Magic 93-106 Utah Jazz
Chicago Bulls 94-104 Portland Trail Blazers
The Bucks ran out 116-109 winners with Antetokounmpo finishing the game with 27 points and 21 rebounds. Despite taking a heavy blow, Harden poured in 42 points in the Rockets' losing effort.
Click the video at the top of the page to see Harden decked by Giannis' wayward pass
Want to watch the NFL or NBA on the Sky Sports USA channel but don't have Sky Sports? Get the Sky Sports Action and Arena pack, click here.