The Oklahoma City Thunder and San Antonio Spurs have overcome early-season struggles to become two of the meanest defenses in the NBA, writes Mark Deeks.
Considering that different teams play at different speeds, in a high-possession sport like basketball, points conceded per game is not the best way of measuring a team's defense, even if it is the most obvious one.
Live NBA: Oklahoma @ San Antonio
A measure of volume without context is not helpful. Nor is any measure of scoring efficiency going to be enough on its own - after all, if a defense is good enough to consistently make opponents shoot really badly, but then give up defensive rebounds all the time, are they actually doing well?
Attempts over time to find a catch-all measure for everything that can be said to be a part of a team's overall defensive effectiveness have arrived at the metric, 'defensive efficiency'. Essentially the number of points a team gives up per 100 possessions, defensive efficiency is perhaps the best way to conflate all the nuances of defense and compare the league's teams to each other.
The league's current leaders in defensive efficiency, and by quite some way (the gap from first to third is bigger than the gap from 12th to 20th) are the Oklahoma City Thunder.
Despite an ominous 0-4 start that led to mocking criticisms of their hefty summer spending strategy, the Thunder have turned it around, currently sporting a 25-14 record that is good for third place in the ridiculously competitive Western Conference.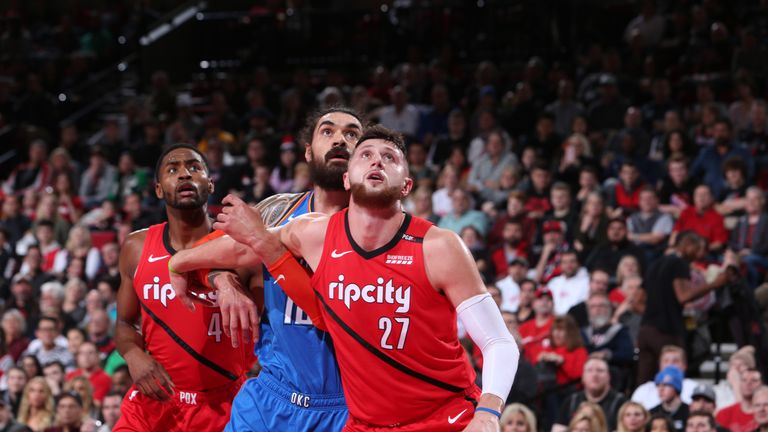 It helps in no small measure that they have two of the best individual defensive players at their position in the world in the forms of Steven Adams and Paul George. They would have a third, too, were Andre Roberson healthy. Through their combination of strength, commitment and plays on the ball, Adams and George would be the lynchpin of any good defensive system, even if you lined them up with three piles of fly-tipped kitchen appliances.
Notwithstanding the above, Oklahoma City's defensive excellence is more a product of strong teamwork over the abilities of any particular individuals.
As a group, they communicate, rotate, and force opponents the right direction into the help. The Thunder attack the ball harder than most, able to normally get away with it by being athletic and communicative enough to rotate and shut any angles opened up.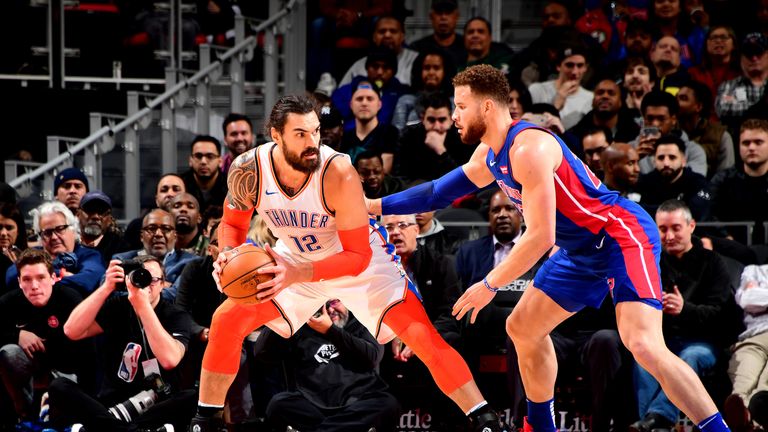 To press heavy and high on defense means covering each other, and that relies on teamwork to pull it off. It is like what the Milwaukee Bucks used to want to do under Jason Kidd, except with players who can pull it off. Against pass-happy teams, they are always a threat to steal the ball.
That said, they also have some excellent individuals. Having also picked up Nerlens Noel for the bargain price of the minimum salary over the summer, the Thunder are usually able to play either Adams or Noel at any time.
That will not be the case against the Spurs after Noel was placed in the concussion protocol after being knocked unconscious in the Thunder's 119-117 loss to the Minnesota Timberwolves.
When Roberson returns, they will also be able to have either him or George on the court at all times. There are thus no bad defensive line-ups.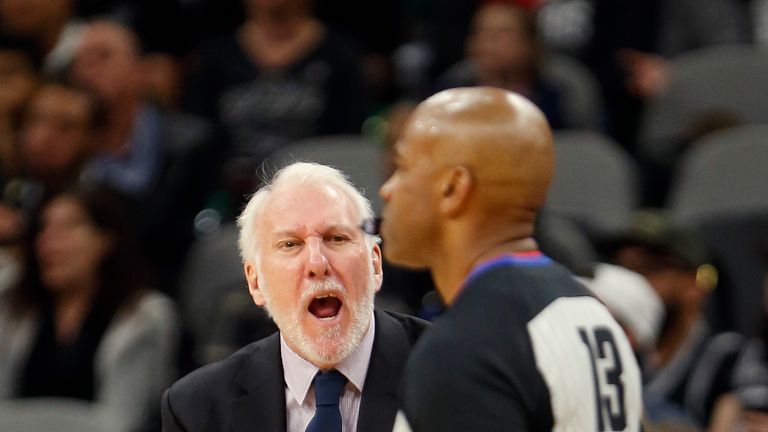 Conversely, the Spurs are only 17th in defensive efficiency, with a 109.2 rating. However, this is itself quite a massive improvement - after all, earlier in the season, they were stone-cold last.
Over the course of November, the Spurs had the worst defense in the league. By December 8, they were second-last for the entire season in the league; this after being top five in each of the last six seasons, and in the top 11 in all of the 22 full seasons of Gregg Popovich's tenure with the team.
It was jarringly out of character for them. And that is partly why it did not last. In the last 15 games, the Spurs have had the best defensive efficiency in the league (101.9), better than even the Thunder (102.2; third). A normal level of 'Popovichian' defense has been restored.
San Antonio have done this despite their starting point guard Dejounte Murray, ostensibly a defensive specialist, being out for the season due to injury. They also lost plus defenders in Kyle Anderson and Danny Green from last year's team, as well as Kawhi Leonard from years past.
This heavy level of roster turnover showed; the very same cohesiveness, communication and trust outlined above as being integral to the Thunder's success were lacking from the early season Spurs, and thus so was any semblance of above-average defense. Poor communication, missed rotations and ball-watching led to a lot of open looks from three. The aged legs of much of their remaining rotation also did not help.
But the Spurs defence is now back. Juggling the line-up and rotations to find the right combinations of players was a part of the reason for the turnaround, and while the 24-18 team comprise largely the same players as that November team that could not stop anyone, there is one addition.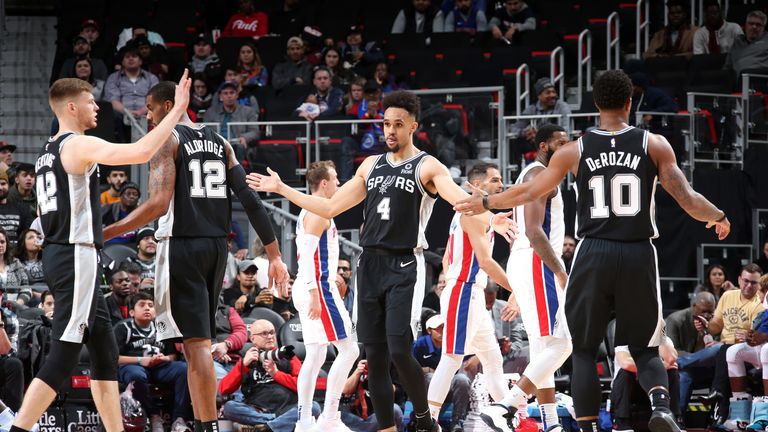 A key returnee from injury has been sophomore point guard Derrick White, who has taken Murray's place in the starting line-up. For one so relatively inexperienced at NBA level - having played only 139 minutes as a rookie - White is already quite a presence defensively, a large and physical point guard in the Marcus Smart/Kris Dunn role who also has a knack for defending with his hands.
There are many different ways to play defense, and many different reasons why teams vary in their ability to do so as a cohesive unit. But there are commonalities. Forcing turnovers leads to getting out in transition, which leads to easy points. If shots cannot be denied, they should be contested; rotations, commitments to closing out and selfless rebounding are keys to successful defensive units. And these two teams are among the league's very best at all of that.
So, how do the two match up tonight?
The Spurs are not especially pass-happy. They rank a lowly 23rd in the league in passes per game with 284.9 and commit comfortably the fewest turnovers at 12.2 per game. With their defensive discipline, communication and length, the Thunder live to get hands in the passing lanes and jump out in front of the ball, but against the Spurs' offensive discipline, that will be harder to do.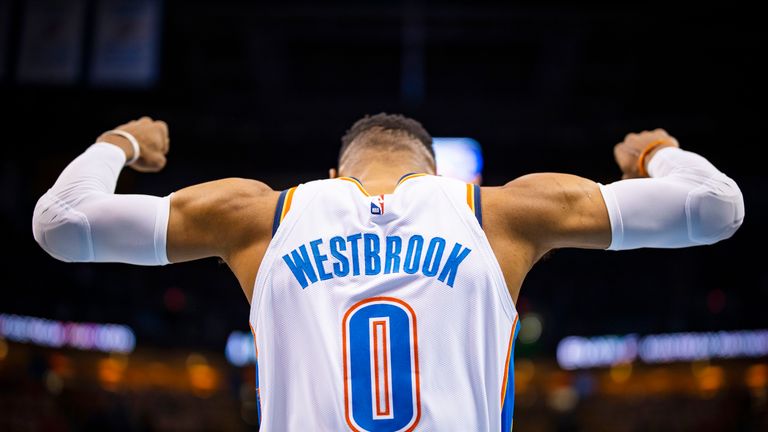 As it happens, though, Oklahoma City rank even lower in that category. The Thunder throw the fewest passes in the league per game at 235.8, far behind the Houston Rockets with the second fewest at 247.3, themselves even further behind the Los Angeles Lakers at 269.8.
Apart from the Memphis Grizzlies who are way out in front at 342.0 per game, everyone else ranked between 279 and 291 per game. Russell Westbrook's isolation-heavy style half court play, then, at least keeps the turnovers down.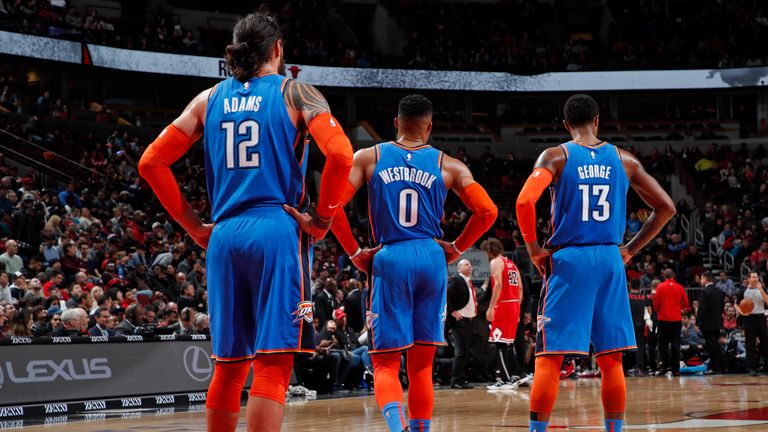 One team has been a bastion of defense in the league all season long. The other has been a bastion for two decades that has found its footing again. Both combine skill with savvy, and flank their offensive stars with defensive role players who know where to be.
Who will overcome? The team that commits the fewest turnovers, probably.
Want to watch the NFL or NBA on the Sky Sports USA channel but don't have Sky Sports? Get the Sky Sports Action and Arena pack, click here.