Utah Jazz backcourt pairing Ricky Rubio and Donovan Mitchell are extremely talented individual players - but can they succeed together? Mark Deeks analyses the duo's strengths, weaknesses and chemistry.
When healthy, the Utah Jazz sport a starting backcourt of Ricky Rubio and Donovan Mitchell. And by any measure, both these players are pretty good.
Live NBA: LA Lakers @ Utah
Ever since he was a young sensation who broke through Barcelona's ranks at the age of 15, Rubio has been known for his creativity and passing vision.
Also being a large point guard who plays with heart and does not quit on defence even on those much faster than he, Rubio sports NBA career averages of 11.0 points, 7.8 rebounds, 4.2 rebounds and 2.0 steals per game.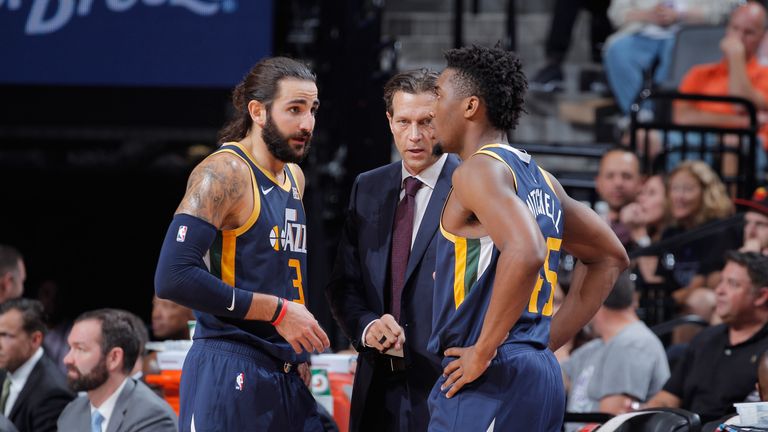 Meanwhile, in finishing second in last year's Rookie of the Year race, Mitchell averaged 20.5 points, 3.7 rebounds, 3.7 assists and 1.5 steals per game, numbers he has basically mirrored thus far this season.
The question is not, then, whether they are good individual players. The question is whether they can be good enough together.
A very fair criticism of both Rubio and Mitchell is that they are inconsistent. Indeed, they are two of the more inconsistent players in the NBA. In Mitchell's case, his inconsistency can perhaps be in part attributed to his relative inexperience; after all, despite how much he has achieved, Mitchell has played only one and a half seasons in the NBA. He is young enough to iron out his inconsistency.
But Rubio is veteran enough for us to concede that he is probably stuck with it. Rubio's inconsistency is certainly not with his effort. Instead, it relates to his individual scoring of the ball, both around the basket and from outside.
This streakiness is at least an improvement from when he came into the league. When it came to his shooting, he was almost always cold. Rubio did not shoot better than 38.1 per cent from the field in any of his first four seasons, and did not crack a .500 shooting percentage until his fifth season.
Since that time, he has become more decisive (albeit in purely relative terms) from three-point range, is much better at one-dribble pull-ups (particularly from the left side), and has improved as a finisher at the rim a little bit as well.
There is much more to Rubio than just scoring, of course. His passing vision is rivalled by few, and he is excellent at transition and the secondary break. And there are some nights that Rubio catches fire and seemingly hits everything.
Almost every shooter is streaky, but Rubio is particularly streaky, and there are good sides to that that must not be forgotten, particularly when he caught fire this time last season and catalysed the Jazz's very strong second half.
That said, on many nights, Rubio's offensive inconsistency is to the detriment of his Jazz team, no matter how hard he plays. If Rubio is not hitting or taking his shots, then he does not need to be defended in the half court, and the Jazz offense bogs down.
The Jazz's cutting-and-driving offense only works if the floor is opened up, and what the Jazz are finding currently - and why they are currently out of the provisional playoff seedings despite returning almost exactly the same team that won 48 games last season - is that it is closed down.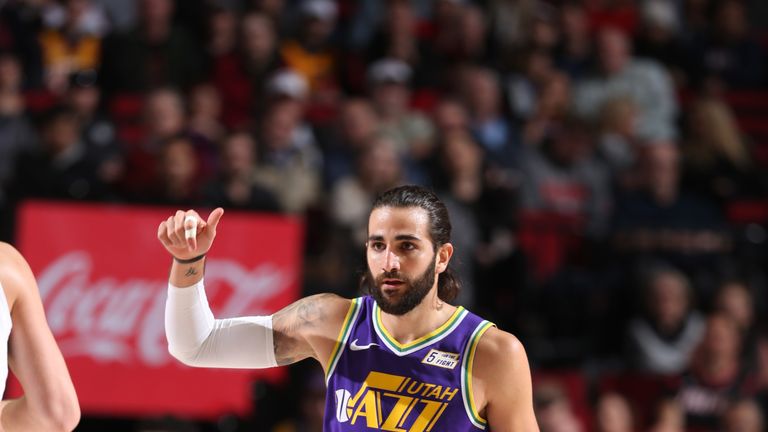 "Gravity", the current buzzword that represents how much impact a player has on a defence's positioning and strategy even if they are not actually actively doing anything at any given moment, is key to spacing. And a cold Rubio is anti-gravity.
Furthermore, this Jazz team does not need Rubio the gifted playmaker as much as many others might do. With a very meticulous and intricate half-court offense born out of movement and plenty of passing, as well as the presence of Joe Ingles on the wing, Rubio's main strengths of playmaking, dribbling and threading the ball are mitigated, simply because he is handling the ball less than he otherwise might (as evidenced by the drop in his numbers since leaving Minnesota).
On this team, unless he is hitting his shots, Rubio is not much needed.
What this Jazz team does have a need for is a backcourt player who can get their own baskets. Every team needs this, of course, yet the downside to such a structured and meticulous team as theirs is a heightened need for someone to bail possessions out should they become stagnated or be well-defended.
Into that breach willingly has stepped Mitchell. A bit too willingly, in fact.
Mitchell struggled for the very first few games of his rookie season, but quickly adjusted, and went on a scoring tear that lasted for the remainder of the season. Some inefficiency and youthful exuberance notwithstanding, Mitchell was a sensation as a rookie, and would have won the Rookie of the Year award in pretty much any other Ben Simmons-less year.
As Gordon Hayward departed, Utah needed someone to be aggressive and seize the offensive mantle; after all, it was never going to be Rubio. And Mitchell did this.
That aggression has now boiled over into over-confidence, however. The Mitchell of this season is very similar to the Mitchell of last year, except with the novelty value gone, the opposing scouting reports beefed up, and his shutters even more firmly up.
All too often, Mitchell is driving the ball with no intent to pass, and casting up jumpers early in the shot-clock without much space to shoot or the proven reputation for shooting excellence that justifies him taking them. So keen is Mitchell to prove his star scorer status that he is not proving that, except through sheer volume.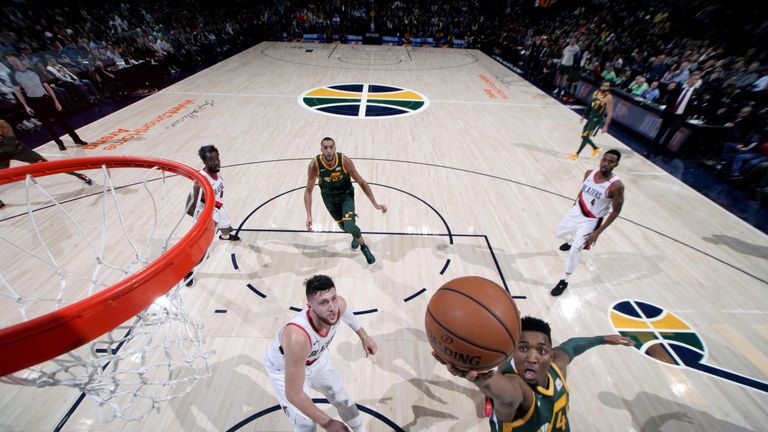 Mitchell also does this by largely playing on the ball. He is not regularly an off-ball threat working off of screens or cuts; instead, he is the one up top or on the wing, calling for the ball and trying to create off the dribble. Only 31.2 per cent of his field goal makes are assisted on - for comparison's sake, Rubio, the primary ball handler and the one who should be setting up others, is at 54.1 per cent.
The Jazz then have a backcourt of two players, both very talented, yet both playing sub-optimally. How much of that sub-optimal play is just inherent within them as individuals, and how much is a result of their compatibility as a pairing, may be better determined by what is coming up in the team's very immediate future.
Going into Friday night's game against the Lakers, however, the Jazz are completely point guard-less. Rubio is out, as is his primary reserve Dante Exum (who frankly has outplayed Rubio of late, using his much greater speed to counterbalance a lack of consistent outside shooting better than Rubio can), and now third-stringer Raul Neto will be absent as well.
Friday night's games
Milwaukee Bucks @ Washington Wizards, 12am
Atlanta Hawks @ Philadelphia 76ers, 12am
Indiana Pacers @ New York Knicks, 12:30am
Brooklyn Nets @ Toronto Raptors, 12:30am
Dallas Mavericks @ Minnesota Timberwolves, 1am
Cleveland Cavaliers @ Houston Rockets, 1am
Los Angeles Lakers @ Utah Jazz, 3am, live on Sky Sports USA
Charlotte Hornets @ Portland Trail Blazers, 3am
Chicago Bulls @ Golden State Warriors, 3:30am
The Jazz thus have no regular point guards available whatsoever, not even G-Leaguers. And so while Ingles will get an expanded point forward role, some of the onus now falls onto Mitchell. If he wants to be an NBA lead guard who can lead the line like Dwyane Wade, now would be the time to step up and show it.
If he can do so, then he does not need Rubio. An imperfect player like the Spanish maestro needs the right players around him to achieve maximum impact, and he is not young or talented enough to be the player that the team is sculpted around. Mitchell might be.
To be the star driver he both wants to be (and could be), Mitchell needs the gravity of a scoring threat alongside him. Rubio is not that for him.
To be the supreme playmaker we know he can be, Rubio needs shooters and scorers who can pour in points on minimal dribbles, and defend both guard positions well. Mitchell is not that for him either.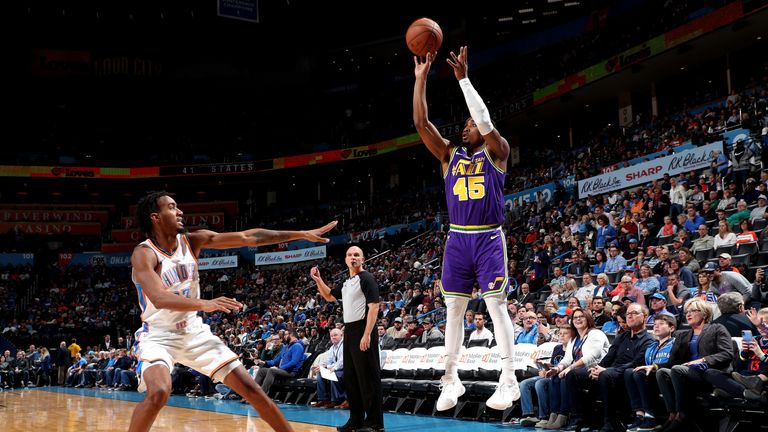 Considering his age, his lack of upside unless he remedies this one career-defining flaw, and expiring contract, Rubio will be the one to lose out if it becomes a choice between two. And Mitchell could shut the door with a good run in his expanded role over the coming weeks.
Then again, this is the same situation the Jazz faced last year, and it was remedied as soon as Rubio went on a hot streak.
If he can get healthy again and get on another hot streak that would last, say, as long as the remainder of Mitchell's career, then this question is answered.
Want to watch the NFL or NBA on the Sky Sports USA channel but don't have Sky Sports? Get the Sky Sports Action and Arena pack, click here.