Joel Embiid rammed home a vicious put-back slam to help power the Philadelphia 76ers to victory over the Cleveland Cavaliers.
In his second game since returning from injury, Embiid supplied 17 points (on 6-of-16 shooting), 19 rebounds and four blocks in support of top scorer Ben Simmons - who posted 26 points, 10 rebounds and eight assists - to lead the Sixers to a 106-99 win.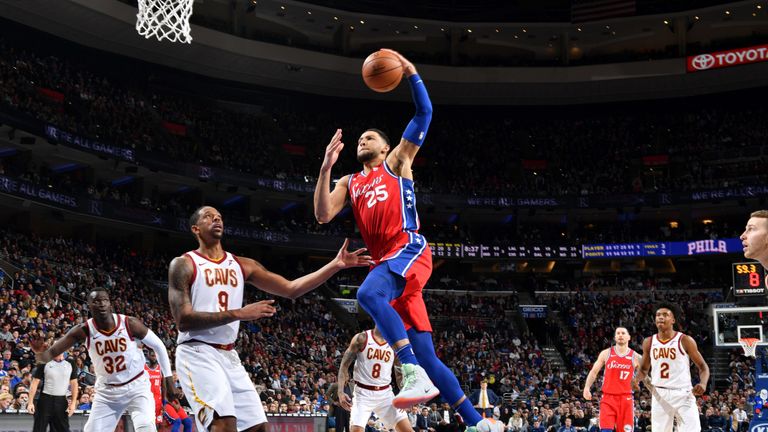 Embiid also provided a spectacular highlight play to help seal the victory.
The 76ers were leading 100-99 with a minute left in the game when collected a pass at the free throw line with his back to the basket. With the shot clock ticking down, he backed down overmatched Cavaliers guard Jordan Clarkson into the paint before lofting am off-balance turnaround floater.
The shot was off but, luckily for the Sixers, cannoned off the front of the rim and back into Embiid's path.
Before the Cavaliers defenders could react, the Cameroonian center was airborne again to slam home a vicious one-handed put-back slam.
Tuesday night's scores
Milwaukee Bucks 130-113 New Orleans Pelicans
Los Angeles Lakers 123-107 Chicago Bulls
Cleveland Cavaliers 99-106 Philadelphia 76ers
Minnesota Timberwolves 107-133 Denver Nuggets
Portland Trail Blazers 125-104 Los Angeles Clippers
San Antonio Spurs 112-105 Dallas Mavericks
New York Knicks 98-103 Indiana Pacers
Embiid then made four clutch free throws in the final 30 seconds to help seal the win.
Click the video at the top of the page to watch Embiid's emphatic put-back throw down.
Want to watch the NBA but don't have Sky Sports? Get the Sky Sports Action and Arena pack, click here.