Wasps Netball defeat benecosMavericks to win Fast5 Netball All-Stars Championship
Rachel Dunn's long-bombs inspire Wasps to Fast5 glory at Copper Box
By Raz Mirza
Last Updated: 01/11/19 4:19pm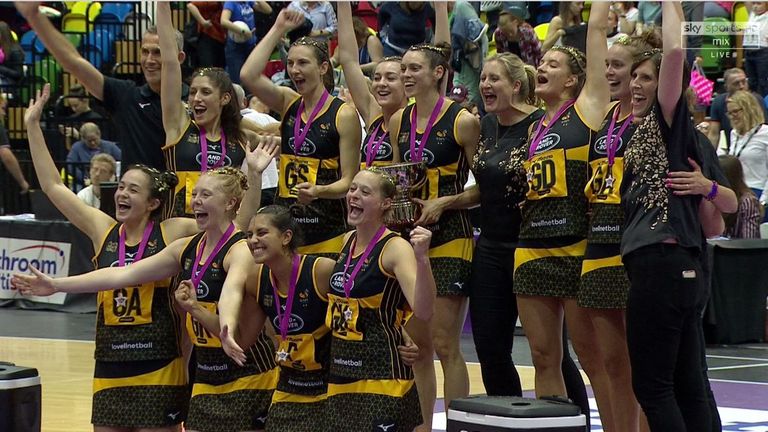 Wasps Netball sealed their maiden British Fast5 Netball All-Stars Championship with a 42-32 victory over benecosMavericks on Saturday.
Rachel Dunn was Wasps' star as she helped the side emulate their Superleague triumph by taking home the title, the trophy, and the £25,000 winner's cheque over five hours of action at London's Copper Box Arena.
"Thankfully my shooting arm was on fire today," said Dunn. "It was great fun and an awesome tournament to be a part of. As the games went on I knew I was shooting well and the other shooters stepped up when needed.
"We knew Mavs were playing really well and shooting really well so we knew we had to be better."
Teams are made up of five rather than seven players and shooters have the opportunity to net long-bombs from a five or three-point zone, or they can play it safe for one point under the net.
The golden buzzer also returned, allowing coaches to select a two-minute period in which all points will be doubled, meaning players can put up to 10 points on the scoreboard in just one shot.
In pressure-cooker netball, Wasps defeated Sharni Layton and Surrey Storm 45-37 in an explosive encounter to reach the final, where they were joined by benecosMavericks after they crushed Severn Stars 38-8.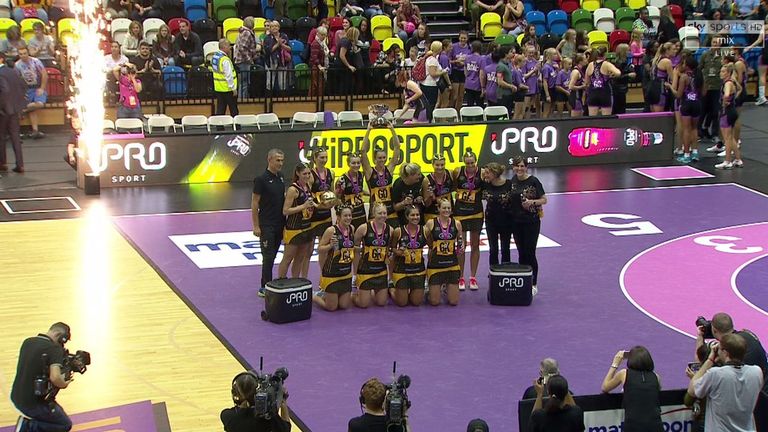 The final was tense and fast-paced with Wasps taking their power play just four minutes into the showpiece with Dunn and Tamsin Moala ripping through the opposition.
Karyn Bailey kept Mavs in contention before taking their power play and Ellie Kelk landed a huge 10-pointer to close the gap before soon levelling at 27-27 with two minutes remaining.
Dunn then took over the show with three massive five point scores, and although Karyn Bailey replied, it wasn't enough as Wasps closed out victory.
New Wasps head coach Mel Mansfield told Sky Sports: "This competition is a bit different. We're not under any illusion that the season is going to be like this. It is tough to follow Tamsin Greenway, but it's all about the girls really. Three newbies today and zero imports, so I'm really proud I stuck with them."
Wasps had scored a combined 123 points in their three matches prior to the final and added another 42 points in the final for a deserved victory.
2018 BRITISH FAST5 NETBALL ALL-STARS CHAMPIONSHIP RESULTS
Double Elimination Stage
Loughborough Lightning 19-21 Surrey Storm
Strathclyde Sirens 4-15 Severn Stars
Team Bath 23-18 Manchester Thunder
benecosMavericks 31-41 Wasps Netball
Surrey Storm 12-28 Severn Stars
Team Bath 23-37 Wasps Netball
Loughborough Lightning 32-28 Strathclyde Sirens
Manchester Thunder 22-32 bencosMavericks
Surrey Storm 15-6 Loughborough Lightning
Team Bath 21-47 benecosMavericks
Semi-Finals
Wasps Netball 45-36 Surrey Storm
Severn 8-38 benecosMavericks
The Final
Wasps Netball 42-32 benecosMavericks
Stick with us through the off-season as we reflect on the campaign, track the England internationals and the latest player movements ahead of a huge 2019 which will feature another thrilling Superleague season and the Netball World Cup.