Netball Superleague: Team Northumbria beat Celtic Dragons for first win of the season
Last Updated: 03/02/15 10:07am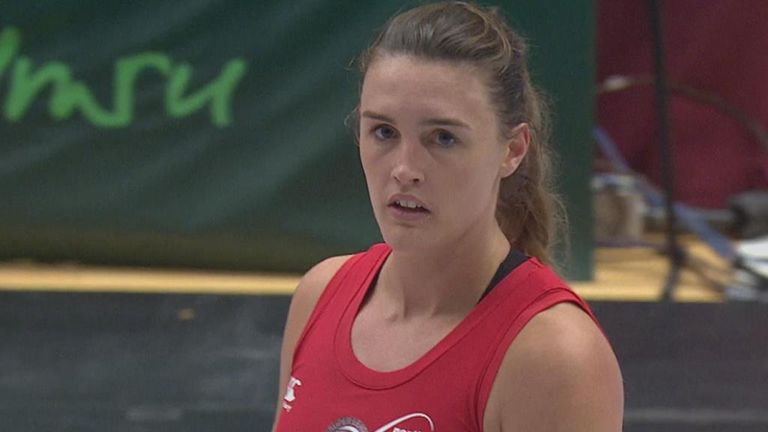 Team Northumbria won their first match of the 2015 Netball Superleague when they beat Celtic Dragons 48-34 at the Sport Wales National Centre on Monday night.
Home side Dragons got off to a flyer with excellent midcourt work from Wales internationals Sophie Morgan and Suzy Drane, but that dominance slipped after just five minutes, with the visitors taking charge of the match in what was a terrific performance.
Northumbria set up an excellent zonal defence, with Northern Ireland defender Fionnuala Toner playing high up the court and causing turnover, while new signing - and player of the match - Nicole Styles brought some typical Aussie hunting interceptions at goal defence, disrupting much of Celtic's crosscourt lateral passing.
Dragons were forced to work extra hard to get the ball down the court and their shooter Chelsea Lewis strugled under Northumbria's excellent defensive pressure. By the end of the first 15 minutes, the Newcastle-based franchise had a 13-7 lead.
It wasn't surprising when Dragons brought talented wing attack Bethan Dyke on for the second quarter, but she couldn't help stop the flow of play streaming with Northumbria. While Lewis and shooting partner Cara Lea Moseley couldn't penetrate the zonal defence, at the opposite end, Northumbria shooter Lisa Bowman coolly finished off nearly every shot, contributing much to her team's shooting average of 73 per cent.
Dragons managed to pull their way back to within three goals during the second quarter but couldn't maintain that intensity. After a tactical time-out, Northumbria, encouraged by the words of their coach, Lisa Stanley, once again extended their lead to 26-17 at half-time thanks to excellent court awareness from Ellie Smith at goal attack and the impressive Bowman.
After the break, Dragons entered the court with a new-look side, after coach Trish Wilcox was left with few options other than giving new players an opportunity.
But Dragons still struggled with simple aspects of the game and couldn't find the key to unlocking the defensive partnership of Leah Kennedy and Styles.
Injuries to Steph Williams, Nia Jones, Suzy Drane and her replacement, Kathy Bastian, stunted Dragons' momentum and allowed a well-oiled Northumbria side to calmly pushed their lead to 36-23 going into the final quarter.
The last 15 minutes were routine for Northumbria, as they executed a patient performance across the court to record their first win of the season.
Reaction
Player-of-the-match Nicole Styles (Northumbria)
"I've only been in the UK for a month so it was great [the win]. We surprised ourselves. Not only did we win it, but we won all four quarters and that was really important for us, to keep going for the whole game."
Dragons coach Trish Wilcox
"We made too many errors and those came from static play. I think there was a lack of movement, which then meant that the defender would come through for the ball.
"We needed to do more work off the ball, and then the errors came from that, and then panic when the score wasn't going their way. We need to get more composure and cut down on our error rate."
Northumbria coach Lisa Stanley
"The defensive unit is coming together really well this season. We have also got Hayley [Mulheron], who will slot in with all of them. It's been brilliant for us this season.
"We've only had the pre-season tournaments to work together with them, but they just seem to work with each other really well.
"We just need to work on the consistency of our match and getting the goals in when we get the opportunity."