George Fisher
Saracens Mavericks and England netballer
George Fisher's Netball Superleague diary: Your questions answered!
Last Updated: 20/03/19 2:06pm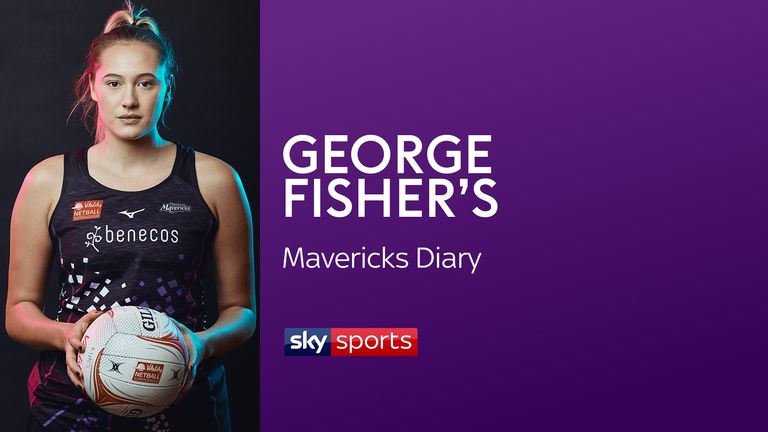 George Fisher answers your questions in a special Sky Sports Netball Superleague diary featuring pre-match rituals, great advice for aspiring netballers, noodles and more!
Last week on social media @SkyNetball, we asked you to send us your questions for George and as promised she has answered them all.
Once again the Saracens Mavericks shooter was on fine form in Round Eight as she slotted 48 of her 51 shots during their 18-goal win over Severn Stars. It was their third win on the bounce, their sixth of this season, and keeps the pressure firmly on the league's leaders Wasps.
So before the next Vitality Netball Superleague round arrives, enjoy her answers on everything from handling the pressure in the shooting circle to locating kitchen appliances...
My 11 year old Matilda loves you and is a shooter too and would love to know how many practice shots do you put up in a week? And what is your top tip for a GS or GA? Thanks and good luck this season xxx #AskGeorge #shooterssticktogether #rosesrising

— Abigail Tate (@AnalyticsAbi) March 2, 2019
I put up 200 shots a day 5/6 days a week. I've done this since I was 13 years old after I played in a game for Mavericks NPL v Surrey Storm NPL and couldn't hit a barn door!
I knew I never wanted to perform like that again so practice, practice, practice! My top tip to Matilda, at her age, is to enjoy netball, by enjoying it you will want to improve and keep practicing your shots.
If I miss a shot I just try to dump it and move on, I can't change the miss. I will know why I missed though - too short etc. - and will put more on the next shot. It's a good learning tool.
Where is the dish washer in your house, and how does it open?

— Adam Fisher (@adam_fisher10) February 25, 2019
Thanks dad - why would I need to when I have you?!
#AskGeorge Do you think it's important for young players say 14-17 to experience playing with & against older players of different abilities or are they better served just playing their own age group? Ta, Lee at @NetballComments 😁

— Courtside Comments (@NetballComments) February 25, 2019
Super important to experience playing with, and against, older players. It helps you to learn how to fit in when you are out of your comfort zone and out of your depth.
You can learn so much by playing with more experienced players, things you would never learn if playing with your own age group. It really develops your game, confidence and ability.
That said it does depend on the player. I was lucky enough to play with really experienced players at a young age and also still play with my own team in my age group, which again is good as you have to learn how to adapt your game and play to suit.
Noodles 100 per cent!!
2 questions if I may....Q1. Name the one Netball player who has influenced you the most? Q2. Who is your favourite sportsman and favourite sportswoman outside of Netball? This sort of grew to 3 questions...sorry😁 #AskGeorge

— Garry Patten (@GarryPatten1) February 25, 2019
Q1: Ann-Marie Dwyer (Amo), Prem Turnford coach/player. She gave me opportunities to play in the highest non-professional league in the country at 12 years old.
I learnt the hard way against strong opposition which built both me and my game. Amo also taught me to always keep your eye on the ball as I found out when I didn't and she dummy passed a ball to me straight in the face the week I'd had my braces fitted!
Q2: Favourite sportsman Michael Phelps - greatest Olympian ever!
Sportswoman Nicola Adams - she fell down the stairs and broke her back when she was younger and still went on to win an Olympic gold medal. Both inspirational.
#AskGeorge Do you have a pre game ritual and what do you listen to when wearing ur headphones during shooting practice!

— Amy Fozzie Foster 💙 (@missamyleigh) February 25, 2019
The older I'm getting, the less I have. When I was younger I had loads right down to always playing in my 'lucky' pair of knickers! Now I wear whatever's clean...
But that said, I do like to swoosh my last practice shot before the game starts. Music wise, I listen to a variety of random music depending on how I'm feeling on the day.
Away from the super league , do you think it's important to play for one of the bigger clubs at a younger age so you play in all the main national tournaments for the experience and to challenge yourself.

— craig efc bonney (@legendblue34) February 25, 2019
Depends why you're playing netball? If you're just playing for enjoyment and fun then no, it's not important. But, if you want to become elite yes, it's definitely important.
There is a greater amount of competition in big clubs but this encourages you to push yourself to be the best you can be and it's at the large tournaments that a lot of players get spotted.
It's also a great experience playing lots of games in a short period under fatigue and pressure that builds you as a player.
Other than Jo Harten who is your Netball idol and why (past or present any nationality) #askgeorge

— Surrey Storm Fans (@Storm_fans) March 1, 2019
Layla Guscoth.
She just breaks the mould, not only is she a totally amazing baller, she is also a qualified doctor, I struggle with juggling my basic degree and netball. She's awesome.
I loved my time at Wasps and miss the whole family - players, fans, support staff - everyone.
But, it just felt the right time for me to return to Mavericks. I totally loved the welcome I got for the Wasps family at the Mavs v Wasps game at the Ricoh.
I don't overthink it too much. I have a job to do and that's how I see it. If you practice enough you shouldn't feel too much pressure.
How do you keep your cool against particularly physical GK's?

— Ria Goodman (@bmxchickria) March 1, 2019
It can get quite physical on court we are all very competitive players but you just have to take it with a pinch of salt as they are totally different off court. I try not to let it get to me as it would take my focus off the game.
Vitality Netball Superleague is back on Monday, March 11 when London Pulse host Team Bath in Round Nine - join us on Sky Sports Mix & Action from 7.15pm. Also, Sky Sports will be showing every game of the 2019 Vitality Netball World Cup in July.