Carson Wentz joins Odell Beckham JR, Deshaun Watson and co in being lost to 2017 NFL injury curse
Last Updated: 13/12/17 3:23pm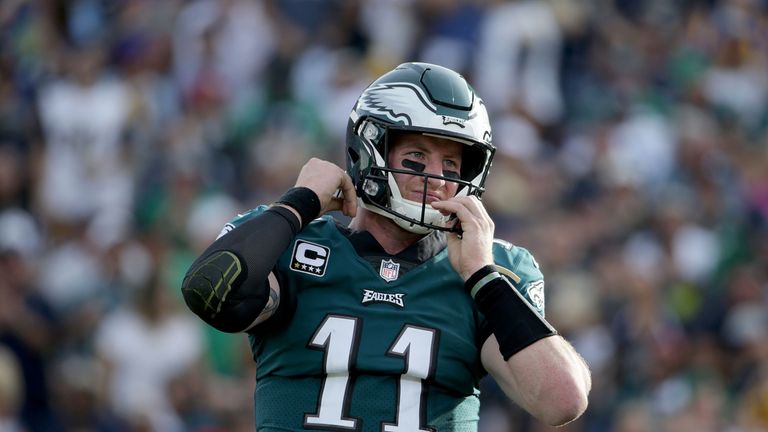 Beware the Madden curse.
It's a recycled story every offseason, following the release of the game's cover star, one supposedly set for a season of either poor performance or injury, so says the curse.
Well, the 2017 season is nearly now at a close, and this year's main man, Tom Brady, is still going strong, and aged 40 too.
However, the same can't be said for a raft of other NFL stars who, while figuratively 'fit' to grace any Madden cover, aren't literally - Philadelphia Eagles star second-year quarterback Carson Wentz is the latest big name added to an ever-lengthening league injury list...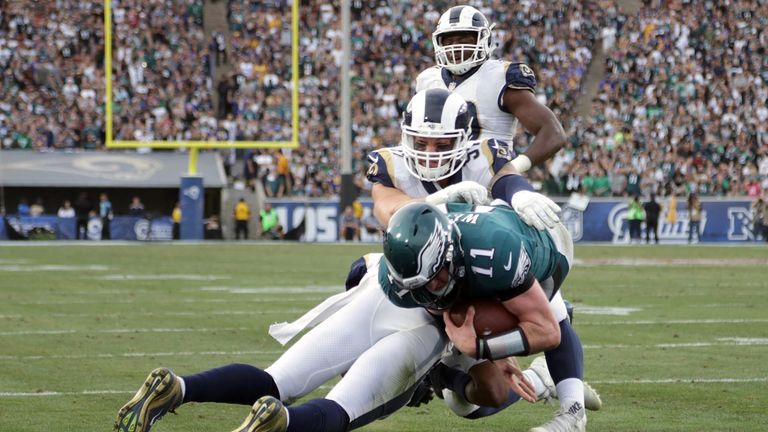 Early injury woes
Prior to the season even starting, the NFL was already missing two franchise quarterbacks, Ryan Tannehill with the Miami Dolphins and Andrew Luck of the Indianapolis Colts, while fantasy No 1 draft pick the world over, running back David Johnson, went down in Week One for the Arizona Cardinals.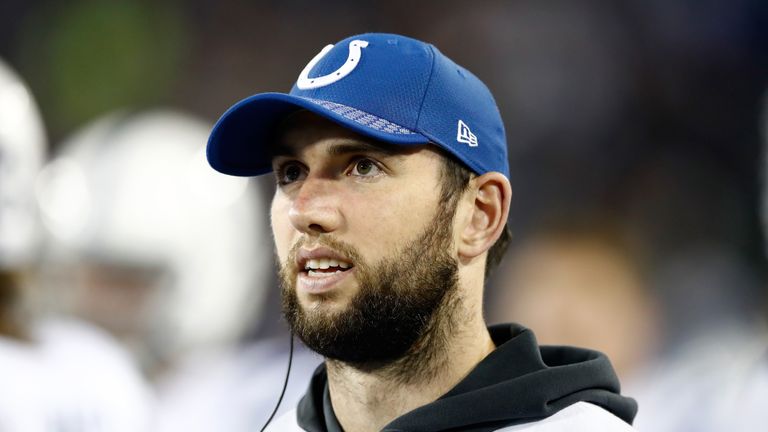 The Dolphins knew of Tannehill's knee issue and so made the questionable move to bring Jay Cutler out of retirement and stop his move into the broadcasting booth, and he has since suffered from poor form and a rib injury that kept him out for a couple of weeks.
As for the Colts, they brought in an insurance policy of their own, in New England Patriots third-stringer, Jacoby Brissett, who has actually fared admirably behind a porous offensive line. It was hoped Luck would return at some stage following January shoulder surgery, but he ultimately admitted defeat going on Injured Reserve after soreness and setbacks in practice.
Big name blows
In Week Five, the already 0-4 New York Giants' disaster year got even worse when they lost a staggering four wide receivers to injury in the same game, three of them for the year. Down went Dwayne Harris, Brandon Marshall, and most crucially Odell Beckham Jr against the Los Angeles Chargers and, with them, any hope of a revival.
Aaron Rodgers' Week Six exit for the season is arguably the biggest injury of a season full of them, and he wasn't happy about it! The Green Bay Packers future Hall of Fame QB suffered a big hit from Vikings linebacker Anthony Barr, which gave him a broken collarbone.
The battle between the pair didn't end there, either, with the war of words following the hit extending to the television airwaves on the Conan O'Brien show, as Rodgers suggested he was given a sweary send-off after the hit by Barr, who then took to Twitter to retaliate.
But, Rodgers is now set to return for the final three games of the season, hoping to sneak the Packers through the back door and into the NFC playoff picture late.
Troubled teams
The Vikings too have had their own injury troubles. While QB Teddy Bridgewater's coming return after more than a year out is a terrific story, they've lost incumbent signal-caller Sam Bradford for multiple weeks, as well as impressive rookie runner Dalvin Cook to a season-ender in Week Four.
The Texans have had it worse than most, losing inspirational leader, and defensive wreaking ball, J.J. Watt to a broken leg in Week Five, and then superstar rookie quarterback Deshaun Watson to a torn ACL in training, fresh from 19 TDs through his first seven games and a truly barnstorming 400-yard and four-TD display in defeat to the Seahawks.
The Seattle Seahawks have been troubled by injuries too, to their Legion of Boom defense, with Richard Sherman and Cliff Avril both out on injured reserve for the year, and concerns surrounding Kam Chancellor status for the remainder of the season too.
And then there's the winless Cleveland Browns. If things weren't ban enough, they lost their iron man offensive lineman Joe Thomas in Week Seven. Thomas is the the first player in NFL history to play 10,000 consecutive snaps since being drafted, but that streak ended 363 plays later as his year was ended with a tricep injury against the Tennessee Titans.
If Thomas goes down, no-one is safe. That just seems to be life in the NFL in 2017...
Follow the 2017-18 NFL season with us on Sky Sports and through our website skysports.com/NFL also our app for mobile devices and iPad, or follow our Twitter account @SkySportsNFL