Aaron Rodgers: Packers quarterback reportedly wants out in Green Bay
NFL Network's Tom Pelissero reported that the San Francisco 49ers reached out to the Green Bay Packers this week regarding a potential trade for Aaron Rodgers.
Last Updated: 30/04/21 7:25am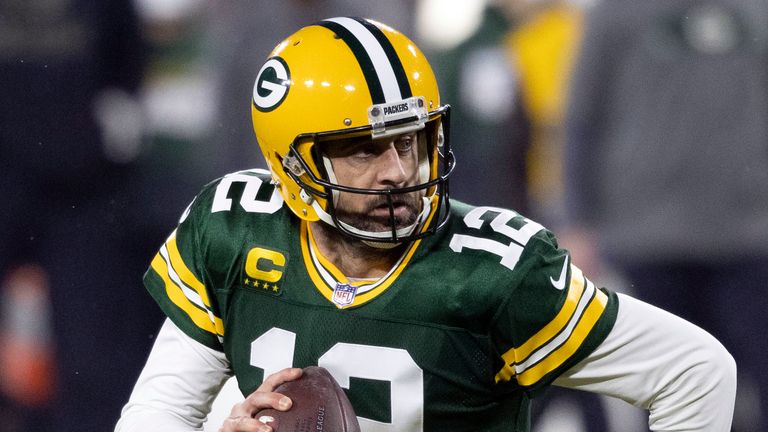 Aaron Rodgers has informed members of the Green Bay Packers organisation that he does not wish to return to the team, according to reports.
The news, reported by ESPN's Adam Schefter, emerged hours before the first round of the 2021 NFL Draft, and on the same day NFL Network's Tom Pelissero reported that the San Francisco 49ers reached out to the Packers on Wednesday regarding a possible trade for the quarterback.
Pelissero explained that no formal offers had been lodged, citing information from a source that there was 'zero per cent' Green Bay would part ways with the 37-year-old.
The 49ers recently gave up multiple picks to the Miami Dolphins in order to move up to the No 3 overall pick at the Draft, with head coach Kyle Shanahan confirming the team's intentions to add a new starting quarterback this offseason.
Reigning MVP Aaron Rodgers is so disgruntled with the Green Bay Packers that he has told some within the organization that he does not want to return to the team, league and team sources told ESPN on Thursday.

More on NFL Live now....

— Adam Schefter (@AdamSchefter) April 29, 2021
Green Bay hinted towards the future at last year's Draft when they selected Utah State quarterback Jordan Love with the 26th overall pick having sent the No 30 overall selection and a fourth-round pick to the Dolphins to trade up.
Rodgers, 37, subsequently produced an MVP season, leading the Packers to a second straight NFC Championship game after throwing a league-high 48 touchdown passes.
Packers GM: Rodgers will not be traded
Packers general manager Brian Gutekunst said there is no scenario in which Rodgers, who has played for the franchise for his entire NFL career, will be traded out of Green Bay.
In January, Rodgers told reporters "my future is a beautiful mystery" following the Packers' exit from the playoffs.
"No. We're not going to trade Aaron Rodgers," Gutekunst said after Thursday's Draft, in which the Packers used their first-round pick on Georgia cornerback Eric Stokes.
"He's our quarterback. He's our leader. We've been working through this for a little while now. I just think it might take some time. But he's the guy that makes this thing go."
Rodgers is under contract through 2023, with a potential out in his deal before the 2022 season.