Ben Roethlisberger: Pittsburgh Steelers quarterback says Cleveland Browns clash likely to be his last home game
Ben Roethlisberger, who will turn 40 in March, has played his entire 18-year career in Pittsburgh; watch the Cleveland Browns @ Pittsburgh Steelers in Monday Night Football live on Sky Sports NFL from 1.15am
Last Updated: 03/01/22 8:07pm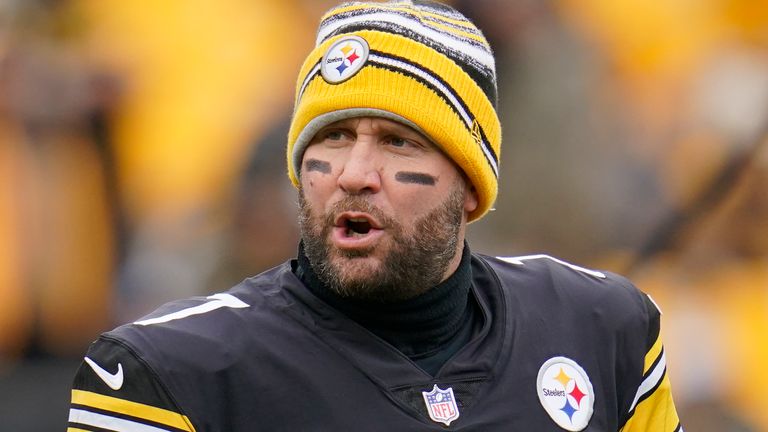 Pittsburgh Steelers quarterback Ben Roethlisberger has said Monday night's game against the Cleveland Browns is likely to be his final one at Heinz Field.
Roethlisberger has played his entire 18-year career in Pittsburgh and Monday's outing could also prove to be the veteran quarterback's penultimate game in the NFL as a whole, with the Steelers facing the very real possibility of missing the playoffs with two games to go in the 2021 regular season.
Pittsburgh are 7-7-1 on the year and need to beat the Browns on Monday night as well win on the road against the Baltimore Ravens next week, and even if they do, they need other results to go their way in order to progress.
Roethlisberger, who turns 40 in March, moved into fifth place on the NFL's all-time passing yards list on December 19 and he owns most of the Steelers' passing records, including for completions (5,386), yards (63,721) and touchdowns (416). But the two-time Super Bowl champion has had one of his least productive seasons as a pro in 2021, throwing for just 3,373 yards, with 20 touchdowns and eight interceptions.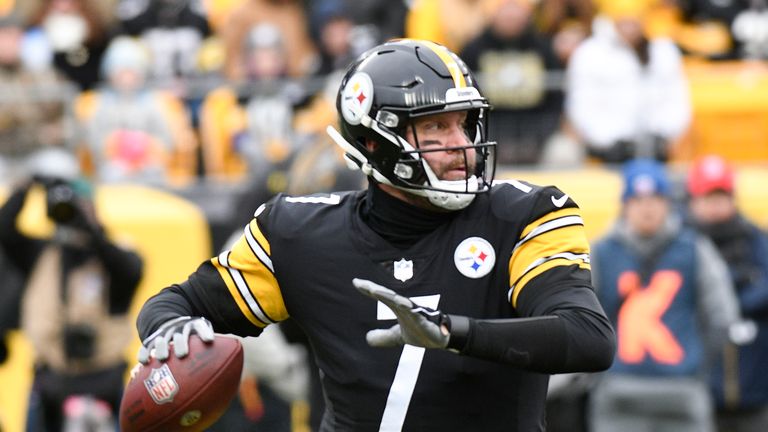 "I don't ever speak in definites or guarantees, that's just not what I've ever done or who I am," Roethlisberger said.
"But, looking at the bigger picture, I would say that all signs are pointing to this could be it [my last home game].
"I know we still have a chance to potentially get a playoff game if things fall our way and we take care of business and things have to happen.
"But in the grand scheme of things, in terms of regular season, signs are pointing that way, this could be it."
Can the Steelers still make the playoffs?
In a word, yes. Yes, the Steelers (7-7-1) can still make the playoffs - but for them to do so, they need to start with a win over the already-eliminated Browns (7-8) on Monday night.
Victory in Baltimore is then also required next weekend, with the Ravens (8-8) themselves still in with a slim chance of qualifying for the postseason.
Both require other results to go their way, however, as the Cincinnati Bengals' impressive 34-31 victory over the Kansas City Chiefs on Sunday clinched them the AFC North division crown, cutting off one possible route to the playoffs.
The Steelers can still qualify as a Wild Card team, provided the Indianapolis Colts (9-7) lose on the road to the Jacksonville Jaguars (2-14) in Week 18, and as long as the Sunday Night Football game between the Los Angeles Chargers (9-7) and Las Vegas Raiders (9-7) does not end in a tie.
Although the chances of that happening may appear remote, the Jaguars actually boast a remarkable strong home record against Indianapolis of late, winning their last six-straight, including on opening weekend last season - in what would prove to be Jacksonville's only win all year.
Sky Sports NFL is your dedicated channel for NFL coverage through the season - featuring a host of NFL Network programming. Don't forget to follow us on skysports.com/nfl, our Twitter account @SkySportsNFL & Sky Sports - on the go!