The NFL is back in Tom Brady deja vu after potential Tampa Bay Buccaneers farewell
What next for Tom Brady? The future is unclear for the Tampa Bay Buccaneers quarterback after his possible farewell following Monday night's Wild Card defeat to the Dallas Cowboys; the NFL playoffs continue live on Sky Sports NFL with the Divisional Round matchups on Saturday and Sunday
Last Updated: 22/01/23 1:33am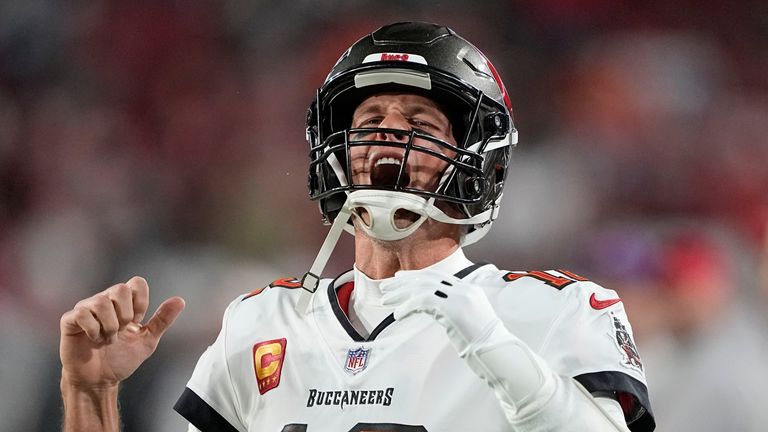 Tom Brady might retire. Tom Brady might also not retire. He might move on from the Tampa Bay Buccaneers. He might dart for Las Vegas and its hefty electricity bill. He might swoop into Silicon Valley for some Kyle Shanahan shenanigans. He might cash in on the millions of TV dollars waiting for him.
We might have been here before, right? Might, right?
On Monday he monologued. Brady followed up a Wild Card clobbering from the Dallas Cowboys by thanking the Bucs organisation and the Tampa Bay media before closing out his press conference by proclaiming his love for the franchise. Was it goodbye? And to whom was it a goodbye? Us? Them?
Mental spider-charts were strung together by journalists-turned-detectives, decryption tools at the ready, body language experts purring and poker-tested facial expression readers alert to the feintest of tells. All in aid of unveiling a clue to the next steps of the NFL's greatest.
For two decades Brady had been the poker geek with the perfect hand and the quintessential escape plan should perfection ever elude him. Until he didn't. 'Didn't' came Monday, 'didn't' came this season. 'Didn't' also admittedly came within a miserably-coached team. Now what?
As he jogged off the field he doffed his cap to the Tampa fans with a smile before kissing his parents and heading down the tunnel for potentially the final time. He had just been ousted by a master tempo-controller and problem-solver in Dak Prescott, who deciphered his opposing defense and ushered team-mates back-and-forth as chief conductor and architect to toying formations with the omniscience of the best player on the field. It was a damning contrast to an un-Brady-like Brady performance.
It has been an un-Brady-like year. And it makes for a familiar offseason of sorts.
Brady lasted 40 days before reversing his decision to retire from the NFL earlier this year. It ensured he would fulfil ambitions of playing at the age of 45, while also becoming the first player to reach 85,000 passing yards in league history and the first to 100,000 yards in the regular season and postseason combined. It ensured he would surpass Peyton Manning for most game-winning drives of all time, and feature as part of the first regular season game in Germany, and snap his own record for most completions in a campaign. Footballing immortality could yet assume added sparkle, even in a season that saw him lose eight games for the first time.
He retired with three careers worth of accomplishments behind him. He unretired because it was neither declining ability nor his body failing that had guided him to retirement in the first place. That felt a little less like the case this year - though, again, hindered further by a spluttering inheritance down from the Bruce Arians regime.
"It'll just be one day at a time, truly," he said of a decision regarding his future.
Brady finished the regular season 490 of 733 passing (66.8 per cent) for 4,694 yards (third in the league) and 25 touchdowns to nine interceptions, while ranking 15th in EPA+CPOE composite (Expected points added + Completion percentage over expectation) in a Bucs offense that finished 16th in DVOA and 25th in scoring while marred by one of the league's worst ground games.
There was a precision-perfect back-shoulder completion to Mike Evans into triple-coverage at the sideline on third-and-two against the Baltimore Ravens, and the 63-yard go-route bucket to Evans for a score to torch soft umbrella coverage against the Carolina Panthers, and Monday night's 30-yard touchdown strike to Julio Jones in double coverage. The pick-you-apart arms and eyes were both still evident and to be considered in the 'will he retire?' discussion, but so too were atypical accuracy issues in the face of a sophisticated, cut-throat Dallas defense.
He was uncomfortable when shifted off his pocket spot against a swarming blitz, and out-witted by a system that complemented the attack dogs with simulated pressure-into-drop six and seven-man coverages that doubled up on high safeties in a reflection of the evolved Dan Quinn scheme. Route traffic made for unappealing throws, while Brady also mis-threw open targets when they appeared and tossed a couple of head-scratchers into no-man's land in apparent misunderstandings over play-design with his receivers. Needless it be said uncertainty over Byron Leftwich's future as offensive coordinator was also to be expected.
For a reckless Brady lob-turned-interception in the endzone by Jayron Kearse came a Prescott roll out-turned-open body, side-arm dagger to Dalton Schultz for a three-touchdown lead. Brady sloppy, Prescott slick.
So here we are again. At the doorstep waiting for a decision, which he should be able to make this time without any jump-the-gun reporting.
One option sitting pretty on the table since May has been a step into the broadcasting world, Brady having agreed a 10-year deal worth £375m to become lead analyst for Fox Sports once he hangs up his cleats. That feels rather unconditional; Fox will wait as long as they need to.
A sentimental Brady press conference may have flirted with closure and conclusion, but would it be in Brady's nature to walk away with such a dire campaign to look back on? For all we have learned about him, perhaps not.
The 45-year-old is primed to hit free agency after signing a restructured deal with the Bucs in 2021 that included a "no tag" clause, granting him the freedom to explore pastures new elsewhere and requiring Tampa to negotiate with him as a free agent if they wish to bring him back.
A new offensive coordinator, refurbishments to an offensive line that lost Ali Marpet to retirement and Tristan Wirfs to injury, a perennial 1,000-yard-getter in Mike Evans, an increasingly-trusted target in Cade Otton and assurances of added pieces might feature in any sell to bring him back. Should he elect to explore free agency Tampa face a $35.1m salary cap charge if Brady elects to explore free agency.
NFL Network's Ian Rapoport name-dropped the San Francisco 49ers, riding the momentum of Brock Purdy mania, as potential suitors were Brady to enter free agency this offseason. Purdy, the last pick of the Draft, has evolved into one of the stories of the 2022 season while displaying tremendous poise as inadvertent face of the 49ers' Super Bowl charge after stepping in for the injured Trey Lance and Jimmy Garoppolo.
There is a lingering uncertainty over what version of Lance, in whom they invested heavily when it came to Draft capital, will emerge on the other side of his lay-off, by which time he will have made just four competitive starts since 2020. A healthy Garoppolo has, meanwhile, become something of a security blanket - a well-backed one in the locker room - for Shanahan's system when called on, but would he be the man to get pushed out should a Brady become available?
It would be a hearty homecoming for Brady having grown up supporting Joe Montana's Niners, where he would be surrounded by the most talent-rich supporting cast in the league and arguably the most innovative offensive mind in Shanahan. To have three of Purdy, Lance, Garoppolo and Brady vying for snaps feels a stretch, though.
In the desert the Raiders are again nursing the wounds of another turbulent season, which ended with the organisation effectively moving on from long-time quarterback Derek Carr. They are a franchise crying out for something with which to galvanise an uninspired Sin City faithful - could their thirst for stardom and head coach Josh McDaniels' long-standing relationship with Brady bring him to the Allegiant Stadium? Could Brady drag Rob Gronkowski out of retirement and take him for a Hangover-style year in Las Vegas where they lose Hunter Renfrow on the roof of Caesars Palace? It would make a fitting finale to the eventual Brady biopic.
The Tennessee Titans have been sounded out as another possible landing spot should they consider it time to seek an upgrade on what Ryan Tannehill has offered thus far, a New York Jets team suffering from the woes of Zach Wilson flail an attractive roster in the air in hope of luring a proven winner to MetLife, and a script-perfect return to Foxboro to accompany Bill Belichick in the latter stages of his career can be thrust into the conversation for good measure.
It might be now. It might not be. Best believe NFL observers will treat his 'one day at a time' plan literal; the big one is still to be won, but the offseason might already be here.
Sky Sports NFL is your dedicated channel for NFL coverage through the season - featuring a host of NFL Network programming. Don't forget to follow us on skysports.com/nfl, our Twitter account @SkySportsNFL & Sky Sports - on the go!