Green Bay Packers are amongst the most prestigious and widely-adored teams in the NFL.
Green Bay Packers
Established: 1919
Stadium: Lambeau Field, Green Bay, Wisconsin
Team colours: Dark green, gold and white
Head coach: Mike McCarthy
Super Bowl Championships: 13 (11 pre-merger)
Conference Championships: 9 (6 pre-merger)
Division Championships: 18 (5 pre-merger)
Play-offs appearances: 32 (11 pre-merger)
Based out of Green Bay, Wisconsin, they are the envy (and target) of most other franchises - the Packers hold the record for the most championship victories in the NFL with 13, dating back to 1929 in the league's old format.
Having already won six titles before the end of the Second World War, Green Bay quickly established themselves as one of the leading professional teams in American sports. A 1944 championship victory over New York Giants, though, was to be their last until they met them again in the same game 17 years later.
The 1958 Packers had posted the worst record of any team in the franchise's long history at 1-10- 1, so change swept through Green Bay when the Giants' offensive coordinator, Vince Lombardi, took over in 1959.
Brushing his former team aside with consummate ease, Lombardi led the Packers to two more titles in 1961 and 1962, which were to be the first of five legend-making championships in the same decade.
Green Bay Packers won the first two Super Bowls in 1966 and 1967 with a powerful combination of Lombardi and quarterback, Bart Starr, but they would fail to even reach the playoffs in all but five of the next 28 seasons.
Quarterback Brett Favre and co. revived the Packers to their winning ways when they reached Super Bowl XXXI and Super Bowl XXXII, winning the former against New England Patriots 35-21 in New Orleans.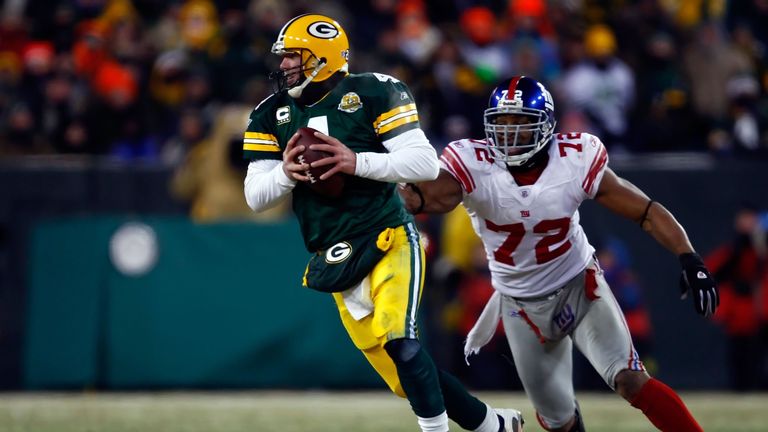 Now known as the Green and Gold, they revel in a reputation as one of the most intimidating opponents in the league.
An attack that is expertly orchestrated by quarterback, Aaron Rodgers, who won Super Bowl MVP in the Packers' second post-merger title in 2010 and NFL MVP twice in the subsequent four seasons, is one of the most acclaimed in the league today.
The 2016 conference championship ended in defeat against Atlanta Falcons, but spirits are far from dampened with Rodgers in the driving seat. The future is Green in the eyes of Packers fans.