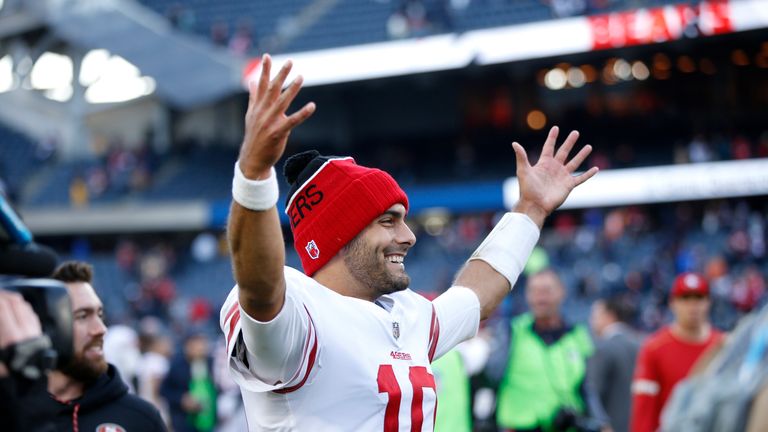 Jimmy Garoppolo's strong debut at quarterback helps San Francisco 49ers earn top marks. But who else impressed in Week 13?
An eighth straight win for the Philadelphia Eagles, Seattle Seahawks' stellar Sunday night showing and a big win for the Baltimore Ravens see them join San Fran at the top, while the Denver Broncos continue to plummet.
Top marks in Week 13 were reserved for - (who else?) - the New England Patriots, after winning a seventh straight game.
Which other teams stood out and which flopped? Here's a look at our weekly team grades...
AFC EAST
Miami Dolphins (W 35-9 v Denver)
Welcome to the 2017 season, Miami's offense! The Dolphins topped 30 points for only the second time this season - the last time also bringing their last win, in Week Seven against the Jets. Sure, this one was against a dismal Denver outfit, but a win is a win and, especially after a five-game losing streak, the Dolphins will take it in any format. A word also for running back Kenyan Drake, who racked up 120 yards and a TD off 23 attempts. Grade A
New York Jets (W 38-31 v Kansas City)
Veteran journeyman quarterback Josh McCown continues to get it done in New York, defying the doubters. Just the 331 yards and three scores (one passing, two rushing) for him against Kansas City to see the Jets to victory in this shootout against the Chiefs. Grade A
New England Patriots (W 23-3 @ Buffalo)
Looking at the score, it's just another routine Patriots win in Buffalo Bills - a 27th for Tom Brady over the Bills, the most earned by a player against any one team since 1950 in the NFL. But, dig a little deeper and there were plenty of cracks. New England managed only three field goals in the first half, leaving a visibly frustrated Brady to lose his cool with offensive coordinator Josh McDaniels on the sidelines. Also, Rob Gronkowski earned himself a one-game suspension for a cheap hit on Tre'Davious White following a Brady interception. Grade B-
Buffalo Bills (L 3-23 v New England)
Nate Peterman in at quarterback for the Bills! Though, this time, it was forced on head coach Sean McDermott, with an injury to Tyrod Taylor during the game, rather than him botching the decision himself. But, no matter who was under centre, this was Bills against Patriots, and there's only one outcome. Grade D-
AFC NORTH
Baltimore Ravens (W 44-20 v Detroit)
The defense continues to score off turnovers, running back Alex Collins had another impressive outing - 75 yards, two TDs (and two top celebrations to boot) - and Joe Flacco was back to somewhere near his best... It was certainly the Ravens quarterback's most accomplished outing of the season, with 269 yards and two TDs. Baltimore, as they so often seem to, are hitting their stride just at the right time. Grade A+
Pittsburgh Steelers (W 23-20 @ Cincinnati)
The scoreline shows this wasn't as easy for the Steelers as many expected, but the stats suggest otherwise - just another routine 100-yard outing for that fearsome duo of Bell (182 scrimmage yards, one TD) and Antonio Brown (101 yards, one TD). Grade A-
Cleveland Browns (L 10-19 @ Los Angeles Chargers)
A tough ask for winless Cleveland against the red-hot Chargers. But, aware that it was against Philip Rivers' men who they earned their solitary win from last season, they were spirited to the point of (reasonably) competitive throughout. But, still no win to speak of for 2017. One positive is the return of Josh Gordon at wide receiver after two years out to suspension for violating the league's substance abuse policy - 85 yards on four receptions. Grade E
Cincinnati Bengals (L 20-23 v Pittsburgh)
Cincinnati kept it competitive, or at least A.J. Green did, with his two first-half scores. But, the Bengals ultimately couldn't keep pace with the Steelers and seemingly couldn't tackle them, specifically Le'Veon Bell. Grade C-
AFC SOUTH
Jacksonville Jaguars (W 30-10 v Indianapolis)
Take a bow Blake Bortles. The Jaguars quarterback has appeared, for much of the season, to be the main thing holding this Jaguars outfit from greatness. The defense is top notch, rookie runner Leonard Fournette has proved himself a star, but questions remain over Bortles. They'll soon disappear if he has more a few more outings like this one, however - 309 yards, two TDs. Grade A
Tennessee Titans (W 24-13 v Houston)
Tennessee's double-headed monster of Derrick Henry and DeMarco Murray continues to wreak havoc from the backfield. This time it was Henry (11 carries, 109 yards) who did the biggest damage, though 75 of those yards came on a touchdown run to end the game, having been kept largely quiet up till them. Still, football is 60 minutes. Grade A-
Houston Texans (L 13-24 @ Tennessee)
Tom Savage was very impressive at QB, throwing for 365 yards (one TD, on interception) but, once again, the Texans didn't quite have enough to come away with the win. That's five of the last six they've now lost, having been close in the majority. Grade C-
Indianapolis Colts (L 10-30 @ Jacksonville)
The Colts, who have also made a habit of being close in games this season, were nowhere near in this one, with the Jaguars utterly dominating proceedings in Jacksonville. Their season is drifting towards a very unspectacular conclusion. Grade D-
AFC WEST
Los Angeles Chargers (W 19-10 v Cleveland)
The Chargers are now in a three-way tie for first place in the West and are arguably in the best form of the bunch, particularly quarterback Rivers, who racked up 344 more passing yards in this one, including a touchdown pass to the equally in-form Keenan Allen (10 catches, 105 yards). Grade A
Oakland Raiders (W 24-17 v New York Giants)
This Oakland offense is still nowhere near the vintage of the 2016 season, but a first 100-yard game of the year for running back Marshawn Lynch and 287 yards passing for Derek Carr is a step in the right direction. It also helps when the team you're playing has Geno Smith rather than Eli Manning at quarterback. Grade A
Kansas City Chiefs (L 31-38 @ New York Jets)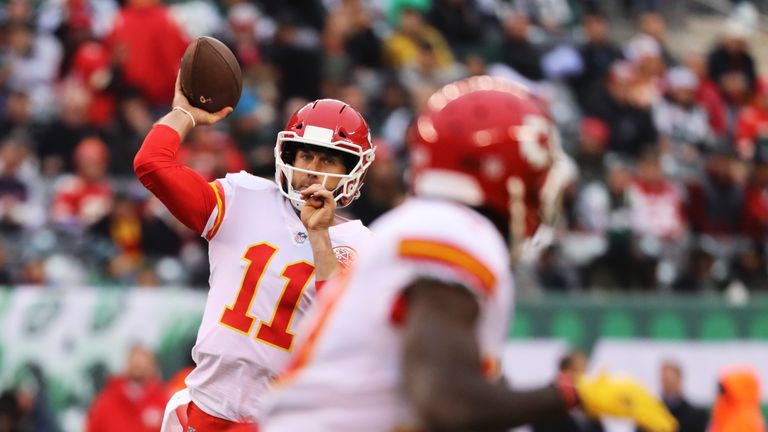 The Chiefs were back to somewhere near their best on offense, particularly Alex Smith - who some had been calling for to be benched after failing to consistently replicate the expansive passing game that saw them to a 5-0 start to the season. Well, it was back with a vengeance in New York - Smith stretching the field to the tune of 366 yards (and four TDs). Shame their defense couldn't stop anyone. Grade C-
Denver Broncos (L 9-35 @ Miami)
It goes from bad to worse for the Broncos, who have now lost eight straight. Initial season starter Trevor Siemian got another go on the quarterback carousel this week, but failed like those before him - 200 yards, no touchdowns, with three interceptions. Also, Denver's once fearsome defense has long since left the building on this season. Grade F
NFC EAST
Dallas Cowboys (W 38-14 v Washington)
The slightest murmur has returned to the Cowboys' seemingly dwindling play-off hopes. Making the most of the Redskins' errors, the Cowboys look to just about be hanging on for the possible return of Ezekiel Elliot in two games time, thanks in large parts to the effort of their back-up Alfred Morris (127 yards, one TD). Grade B
Philadelphia Eagles (L 10-24 @ Seattle)
That rarest of things for the Eagles this season, a loss - only their second. Carson Wentz was still Carson Wentz (348 yards), though had and interception and a goal line fumble he'd rather forget. The run game was shut down, and Russell Wilson, meanwhile, was just too good. Grade C
Washington Redskins (L 14-38 @ Dallas)
The injury hits Redskins struggled against a Cowboys side on the ropes and although QB Kirk Cousins, with 251 yards and two TDs (but with two picks) showed his class at points, the same could not be said for the rest of the wavering offense. Their playoff hopes are almost certainly over. Grade D
New York Giants (L 17-24 @ Oakland)
After deciding to bench Eli Manning, only a win would have been an acceptable outcome but Geno Smith could do no better with that porous offensive line, and no sign of a running game either. Ben McAdoo is out, with wholesale changes on the way in New York. They cannot come too soon. Grade E
NFC NORTH
Minnesota Vikings (W 14-9 @ Atlanta)
Case Keenum showed again why he is the current NFC Offensive player of the month, as he completed all 12 of his second-half passes, including two third-down conversions that led to Kyle Rudolph's match-winning touchdown. It was another hard-fought victory for the Vikings, but of all the 10-2 teams, they have seemingly won the biggest tests - away wins coming against the Saints, Ravens, Rams and now last year's Super Bowl finalists the Falcons. Grade A+
Green Bay Packers (W 26-20 v Tampa Bay) (OT)
The Packers have Aaron Jones to thank for keeping them in the Wild Card hunt as his darting run in overtime gave his side a victory that they made heavy work of. Brett Hundley looked all at sea at times against a struggling Buccaneers side. The return of Aaron Rodgers at QB is only a week away - beat the winless Browns next week and Green Bay are in contention in the NFC with No 12 back under centre. Grade B
Detroit Lions (L 20-44 @ Baltimore)
A series of disastrous mistakes in the first half, with Matthew Stafford below par, saw the Lions allow the Ravens come away with a big win. The hand injury Stafford picked up in the last quarter completed a poor outing and intensified the need to win all their remaining matches. Grade D
Chicago Bears (L 14-15 v San Francisco)
Despite facing once of the worst defences in the conference, Chicago's offense failed to do any damage or cause their opponents any real troubles. Mitchell Trubisky still has a very long way to go in his development to become a top QB in the NFL. Grade E
NFC SOUTH
New Orleans Saints (W 31-21 v Carolina)
The battle of the heavyweights in the NFC South saw the Saints come out well on top. Rookie RB Alvin Kamara had another brilliant game, with 126 yards from scrimmage and two rushing TDs. Grade A
Atlanta Falcons (L 9-14 v Minnesota)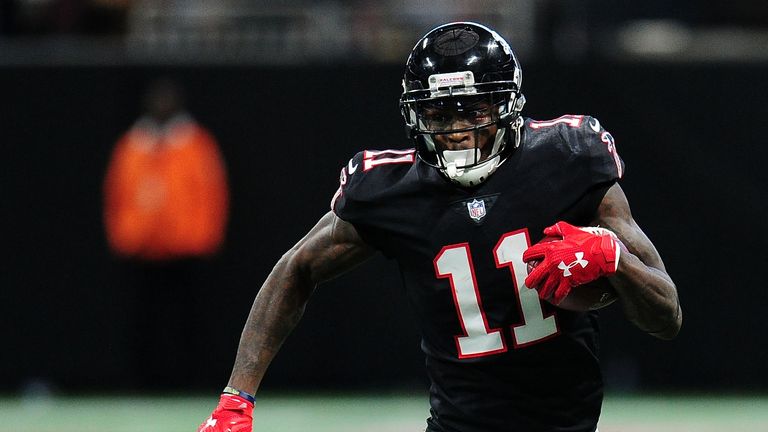 The Falcons struggled to the find the offensive cohesion that has served them so well the last couple of seasons. Julio Jones - fresh from a 253-yard outing - was excellently covered all match and ended with only 24 yards on two catches. Making a return to the Super Bowl will require last year's finalists to come away with wins against the Saints and Panthers. No easy task. Grade C
Tampa Bay Buccaneers (L 20-26 @ Green Bay) (OT)
Not even the returning QB Jameis Winston could get the Bucs the win on the road in Green Bay. Despite seriously improving the side, Winston wasn't completely back to his best and his fumble cost his side dearly as their opponents returned the ball for a TD. Grade C-
Carolina Panthers (L 21-31 @ New Orleans)
Another side whose own mistakes left them trailing by too much in the first half to come back from. Panthers' Michael Palardy's muffed punt summed up his side's day and they will want file this match under one to forget with an important four weeks to come. Grade D
NFC WEST
Seattle Seahawks (W 24-10 v Philadelphia)
What a win by the Seahawks on Sunday night! Wilson was sensational, at his scrambling best, on his way to 227 yards and three touchdowns. Don't sleep on Seattle pipping the Rams to the post in the West - the two meet in a mouth-watering match-up in two weeks' time. Grade A+
San Francisco 49ers (15-14 @ Chicago)
Jimmy Garoppolo may well be best known for being Tom Brady's former back-up QB at the Patriots, but the 26-year-old looked at home with the ball in hand in his first start for the 49ers. Garoppolo's accuracy - and five field goals from former Bear Robbie Gould - gave them their second win in three matches, with his 33-yard hit to Trent Taylor putting them in place to score a match-winning field goal. Grade A+
Los Angeles Rams (W 32-16 @ Arizona)
Another hugely impressive showing from the Rams. Next week's clash with another of the NFC's in-form sides the Eagles will show if they have true playoff potential. Grade A
Arizona Cardinals (L 16-32 v Los Angeles Rams)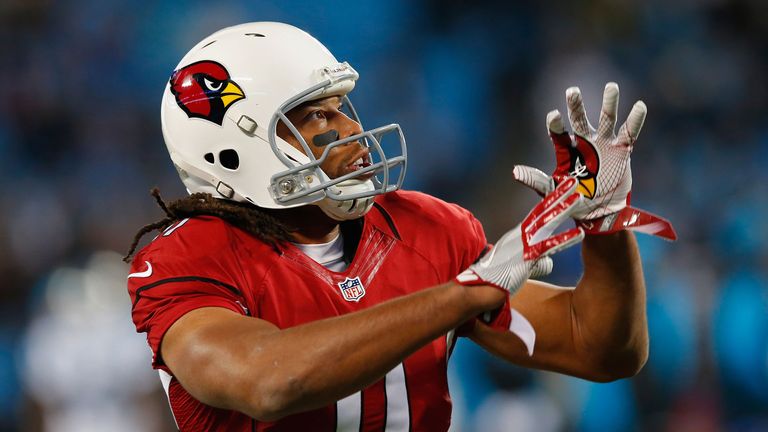 This was a day to forget for the Cardinals apart from Larry Fitzgerald's touchdown with his 1,200th career catch. Unlike last week's win over the Texans, they played like a team in the Rams who still had plenty to play for, and overpowered them as a result. Grade C-