Miami Dolphins plan to release Ndamukong Suh, shopping RT Ja'Wuan James
By Reuters
Last Updated: 13/03/18 11:01am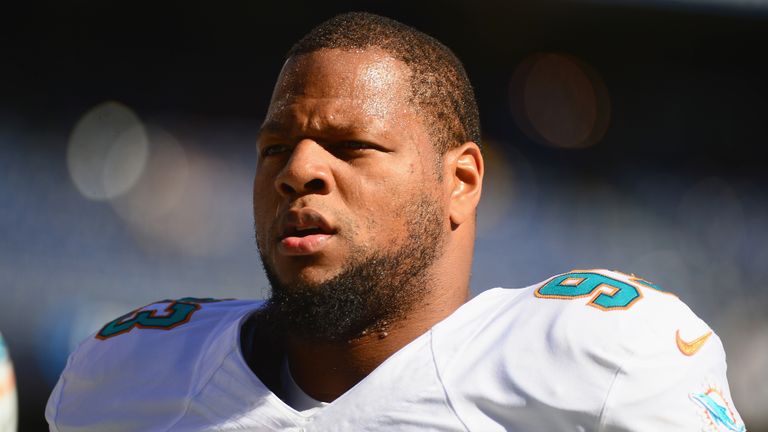 Three-time All-Pro defensive tackle Ndamukong Suh is expected to be released by the Miami Dolphins, NFL Network reported on Monday.
Suh would count $22m in dead money for the Dolphins in 2018 if he is cut.
The Dolphins traded running back Jay Ajayi in October and last week dealt wide receiver Jarvis Landry to the Cleveland Browns.
According to NFL Network, all three moves - including the impending release of Suh - are related to a culture change being pushed by head coach Adam Gase.
The plan is for Ndamukong Suh to be released as early as today as the Dolphins continue their attempt at a culture change – a plan that has purged arguably Miami's three most talented players within last year. A lot riding on 2018.

— Jeff Darlington (@JeffDarlington) March 12, 2018
Suh spent three years in Miami and recorded 15.5 sacks after signing a $100m contract in free agency.
The Dolphins also released linebacker Lawrence Timmons, the team's third-leading tackler in 2017, according to multiple reports on Monday.
Timmons went AWOL before Miami's first game last season and was suspended for the Week 2 game as a result.
Meanwhile, the team is shopping starting right tackle Ja'Wuan James in trade discussions, with the possibility he could be released if no deal is found, according to multiple reports.
A Miami Herald report adds that the Dolphins have a long-term extension offer on the table that would lower James' cap number in 2018, but would pay him below what he could likely make as a free agent.
A 2014 first-round pick, James is due $9.3m in 2018 on the fifth-year option of his rookie deal, a number that will become guaranteed if he is not released before the league year officially opens on Wednesday.
James, 25, has been a reliable starter when on the field, but he missed the final nine games of 2015 with a dislocated toe and the final eight games of 2017 with what has been reported as a groin or hamstring injury.