Jon Gruden's return to the NFL resulted in a loss as his Oakland Raiders side were beaten 33-13 by the LA Rams.
The Raiders got off to a strong start in the game, as Derek Carr guided them up the field on the opening drive before Marshawn Lynch was helped over by a push from his team-mates to send his side into an early lead.
However, the Rams responded brightly with a Todd Gurley score, and the boot of Greg Zuerlein levelled proceedings.
As the game entered the second quarter, neither offense could gain a significant foothold, with Mike Nugent and Zuerlein trading field goals to leave the sides tied at 13-13 in the third quarter.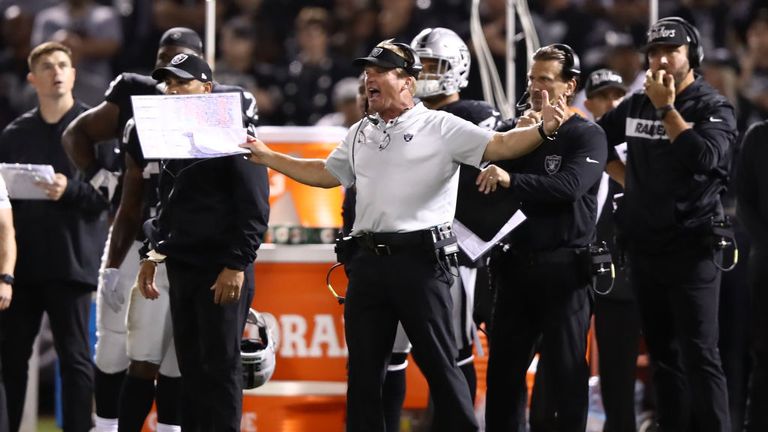 However, from there, Jared Goff began to find his range, with Brandin Cooks frequently offering himself as an effective target. With just seconds left in the third, Goff and Cooks combined to put the Rams in the red zone, and Goff found Cooper Kupp to give the Rams the lead.
In the fourth quarter, Zuerlein continued his impressive accuracy to land two field goals, the first of which was 55 yards, leaving the Raiders with a mountain to climb.
As Carr and the Raiders desperately looked for a way back into the tie with just over two minutes left on the clock, Marcus Peters intercepted and took the ball back to seal a 33-13 win for the Rams.
_____
FIRST QUARTER
Rams 0-7 Raiders: Marshawn Lynch 10-yard run (Mike Nugent extra-point good)
Rams 7-7 Raiders: Jared Goff 19-yard pass to Todd Gurley (Greg Zuerlein extra-point good)
SECOND QUARTER
Rams 7-10 Raiders: Mike Nugent 24-yard field goal
Rams 10-10 Raiders: Greg Zuerlein 20-yard field goal
Rams 10-13 Raiders: Mike Nugent 48-yard field goal
THIRD QUARTER
Rams 13-13 Raiders: Greg Zuerlein 28-yard field goal
Rams 20-13 Raiders: Jared Goff 8-yard pass to Cooper Kupp (Greg Zuerlein extra-point good)
FOURTH QUARTER
Rams 23-13 Raiders: Greg Zuerlein 55-yard field goal
Rams 26-13 Raiders: Greg Zuerlein 20-yard field goal
Rams 33-13 Raiders: Marcus Peters 50-yard interception (Greg Zuerlein extra-point good)
Game's key stats
| | | | |
| --- | --- | --- | --- |
| LOS ANGELES RAMS | | OAKLAND | |
| Passing | C/A Yds TD Int | Passing | C/A Yds TD Int |
| Jared Goff | 18/33 233 2 0 | Derek Carr | 29/40 303 0 3 |
| Rushing | Att Yds TD | Rushing | Att Yds TD |
| Todd Gurley | 20 108 0 | Marshawn Lynch | 11 41 1 |
| Receiving | Rec Yds TD | Receiving | Rec Yds TD |
| Brandin Cooks | 5 87 0 | Jared Cook | 9 180 0 |
| Cooper Kupp | 5 52 1 | Jalen Richard | 9 55 0 |
| Todd Gurley | 3 39 1 | Jordy Nelson | 3 23 0 |
| Total net yards | 365 | Total net yards | 395 |