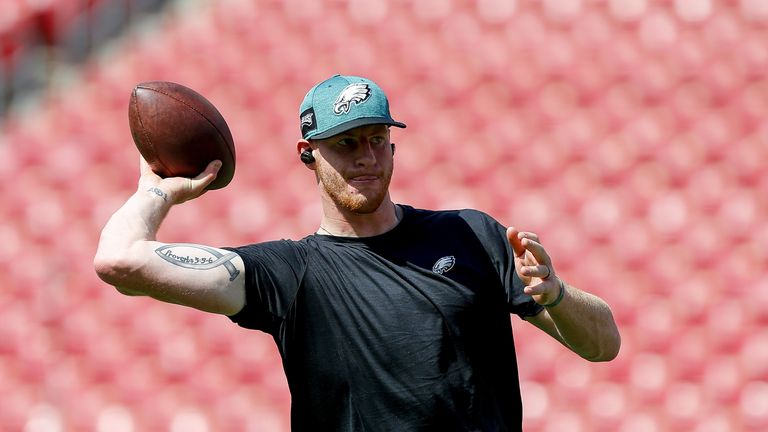 Philadelphia Eagles quarterback Carson Wentz cannot wait to make his long-awaited season debut on Sunday after a lay-off with a knee injury.
Wentz had hoped to return from his left ACL injury to start the campaign and although he is a few weeks behind schedule, he is now set to face the Indianapolis Colts at Lincoln Financial Field.
"There was quite the grind of an offseason and just throughout all this, a lot of the unknown of when and all those things," Wentz said.
"So there was a lot of excitement, a lot of build-up, almost anxiety over when was going to be that time. It's almost a relief to finally be cleared and get back out there."
With Wentz on the sidelines, backup Nick Foles has led the Eagles to a 1-1 start but they have struggled on offense. They rank 23rd in the league in passing and 24th in scoring at 19.5 points per game.
In 2017, the Super Bowl champions finished 13th in passing and third in scoring.
The 25-year-old Wentz, who will wear a brace for games, added: "I feel comfortable with it. We'll see after this season how I feel with it, but I feel good with it right now.
"It's definitely something the doctors recommend and so I've gotten used to it by now and I feel really comfortable with it.
"I and the whole offense, really this whole organisation, always have high expectations. We expect to start fast, play fast, be clicking. So, I truly believe that's a realistic expectation."