Pittsburgh Steelers 30-27 Tampa Bay Buccaneers: Steelers hold off late Bucs rally
Last Updated: 25/09/18 10:27am
Ben Roethlisberger threw for 353 yards and three touchdowns to lead the Pittsburgh Steelers to a 30-27 victory over the Tampa Bay Buccaneers on Monday Night Football.
Capping a tumultuous week in which star receiver Antonio Brown made headlines by shouting at an assistant coach on the sidelines and stirring talk of a trade on social media, the Steelers (1-1-1) built a 20-point lead before holding on for their first win.
Vance McDonald scored on a 75-yard pass play and finished with four catches for 112 yards, while Brown and Ryan Switzer also had first-half touchdown receptions for Pittsburgh, who led 30-10 at half-time.
The Steelers defense forced four turnovers, including three first-half interceptions - one returned for a touchdown - of Ryan Fitzpatrick, the 35-year-old journeyman who threw for 819 yards and eight touchdowns in two victories to open Tampa Bay's season.
Fitzpatrick tossed fourth-quarter TD passes to Chris Godwin and Mike Evans to rally the Bucs (2-1) to within three points at 30-27, with still more than five minutes remaining but the Steelers ultimately held on for a vital win.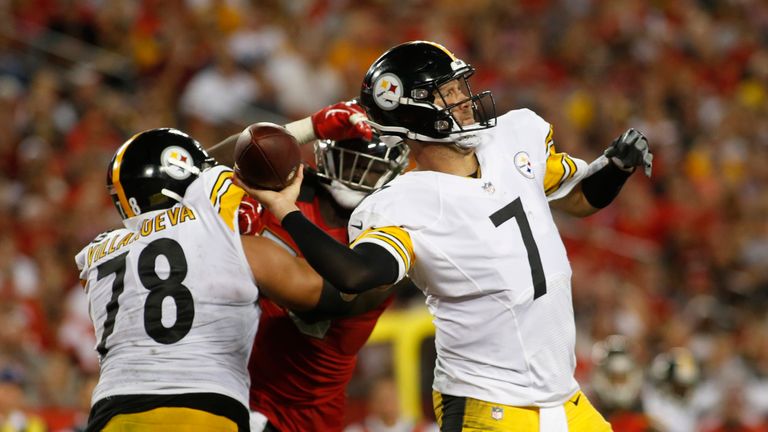 FIRST QUARTER
Steelers 0-7 Buccaneers: Ryan Fitzpatrick four-yard touchdown pass to Cameron Brate (Chandler Catanzaro extra point good)
Steelers 6-7 Buccaneers: Ben Roethlisberger 75-yard touchdown pass to Vance McDonald (Chris Boswell missed extra point)
SECOND QUARTER
Steelers 9-7 Buccaneers: Boswell 38-yard field goal
Steelers 16-7 Buccaneers: Roethlisberger 27-yard touchdown pass to Antonio Brown (Boswell extra point good)
Steelers 23-7 Buccaneers: Bud Dupree 10-yard interception return for a TD (Boswell extra point good)
Steelers 23-10 Buccaneers: Catanzaro 21-yard field goal
Steelers 30-10 Buccaneers: Roethlisberger one-yard touchdown pass to Ryan Switzer (Boswell extra point good)
THIRD QUARTER
Steelers 30-13 Buccaneers: Catanzaro 28-yard field goal
FOURTH QUARTER
Steelers 30-20 Buccaneers: Fitzpatrick four-yard touchdown pass to Chris Godwin (Catanzaro extra point good)
Steelers 30-27 Buccaneers: Fitzpatrick 24-yard touchdown pass to Mike Evans (Prater extra point good)
Game's key stats
| | | | |
| --- | --- | --- | --- |
| PITTSBURGH | | TAMPA BAY | |
| Passing | C/A Yds TD Int | Passing | C/A Yds TD Int |
| Ben Roethlisberger | 30/38 353 3 1 | Ryan Fitzpatrick | 30/50 411 3 3 |
| Rushing | Att Yds TD | Rushing | Att Yds TD |
| James Conner | 15 61 0 | Peyton Barber | 8 33 0 |
| Receiving | Rec Yds TD | Receiving | Rec Yds TD |
| JuJu Smith-Schuster | 9 116 0 | Mike Evans | 6 137 1 |
| Vance McDonald | 4 112 1 | Chris Godwin | 5 74 1 |
| Antonio Brown | 6 50 1 | DeSean Jackson | 3 37 0 |
| Ryan Switzer | 3 9 1 | Cameron Brate | 3 34 1 |
| Total net yards | 413 | Total net yards | 455 |