Are the Los Angeles Chargers built for a Super Bowl? Philip Rivers leads the way in his 15th season
Are the regular 'dark horses' actually built to last this time?
By James Simpson
Last Updated: 01/12/18 8:00am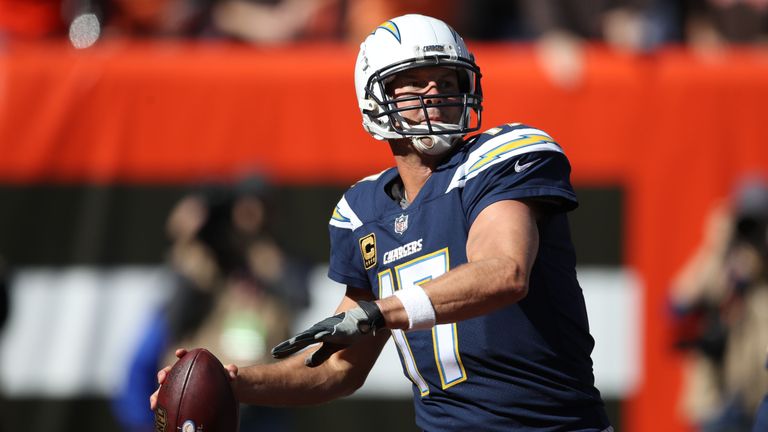 When you ask someone to pick out the best quarterbacks in the NFL, there are a few names that come straight to mind.
Tom Brady, Aaron Rodgers, Drew Brees and Russell Wilson are regulars. Now Patrick Mahomes and Jared Goff enter the conversation. Or the latest 'hot' youngster (Baker Mayfield).
One name rarely mentioned is Los Angeles Chargers QB Philip Rivers. But he deserves to be.
He ranks eighth in NFL all-time passing yards (53,467), sixth in touchdowns (368), and eighth in passer rating (95.9). He is a seven-time Pro Bowler.
Proving his consistency. Rivers has finished in the top eight in passing yards in nine of the last 10 seasons.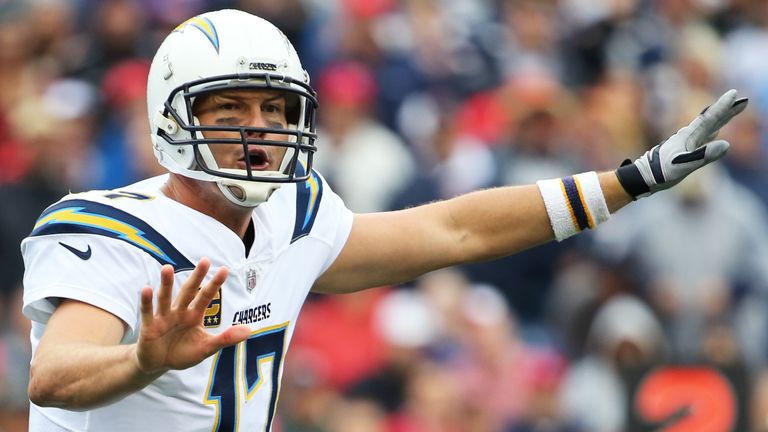 But unlike the four veterans above - and many others - he doesn't have a Lombardi Trophy to his name. Even within his NFL Draft class (2004), both Eli Manning and Ben Roethlisberger have won two Super Bowls apiece.
But might this year finally be his time to shine? Let's take a closer look at Rivers, the Chargers, and the potential of his current team who sit at 8-3, just one game behind the AFC-leading Kansas City Chiefs...
Rivers' rollercoaster ride
His past is ridden with tough breaks, near misses, and disappointment. But Rivers suits up, gets out there and brings his competitive best every single week.
Right now, Rivers is the NFL's active leader in consecutive starts with 203. From his first in 2006, that's 12 straight seasons - and 11 games this season - he's been lining up under center for the Chargers.
If he finishes 2018 without missing a start, he'll tie Peyton Manning for third in QB starting streaks, behind only Eli Manning (210) and Brett Favre (297).
But it definitely hasn't been plain sailing.
Embroiled in drama right from the off when top college QB Eli Manning stated he would refuse to play for the Chargers if taken No 1 in the 2004 Draft, Rivers became San Diego's consolation prize when a deal was made to trade Manning to the Giants.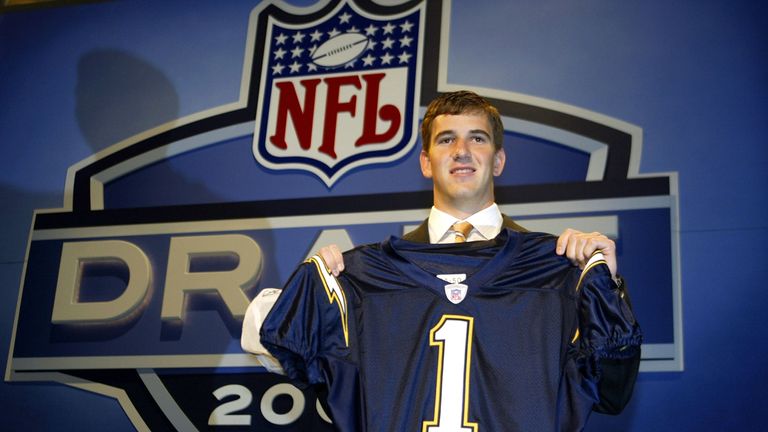 Tasked with replacing Drew Brees after the future Hall of Famer left for New Orleans, Rivers led the Chargers to the playoffs in his first full season with a 14-2 regular season record, before they were ousted by the Patriots - and three more years of postseason heartbreak ensued.
The Championship appearance in the 2007 season could have been the biggest letdown. The Chargers were hot, finishing 11-5 and winning their first two playoff games. However, Rivers was forced to play the entire AFC Championship game with a torn ACL. It was one of the most gutsy performances in NFL history, but that will be of little consolation.
Rivers didn't lose a game in December in his first four seasons, but the streak ended - as did San Diego's time at the top - in 2010. At 9-7, they missed the playoffs, and haven't had more than nine wins in a season since.
Since a divisional round loss in 2013, they have had 35 wins compared to 40 losses. Will this year signal a return to postseason winning ways?
So far, so good
The Rams and Saints already have 10 wins. The Chiefs have been stealing the show with their offensive firepower. But among the 'next best' teams are the Los Angeles Chargers, who have won seven of their last eight including a purely dominant performance last week to bounce back from a loss.
Rivers joins Brees and Mahomes (the two MVP favourites) as the only quarterbacks in the top four in both touchdowns (26) and passer rating (115.7). Astonishingly, he has thrown at least two touchdowns in every single game this season. Behind his elite performances, the team is rolling.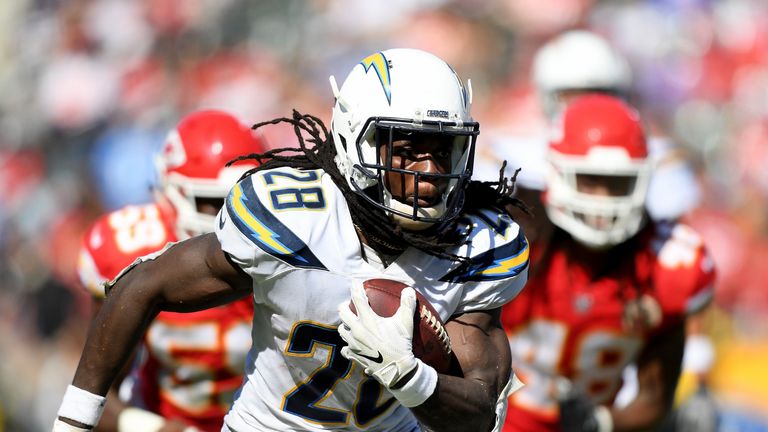 Outside of a tough one-point division loss to Denver, the only two defeats so far for the Chargers were to the combined 19-3 Rams and Chiefs - and both games were played without their game-changing defensive end Joey Bosa.
Rivers looks in complete command of the offense built by second-year head coach Anthony Lynn and offensive coordinator Ken Whisenhunt, who is in the third season of his second stint with the team.
In front of the QB, an improved offensive line, spurred on by offseason acquisition center Mike Pouncey, has been creating wide lanes for running backs Melvin Gordon and Austin Ekeler, and importantly, keeping Rivers on his feet. Despite seven in the last two weeks, he has been sacked just 19 times all season (by comparison, league-leader Dak Prescott has been taken down 45 times).
Rivers is on form and the offense is potent. Can the defense hold up down the stretch?
Defense on the rise
The Chargers have kept on improving over the season, moving from middle of the pack to ninth in yards and fourth in points per game allowed. In fact, they have not allowed more than 23 points in any game since Week Four.
While rivals Kansas City's defense could be their downfall, the Chargers have a unit that will hold up and is likely to improve throughout the season and into January.
Bosa, 2016's Defensive Rookie of the Year and a Pro Bowler in 2017, racked up 23 sacks in his first two seasons but didn't see the field until two weeks ago. And while his first start ended in a loss, he was back to old ways last week, tallying two sacks and proving his massive impact.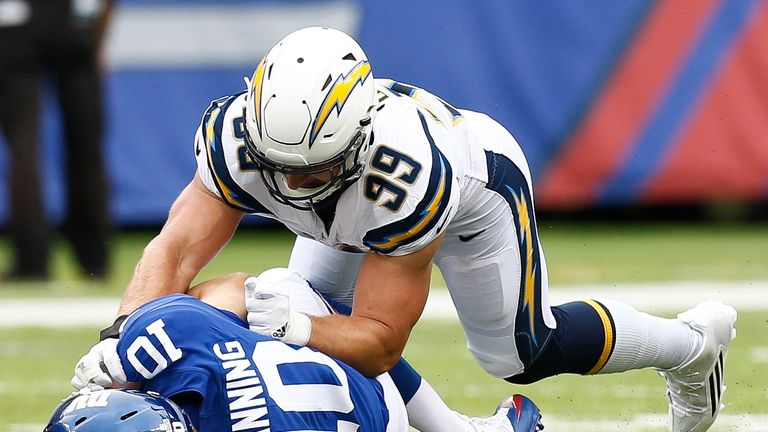 Rookie safety Derwin James has brought energy and an outstanding play-making ability to the secondary, providing 76 tackles (leads the team), 3.5 sacks, nine passes defended and two interceptions in his short career so far. Corners Casey Hayward and Desmond King are playing at a high level.
All in all, the defense - coached by coordinator Gus Bradley, who was with the Seattle Seahawks when the famous 'Legion of Boom' was formed - could be massively important if the Chargers are finally ready to make some playoff noise.
Built for a run
When you are building a team in the modern NFL, a few things are important: ability to throw the ball, the option of being a 'multiple offense' (i.e. you can pass, but you can run the ball and grind out yards if you have to), and a strong pass rush or capability to disrupt the opposing QB.
Despite all that is going on with the franchise (how long will they stay in LA? Where next?), the Chargers have the makings of a great team, and Rivers doesn't have long left in his career to win it all.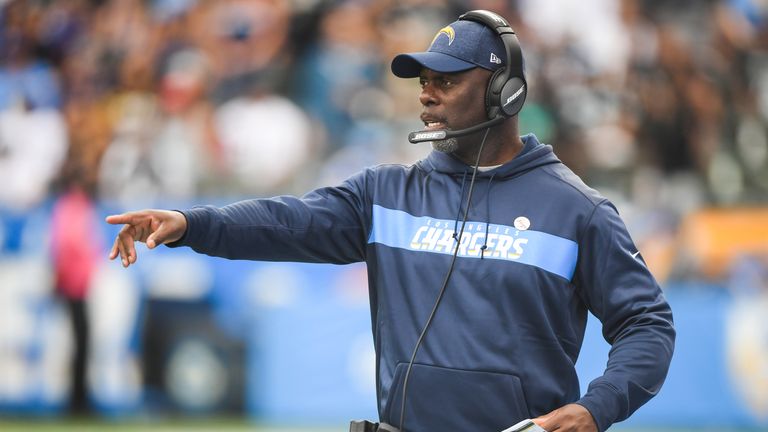 Coach Lynn has helped the 36-year-old play some of his best football, put a top offensive line in front of him - which has allowed Gordon and Ekeler to average 5.2 and 5.8 yards per carry respectively, and developed pass rushers and a secondary that matches some of the best in the league.
As Rivers approaches a fifth meeting with fellow 2004 NFL draftee Roethlisberger (they have a 2-2 record in previous meetings) in a huge AFC matchup this weekend, the question is: how far can the Chargers go this season?
Follow the 2018-19 NFL season with us on Sky Sports and through our website skysports.com/NFL also our app for mobile devices and iPad, or follow our Twitter account @SkySportsNFL.